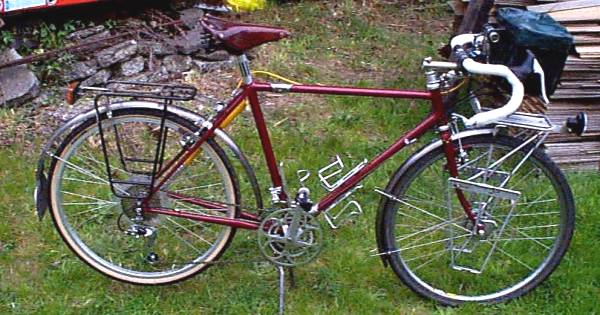 This is my custom touring bike. You'll probably notice several unusual points.
Huge tire clearance: the bike is currently equipped with 26x1.25" IRC Metro tires, but can accept tires as large as 27x1-1/4" while still using full fenders.

The cantilever studs are placed for 26" wheels, but the rest of the frame is more universal. Why? In the rear, I simply prefer long chainstays for the improved handling and comfort. But when I thought about it, I realized that sometimes, when a wheel goes bad in the middle of nowhere, it would be handy to be able to temporarily stick in a wheel from whatever cheap bikes are available. The brakes won't work, but rolling is still faster than walking.

That silver bulge in the top tube is an S&S Machine Bicycle Torque Coupling, which lets me pack the whole bike in a box small enough to avoid airline oversize luggage charges.
Esge double-leg stand: that's not some special display stand holding the rear end up, it's a beautiful Swiss-made Esge kickstand that keeps the bike stable while I'm rummaging through panniers.
The oversized front hub is a Schmidt dynamo hub, an incredibly efficient generator that drives my headlight. It adds so little resistance, I frequently forget that it's on in daytime.
The pump is under the left seat stay. I put a pump peg back there so that the main triangle isn't cluttered up with a pump. How many times have you gone to pick up your bike and mashed the pump into the bottom of the top tube?
That ugly stem is another one of my projects.
The saddle is the most comfortable touring saddle I know of, the Brooks Conquest. Like most Brooks saddles it has coil springs, but it has single, thick rails that work with modern seat posts. The top is the same width as a Brooks Professional, but a little longer. Of course, just because it fits me well doesn't mean everyone likes it -- saddle fit is a very personal question.
---
This page written by Josh Putnam. Please feel free to email questions, comments, corrections, suggestions, etc.
---
Josh Putnam's Home Page | Josh's Bike Page. | Josh's Framebuilding Page. | Josh's Photo Page.

&copy Joshua Putnam