Why do you have that hideous stem?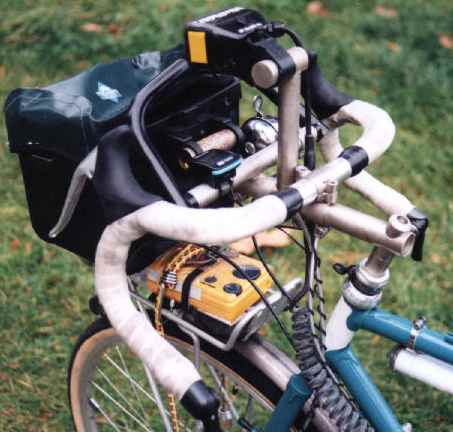 Originally, I wanted an adjustable length stem to dial in the fit of my new touring frame. Not finding any decent adjustable stems for a reasonable price, I decided to braze my own. Once I got it made I just kept improving on it, adding other useful features.
How?
The stem is made of brazed 4130 CrMo aircraft steel tubing. The quill is 7/8" tubing, and the extension is 1" tubing. Nobody makes stem lugs any more, so I used a fully pierced joint, making it look very old fashioned.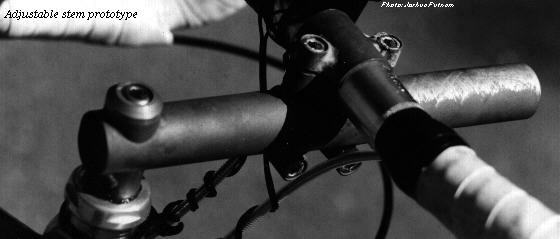 The reach adjustment comes from the handlebar clamp, which is simply two short lengths of 1-1/8" tube brazed together at right angles. This clamp can be positioned anywhere along the extension tube. (If you have a 3T catalog, see their "Doppio Girevole" adjustable-reach track stem, which is similar to the beautiful old lugged Philippe Adjustable that inspired this design.)
The handlebar clamp is a removable-cap two bolt design, while the part that clamps onto the stem extension looks like a normal handlebar clamp, but with two bolts for a more secure grip. The extension is 11" long, more than long enough for my purposes, and long enough I could use it for fitting other people to their bikes, too.
Once I had my stem length figured out there was a lot of extension left, so I put on a second clamp, this one holding a short length of 7/8" tube, like a mountain bike handlebar, that had bar ends on it and also held all my handlebar-mounted accessories -- speedometer, inclinometer, bell, etc.
Then I added an elevated headlight mount that holds my NiteRider headlight well above my bars but behind the accessory mount, so that it softly lights the speedometer, etc. while brightly lighting the road.
I then added one final piece, a 3" stub of 1" tube on a clamp at the very front of the stem extension that lets me hang my Ortlieb handlebar bag in front of the aero-bar-positioned mountain bike bar ends. The headlight also illuminates the top of my handlebar bag, where the map pocket snaps on. Bewteen the speedometer and the map pocket, I can navigate quite well at night.
This whole setup looks bulky, I'll admit, but it does everything I've ever wanted in a handlebar/stem setup:
My regular handlebars don't have a single thing clamped to them other than my brake levers.
I have aero bar hand positions for long-distance comfort.
I have all my accessories in easy reach.
I can still use a big handlebar bag dsepite the aero bars.
I can read my speedometer and map in the dark.
As a final step I nickel plated all the parts to keep them from rusting. I like the matte nickel finish better than chrome or paint -- not garish, yet very durable.
---
This page written by Josh Putnam. Please feel free to email questions, comments, corrections, suggestions, etc.
---
Josh Putnam's Home Page | Josh's Bike Page. | Josh's Framebuilding Page. | Josh's Photo Page.

&copy Joshua Putnam