Moscow 5 Rangefinder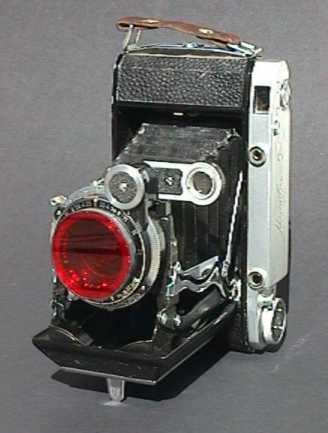 ---
The Moscow 5 is an improved copy of the Super Ikonta C,taking 6x9cm negatives on 120 rollfilm.
The Moscow 5 was the fifth, and last, in a series of copies made by the Krasnogorsk works, and was made in the late 1950s. The top of the camera body is flat, with a metal housing covering the whole rangefinder mechanism, unlike the Zeiss camera, which has a projection on top of the camera that tends to snag on close-fitting pockets while cycling.
The lens is an Induster 105mm f/3.5, coated, 4 elements in 3 groups. The shutter has Bulb and 1 to 1/250 speeds, and does include a flash sync terminal.
Seen here with a no.25 red filter, which I use with Konica 750 Infrared film, as well as with various more normal black and white films for increased sky contrast in landscapes. Since taking this picture of the Moscow, I modified a Cokin universal mounting ring to clamp onto the outside ring of the lens, so I can now use it with all the filters I have for my 35mm SLRs.
If you like old folding cameras like this, check out The Classic Camera,, an excellent reference page with illustrations and sample photos.
---
This page written by Josh Putnam. Please feel free to email questions, comments, corrections, suggestions, etc.
---
Josh Putnam's Home Page | Josh's Bike Page. | Josh's Photo Page.

&copy Joshua Putnam