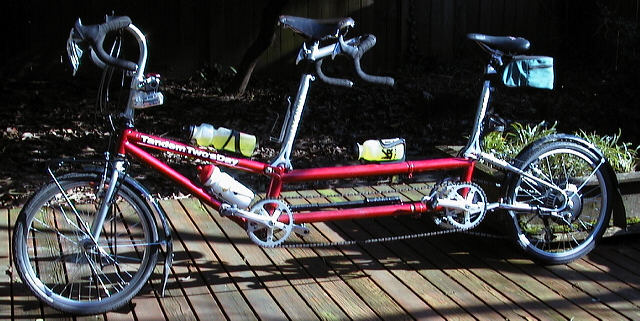 This bike is FOR SALE. Check out the webpage with updated pictures, new component information, sizing, and price information.
Update: it was SOLD
This is a folding tandem which my wife and I purchased for use during our honeymoon (might sell it afterwords or might keep it for future trips, haven't decided yet). We bought it used, originally it was built by Green Gear for a 1995 review of the Tandem Two'sday by Bicycling magazine. The bike is quite different due to its very low frame and use of 20" wheels, but it rides very well. The gearing of this bike in particular is much different then the gearing of bikes with larger wheels.
When we originally bought this bike it had a much different drivetrain configuration. I moved it over to use a Sachs 3x7 hub to get increased gear range. The original bike is described in the old Tandem Two'sday webpage. I also wrote a short article comparing the Sachs 3x7 and triple chainring systems.
More information on how this bike folds and information on the current models can be found at Green Gear's website.
Front Derailleur - None currently (will eventually have a Sachs 5000 to shift between the two chainrings).
Rear Derailleur - Shimano XT
Crankset - Specialized Tandem (50/36 chainrings)
Pedals - Shimano SPD 535s (LX) in front, Speedplay Frogs in the rear
Shifters/Brake Levers - Shimano RSX STI (7sp)
Brakes - Shimano XT Cantilevers, Koolstop salmon brake pads
3rd Brake - Arai Drum Brake
Saddles - Brooks B-17 and Serfas Curva
Rear Rack - Jandd Expedition
Front Hub - Hope Suspension, 36 hole
Rear Hub - Sachs 3x7, 12-30 (12/14/16/18/21/24/30) 7sp cassette
Front Rim - Sun Chinook
Rear Rim - Sun CR18
Spokes - 14 gauge DT
Tires - Conti Top Touring 406-37
Fenders - Delta 20" fenders with homemade mudflaps
This bike has a custom 12-34 cassette. I built it by taking a stock Shimano 12-28 cassette and replacing the 28 with a 30. This gives a nice range, reasonably tight gearing on the low end of the cassette, and a nice bailout gear at the top.
Detailed information on some components:
3x7 Hub - This bike didn't have the proper brazeons for the 3x7 hub, so I had to get a little creative. The cable to control the 3x7 hub runs through the brazeons for the front derailleur. I bought a clamp-on cable housing stop for the cable, which mounts on the right chainstay.

Arai Drag Brake - This bike uses the Arai drum brake as a drag brake to control speed on long descents. It is mounted on a modified 3x7 hub supplied by Green Gear. In the current setup I am using the brazed-on trailer hitch as a cable housing stop for the drum brake cable. The "pac-man" adapter is bolted onto the bike. At some point I will have a proper cable housing stop and "pac-man" brazed onto the frame.

To install the drum brake on this bike I had to machine away some of the reaction arm near the brake. In the stock configuration the reaction arm interfered with the chainstay and couldn't come up far enough to reach the "pac-man". The amount of material machined away was minimal, so it shouldn't affect performance of the brake. I did the work using a Dremel Tool.

Accessory Bar - On this bike we use a handlebar bag, which is very nice for carrying gear. It also gets in the way of mounting lights and provided enough interference that the wireless bike computer no longer communicated with it's sensor. To solve both problems I used a very short aheadset stem to hold a short piece of 1" outer diameter PVC pipe down low on the stem of the bike. This holds the light and the computer and keeps them out of the way of the handlebar bag.
A few other pictures (from the old configuration, but still mostly relavent):