Trek Sport/Touring Road Bike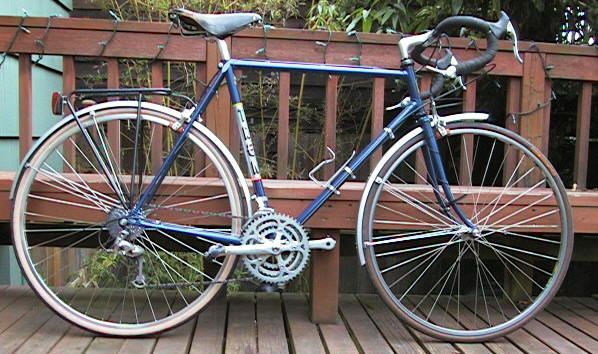 This is my road bike. I have always regretted selling my Klein Performance because it was unusual in having long chainstays, eyelets for a rear rack, decent fender clearance, and good road bike handling. This Trek has most of those attributes though, and looks nice too.
It is built up with a mix of old and new parts. The drivetrain uses a Sugino AT triple crank with 50/40/30 chainrings, and these are shifted by an old Shimano 600 front derailleur. In the rear I'm using a 9sp Shimano Ultegra rear derailleur with a 7sp 12-28 cassette. This gives me fairly wide range gearing for Seattle's hills, but nothing really low enough for touring. It would be trivial to put a 24t granny and a 13-30 cassette on this bike if I wanted to tour with it though. The shifters are Sport LX 7sp downtube shifters mounted on some Shimano barend pods.
This bike was built for 27" wheels and long reach brakes. With 700C wheels I get 4mm more clearance for fenders and the brakes are used to their full capacity. I love this setup because I get the easy setup and reliability of sidepull brakes but tons of clearance for fat tires (up to about 32mm...could go wider with different brakes) and fenders. My brakes are RX100 normal reach dual pivots and the levers are Shimano 105 SLR brake levers. Simple and affordable stuff that works really well.
The frame uses clamp-on parts for almost everything. This winter I'm considering having some proper brazeons put on it (at least for water bottles and a pump peg) and getting the bike repainted. Hopefully I can find another set of the original Trek decals, because I think that they look great. The finish has seen better days though.
For carrying loads I'm using a Tubus Fly rack. This is a very lightweight yet strong rack that is great for day rides.
Here are some more pictures of the bike:

Bottom Bracket area. You can see how I used a piece of teflon cable liner to reduce friction under the clamp on cable guide. This noticeably improved the indexed shifting.


Closeup on the drivetrain, showing a mix of old and new components.


The front brake area. Look at all of that tire clearance! The tire on there is a 25mm Conti 1000.


The Tubus Fly rack. I love the clean and simple lines on this rack, and it is very sturdy. You can also see the rear tire/brake area here. The tire is 32mm and it looks like a 35 would fit (although 32mm is plenty wide for my riding).


I'm using a Vistalite Eclipse Taillight. These aren't designed for rack mounting, but it was simple enough to drill a hole through the belt clip to mount it this way.


Another picture of the bottom bracket area. That Campy cable guide is the only Campy part that I own.

Parts listing:
Front Derailleur - Shimano 600
Rear Derailleur - Shimano Ultegra Triple
Crankset - Sugino AT, 50/40/30 chainrings
Pedals - Shimano SPD 535s (LX)
Shifters - Shimano Sport LX 7sp on Shimano barcon pods
Brake Levers - Shimano 105 SLR
Brakes - Shimano RX100 Dual Pivot, normal reach, with Koolstop pads
Saddle - Brooks B17
Rear Rack - Tubus Fly
Fenders - Silver ESGE P35
Wheels - Shimano 105 hubs (7sp, 12-28 in rear), Mavic MA-2 rims, DT 14/15g spokes
Tires - Conti Sport 1000 700x25 in front, Avocet K20 Duro 700x32 in rear. When the Conti wears out I'll put another Avocet up front.
---
I have more bicycle information on my main bike page. alex@phred.org