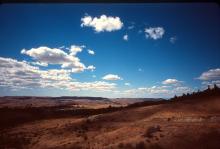 Climbing Cache Creek Road out of Nespelem.
Day 2: Disautel to 6 miles up Bridge Creek Road from SR21
~5000ft climbing
50 miles
Writing this from a great camp spot that Larry found. Directions first: it is on the right just before mile marker 6, and before the horseshoe curve in the road. It is down an abandoned end dirt (now grass) road. There is plenty of space for tents, good access to the creek, and the wonderful sound of the creek babbling along.
Riding yesterday was great. We finished our way up into Desautel Pass, and then coasted down into Nespelam. From there we took Cache Creek Road (up a pretty long hill) down into an almost deserted valley. This was followed by a climb up and over an unmarked (but high -- about 4000ft) pass and what was probably the best descent I've ever ridden. No traffic, swoopy turns, and just enough grade that brakes were not necessary. What a day! At the bottom there was an ice cream/grill place too, and a helpful guy who gave us much information about today's route. (We accidentally left our road atlas there though -- oops!)
Colville Indian Reservation is really fantastic touring. Very little traffic, most everyone is friendly, great scenery, nice climbs and descents. The only issue is finding water and carrying enough of it. We have started carrying 6 bottles plus a 2liter Platypus between us. Great route and highly recommended.