Mid-eighties Trek 400 Elance with Nexus hub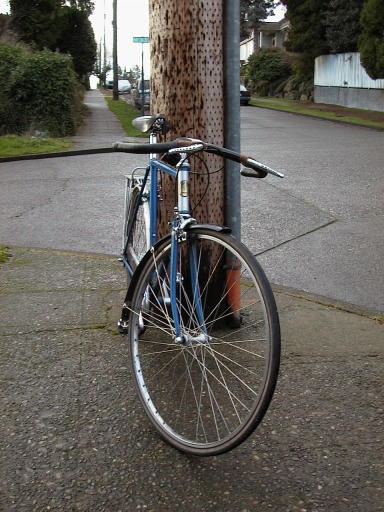 This is my commuting and utility bike. I built it up out of used and leftover components. I wanted to have a bike which had low maintence and which didn't have much theft value. It is built around a used Trek 400 frame which I bought at the Seattle Bike Expo Swap Meet. The majority of the other components are used as well, with the Nexus 7sp hub, seatpost and brake levers being the only exceptions. It has these components:
Front Derailleur - none
Rear Derailleur - none (shifting is internal to the hub)
Crankset - SR Super Champion, single 42t chainring
Pedals - Shimano SPD 535s (LX)
Shifter - Nexus 7sp Rapid fire shifter.
Brake Levers - Shimano 600, non-aero
Brakes - Suntour Superbe, normal reach, with Koolstop pads
Saddle - Brooks B17
Rear Rack - Blackburn Expedition
Fenders - Silver/Black ESGE/Zefal mix
Front Hub - Shimano HB-NX30 (generator hub)
Front Rim - Torelli Master
Front Spokes - DT 2.0/1.8 swaged
Rear Hub - Shimano Nexus 7sp, 36 hole
Rear Rim - Mavic MA-2
Rear Spokes - DT 14 gauge
Tires - Continental Top Touring (32-622)
Full Chaincase - Not shown in the picture above (but it is shown on the linked page). The chaincase encloses the drivetrain to keep it out of the elements.
I enjoy this bike even more then I expected to. The Nexus hub is perfect for around the town riding. The shifting on it is very good, and being able to shift while stopped (at a red light for instance) is very useful. The hub is noisier then I expected, but I have not had any problems with it so far.
The range on the Nexus 7sp is very usable. I have this bike configured with a 42t chainring and a 22t rear cog. This gives me gears of: 33", 37", 43", 51", 59", 68", and 80". This isn't quite the range that I get on my derailleur equipped bicycles (where 20"-120" is more common), but it allows me to get almost everywhere.
I wouldn't recommend a Nexus equipped bike as an enthusiasts only bicycle, but its fantastic for commuting and utility purposes. The lack of drivetrain maintance and ability to shift while stopped are very useful for most city riding. Installed on an old, scratched up bicycle frame you get a high quality bike with low theft value.
---
I have more bicycle information on my main bike page. alex@phred.org