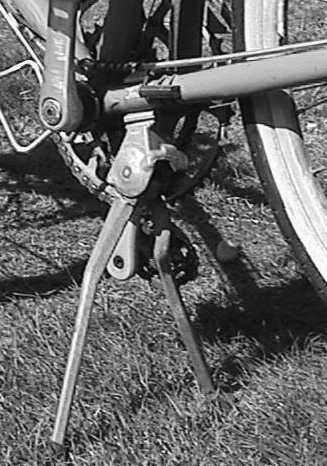 ---
The ESGE 2-leg stand nests under the left chainstay when folded up, like a standard kickstand, but it has a leg for each side of the bike, and when you flip it down it lifts the whole rear end off the ground, holding the bike level. If you have heavy rear panniers and none in front, you might have the front end off the ground instead, not as stable unless you lock the steering.
These Swiss marvels are well worth the weight and occasional noise on rough roads. (Before you tell me ESGE is German, not Swiss, I know the company is German, but these stands are made in Switzerland, not Germany. Are Volvos suddenly American just because Ford bought the company?)
Do occasionally check the mounting bolt: they can work loose over time and I have heard of one tandem stoker noticing the stand was getting noisier, then noticing it get very quiet, and realizing that was because it had fallen off. I coat the threads with Vibra-Tite and forget about them most of the time.
If you're careful, you can fit the rubber feet for Greenfield kickstands on the ESGE legs, since more shops have Greenfield feet than ESGE feet.
So where can I get one?
I'm a real believer in supporting good local bike shops, so I'd first suggest asking your local bike shop to see if they can order one for you..
As an aside, there can be other benefits to getting your shop to special order eccentric stuff like this. If they mostly order their merchandise through mainstream distributors who carry only what is currently fashionable, and if you can talk them into ordering the part you want, they may end up on the mailing list of a distributor who carries many other things you never knew you needed. For example, every distributor catalog I've seen that lists the ESGE 2-leg stand also lists Hunt-Wilde's very durable rubber mudflaps that can be fitted to almost any fenders, and most show an above-average selection of Brooks leather saddles. Shops can't stock what they don't know exists, even if there is a market for it.
If your LBS can't or won't order the stand, the following dealers have said they stock them. (Listed in essentially random order depending on when I got the email.)
---
info@olybikes.com writes:

I sell 'em. Fine for folks to contact me. Thanks.
Larry Leveen
ECI #595
Velorution! The Bike info "freeware" site
http://www.olywa.net/leveen/
---
CaptBike@sheldonbrown.com writes:

We've got 'em too!

Harris Cyclery
West Newton, Massachusetts
Phone 617-244-1040 FAX 617-244-1041
http://www.sheldonbrown.com/harris
---
mti@mohler.com writes:
Totally Tandems in Marshalltown Iowa stocks them, phone # 1-800-255-0576
Bob Wefel
---
BentBOBX@aol.com writes:
Angle Lake Cycle in Seattle has them 206/878-7457. Their web site should be up and running soon.
Bob, RCN
---
awetmore@Exchange.Microsoft.com writes:
This recently came up on the tandem list:
We use the EGSE centerstand. I don't have the weight figures, but I know where you can get one. Try Jack Trout, tandems@mindspring.com. It is a two-legged stand which lifts your rear wheel off the ground.
---
We keep the 2-legged kickstand in stock. Long live kickstands!

Easy Street Recumbents
Austin, TX
512-453-0438
info@easystreetrecumbents.com
www.easystreetrecumbents.com
---
I stock the ESGE/Pletscher double leg kickstands. Feel free to forward my contact info.

Zach Kaplan Cycles
235 Pacific Way
Muir Beach, California 94965 USA
415-381-5723
zakaplan@earthlink.net
http://www.bikeroute.com/zach
---
ABikie@aol.com writes:
We've had 'em for several years and have installed hundreds have only been beat a few times.
Works on singles up to our quad.
Larry
Mt Airy Bicycle
---
This page written by Josh Putnam. Please feel free to email questions, comments, corrections, suggestions, etc.
---
Josh Putnam's Home Page | Josh's Bike Page. | Josh's Framebuilding Page. | Josh's Photo Page.
© Joshua Putnam