My Instate Bicycle Camping Trips
These trips are not strictly within one state, as a few involved two states. All except one of the trips was mainly in Alabama, and that trip was entirely within Georgia. These trips differ in several ways from my longer multi-state trips: 1) they are shorter, 2) cycling was secondary to another purpose, and 3) I seldom wrote an account or took pictures along the way. However, I think it's important for me to write up these trips as I don't want to add to the impression that every bicycle trip has to be long and impressive; a short trip can be very enjoyable and memorable.
Unfortunately, I notice that there's a tendency for beginners to want to make their first trip one from the Pacific to the Atlantic. While I have to admire their rugged, never-say-die determination, I have a premonition that this first trip is most likely to be the last, whether successful or not. To many of these cyclists, that is all they want anyway, as the trip is intended to prove their manhood or womanhood. With someone wanting to prove "I can survive anything," lack of training, preparation, skills, equipment, supplies, and perhaps even common sense are all advantages. The more misery they endure, the tougher they are. For my own part, I have always wanted my trips to be enjoyable from the first day to the last. And I believe that people who enjoy their trips are much more likely to be supportive of cycling, to continue cycling, and to make more trips in the future.
My suggestion to someone wanting to make a touring trip is to begin with a trip of a few days first. You will have a wonderful time, and the trip will teach you a lot about going touring. It's also much easier to find the time to make a weekend, four-day, or one week trip than it is to get two months off from work. In addition, if weather prevents making the trip one weekend, you can just wait until the next weekend.
As my contribution for extolling the values of shorter camping trips, I will tell these journeys, which total over six thousand miles of cycling (I also have traveled another two thousand miles on non-camping overnight trips, mostly between Scottsboro and Gadsden, which will not be included here) . These trips are not examples of perfect or ideal trips; they just happen to be the trips I actually ended up making.
North Alabama Places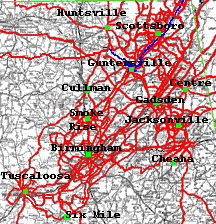 A NOTE ABOUT THE MAPS: I could not reproduce road maps without violating the copyright laws. While the original was a road map, the details have been deliberately blurred beyond recognition. The lines in red are all the roads I have traveled in Alabama by bicycle up until January 2001. The route of each trip is marked in black. Cities and important places to my accounts are marked on this first map (the green squares marking the exact location), but won't be indicated on the others. On the other maps, places where I stayed inside a house are marked with a green square and places where I camped are marked with a green triangle.
The Early Trips
These trips were made between 1965 and 1974, which includes my years of college and my first years of work. I spent a lot of time exploring caves during this time, and this interest greatly affected my choice of destinations. However, my second reason for camping in or near caves was to be in or near a shelter if the weather turned cold or rainy, as was likely, as these trips were not made during the summer, with one exception.
---
Garth I, December 1965, 140 miles
On rock-hounding trips to the mountains of Jackson County, Alabama, I had encountered many caves. I had been trying to convince my closest friend make a trip with me to the area using his car, but since he was reluctant, I decided my only opportunity was to bicycle there during Christmas vacation.

In Alabama, the weather sometimes is almost warm during the winter, and the ride up to Jackson County was very pleasant. I took the main highway from Gadsden to Guntersville, something I would not dream of doing today due to the greater number of motor vehicles, their higher speed, and the lack of paved shoulders. I evidently was in very good condition, as I made the entire 70-mile trip, including the climbs over Sand Mountain (about 500 ft.) and Gunter's Mountain (about 700 ft.) without feeling especially tired (both mountains are actually plateaus, but the climbs are steep). When I stopped at a small store in Paint Rock to get food, I noticed that I had four dollars in my pocket (but in those days 15¢ would buy a loaf of bread and 50¢ a whole small chicken). However, I had made a mistake in waiting to purchase my food in Paint Rock, as the store had a very limited selection.

The land owner had invited me to camp out, and he allowed cave explorers to camp in an old house on his farm, so I got a friendly greeting. However, none of the cavers had come that weekend, so he suggested that I find another place to stay. Since the temperature would be cold at night, I elected to camp inside of Princess Cave, which I had already visited.

To get to the cave, I had to ford a stream twice, the bicycle helping me balance on the rocks. Because of the cold water, I did not recross the streams until I left.

Princess Cave seemed to be a choice location: it was close to the road, had a large entrance which let in lots of light during the day, a nice flat area suitable for sleeping, a stream of sweet-tasting water (the source of the water was mountain woodlands), and some nice formations. However, during the night the temperatures dropped below freezing, and I suffered from the cold in my two wool blankets. The next morning I found I could not speak because my throat was so sore.

I spent the day on a long hike up the valley and up one mountain side, locating several caves that I had heard about. Two of these had pit entrances, but Blowing Cave, on the ridge behind Princess Cave, was explorable. I realized that Blowing Cave was a better location in the event of another freezing night, so I moved into it for the second night.

The next day, I hiked along the mountainside but found no new caves; however, I discovered the ruins of a long-abandoned community and had a wonderful hike.

In the morning, I packed my bike, forded the creek twice, and began my trip home to Gadsden, taking a slightly longer route which avoided Gunter Mountain. On the steep grade up Sand Mountain in Guntersville, I passed an 18-wheeler, something I've never done again.
---
Newsome Sinks, March 1967, 170 miles
After returning from my 1966 trip to Canada, I fully intended to make several short fall tours but was struck by the flu instead. So, I planned a ten-day trip for the spring break.

I intended to make a circle from Jacksonville to Anniston to Birmingham to Hartselle to Jackson County to Dekalb County to Jacksonville. However, while leaving Anniston, I had to travel on a narrow, heavily-traveled road for a short distance. A tractor-trailer driver forced his way past me, but his wife in a following car lost control and hit a vehicle coming the other way. Upset about the accident, I canceled my plans and asked my brother to pick me up. On the ride home to Gadsden, he suggested that I make a shorter trip.

From Gadsden, I first traveled from home over to Guntersville again, but this time I turned west rather than north, climbing a different mountain, and then descending down to the Tennessee River Valley. In a small hill in the woods was a nice easy cave (Cave Mountain Cave) which I explored and photographed. That night, I camped on the mountainside, having traveled 67 miles.

The next morning, I cycled about 20 miles to a three-mile long valley called Newsome Sinks, which is filled with caves; in fact, the whole valley is a sinkhole. I spent the day exploring the Sinks, although most of the caves were too difficult to explore alone. When I got back to my bike and the first cave, I met some boys who told me that freezing temperatures were expected. Lacking winter gear, I carried my wool blankets well back into Wolf Cave to sleep for the night.

The next morning warmed up OK, so I explored Wolf Cave and some smaller caves in the same sinkhole a little more, took some more pictures, and then I rode back home to Gadsden. The next day, I finished my bicycle trip at my school in Jacksonville.
---
Six Mile I, March 1968, 80 miles
Before going to school at the University of Alabama in Tuscaloosa, I learned that there were caves along Six Mile Creek, about 45 miles east. I made several trips to this area with others by car during the summer, fall, and winter, but none of these trips allowed me to explore the caves or camp in the woods. Therefore, I decided to bicycle over by myself.

I began the trip by bicycling on the main highway south of Tuscaloosa. Not long after the four-lane ended, a woman, who had just been passed by a string of cars, did not see me until the last second, lost control of her car, and hit an embankment. I stayed with her until the police came and until her family could come and pick her up. As it was quite dark by that time, they drove me out to Six Mile. The sky is stunning there, as Six Mile is far from any city, so the night is absolutely black and the stars seem to be search lights. While enjoying the sky, I had a difficult trip, as my generator light just seemed to remind me of how dark it was. Yet I did eventually make my way all the way to the camp site, many miles from where they dropped me off.

I spend Saturday hiking in the woods, swimming in Six Mile Creek, exploring caves, and cooking my meal. It was a fantastic place and a fantastic day.

On Sunday, I started the ride back home. On the way back, I was upset by aggressive traffic, especially after the accident on Friday evening, so I accepted a ride for about five miles. That was a major mistake, as the man was interested in more than being helpful, but I did extract myself from the situation without any harm. Then I pedaled the rest of the way back without any incident.
---
Pratt Ferry, April 12-14, 1968, 110 miles.
After the good and bad experiences on the Six Mile trip, I was determined to return, but I was also determined to avoid the main roads as the two accidents had made me extremely car shy. I was not afraid of getting hurt but of someone else getting hurt. During the previous fall, I had explored all the minor roads between Tuscaloosa and Six Mile looking for a back route, and I had discovered a long, round-about way.

So, in April, I went the long way, traveling on some dirt and gravel roads. Because of the longer distance, I made the ride on Saturday, realizing that I would have just a few hours in the evening and morning to explore. This time, I camped out at Pratt Ferry, where I had camped on a car trip, because it was closer. The camping site was OK, but no magical experience.

I explored Pratt Ferry Cave before going to bed, and in the morning, I explored the stream valley, finding some other minor caves. Then, when I left, I took the long way back, bicycling past Six Mile and my previous camping ground before returning to Tuscaloosa. When I reached my apartment, I learned that Martin Luther King had been shot that day.
---
Garth II, January 1971, 220 miles.
I had just quit my job and was determined to live the simple life. To begin, I decided to make a bicycling trip, even though it was winter.

From Jacksonville, I traveled just seven miles out of town before camping for the night. The next day was painfully cold with a piercing wind, and I stopped at every store, but I was able to make it 55 miles to Fort Payne, where I camped at Manitou Cave. The night was so cold that my plastic bottle of wine froze solid.

The third day, I was able to travel another 39 miles, to beyond Scottsboro, where I camped in a road cut on another cold night. On the fourth day, I made it the last 16 miles to Garth and camped in Princess Cave once again. This time, the weather warmed up after I arrived, and I stayed there for a couple of weeks, being joined by my girl friend and her friend one weekend. Although I had been dreamed about returning to explore those woods, I must admit that I was too obsessed with personal problems to relax. Nonetheless, this was a healing moment between the storms.

I lost a lot of time the day I left because pack rats had been hiding my equipment down under the rocks, and I had to crawl around and find it, so I made just 23 miles in rough weather before having to camp again. The next day the weather was fairly nice, and I managed to travel the 80 miles to Birmingham, arriving exhausted.
---
Six Mile II, July 1974, 112 miles.
At this point in time, I was living in Birmingham, and my only bicycle was a Peugeot PX-10, which was basically a racing bike. The bike shop owner found himself stuck with a Bugger trailer and sold it to me for half price. On a one-day ride, I had traveled all the way to Six Mile and back, so I figured a three-day trip over the Fourth of July would be fun.

Unfortunately, the Bugger was a heavy trailer with heavy wheels, so I found the trip down to be a drag. However, I had a great time exploring caves, fishing, swimming, and hiking. On the trip back, I deliberately took the long way both to see some remote areas and to avoid traffic, and I was not too unhappy with the extra distance. But, I never tried to use the Bugger for long trips again. When I used it over ten years later to get groceries or to do laundry, I found it discouragingly slow and heavy once again.
---
The Smoke Rise Period
A period of twelve years passed in which I did not make a single bicycle camping trip, and during seven of those years, I did not bicycle at all. A combination of reasons (work, work locations, son, burglary, other activities) was responsible and not any desire on my part to bicycle less or camp less. During these years, I did make hiking and camping trips. My bicycling began again a few months after I was laid off in December 1984, at the age of 39.
These trips occurred between 1985 and 1988. I was unemployed most of this time, and most of these trips were made to visit my son Nathan, who was in his teens. I was living at my home in the woods near Scottsboro, Alabama, while Nathan was living in Smoke Rise near Warrior, north of Birmingham. As my income was from selling honey, I had lots of time and little money. My Motobecane "Grand Touring" bike was unsuitable for touring, but when its frame snapped, I purchased a true touring bike (the one I've used ever since) and later some bags, so I could bicycle to see him on weekends and avoid the cost of driving the van. At the time, we were mostly bicycling during our weekends anyway. Before I made the first bicycle trip, we explored around, looking for a suitable camping site that was closer to Nathan's house (our previous camping site was seven miles away). Nathan showed me a place he had found that was only about a mile from his home, so that's where we camped each time. These bicycle trips were not, of course, the only times when I spent weekends with him.
Since I have only statistics from my bike logs (and not a careful record), and since many details have blurred together, these reports are not very complete. I have indicated on the maps where we bicycled on our weekends only when I have a record of that weekend's trip. On the long rides to and from Nathan's home, I usually averaged 14-15 mph (most roads are fairly flat with occasional ridges or mountain climbs), so I won't report my speed unless higher or lower.
---
Smoke Rise I, 245 miles, September 26-28, 1986
I did not take the straightest route to Smoke Rise, but instead followed a route that resulted in the least traffic, first crossing the river, and then following it to Guntersville, then following country road and highway down to Blountsville, Garden City, and Blount Springs, climbing the mountain at Smoke Rise. As a result, the one-day ride down was 103 miles long. However, I was feeling very strong, so I made the trip in a very good time. The next day, the two of us explored some local paved and dirt roads by bicycle, covering about 50 miles and then camped out together. On Sunday, we spent the morning together without riding any real distance, and then I returned home, taking a shorter route. This time, I traveled on Highway 160 to Cleveland and Highway 79 to Scottsboro.
---
Smoke Rise II, 298 miles, October 9-13, 1986
On this trip, I first cut across Sand Mountain south to Gadsden, a trip I had made twice before without my touring bags. I averaged 15 mph, in spite of climbing two mountains and a high ridge. Leaving Gadsden the next day, I traveled to Altoona, then to Oneona, and then down 160 to Smoke Rise, averaging 16 mph with a tail wind. The next day, Nathan and I bicycled out to Garden City and back, a trip of 38 miles. The next morning, it was raining, so I had to leave early. I traveled all day long in the rain, going through Garden City, Cullman, and the south end of Huntsville, before camping near Cedar Grove in the the rain. In the morning, I found my legs had lost their strength, so the last 34 miles -- traveling through Scottsboro to get food -- was slow.
---
Smoke Rise III, 188 miles, December 1986
This trip also began with a trip to Gadsden. While there, the weather turned bad, so my parents wanted me to cancel the trip to Smoke Rise. But I still wanted to see my son, so my dad volunteered to drive me there. Because of the bad weather, Nathan's mother let us stay in their camper.

After spending the night, the weather improved, and my son and I were able to ride 22 miles the next day. I camped that night and returned home the next day, a 100 mile ride (the distance between my home and Nathan's was normally from 93 to 103 miles, depending on which roads I took and if I made any detours for groceries along the way).
---
Smoke Rise IV, 244 miles, March 27-30, 1987
On this trip, I followed highway 79 both ways, averaging 15.5 mph down but only 11.5 mph back up (with and against the wind). During our two days of riding, Nathan and I traveled 57 miles, although I have no record of where we went. A memorable experience happened on the morning I left. It was raining, and I was still in bed under the tarp, listening to the radio to determine whether the rain was supposed to continue, increase, or let up. Nothing, no information. Then I was struck by a deluge of water. In a few minutes, I was standing in several inches of water, and my sleeping bag and everything else was soaked. When I reached the store to dry off, a woman told me that the rain had been so heavy in Oneona that a stack of two-by-fours had washed into the road. Yet, the radio had given no warning.
---
Smoke Rise V, 267 miles, April 7-15, 1987
On this trip, I was riding towards Gadsden, when my tooth began hurting terribly. In Gadsden, I visited one dentist, who half-way removed the tooth, and then a second dentist, who finished the job. Again, I insisted on going on to see Nathan, and my dad wanted to give me a ride due to my tooth. But there was nothing wrong with the weather this time. We compromised, and he took me as far as Oneona, and I rode the last 26 miles there. Nathan and I didn't ride at all on this trip. As my mother had been concerned about my tooth, I returned to Gadsden via Asheville before continuing the trip on home. After reaching home, I was still restless, so I went back into Scottsboro before returning home again, making the day's ride over 100 miles.
---
Smoke Rise VI, 314 miles, May 7-11, 1987
This trip began with a trip to Gadsden to see my attorney (a timber company was trying to take my property away from me). After we finished on Friday afternoon, I began the trip to Smoke Rise, taking an unusual route to avoid night traffic. I traveled straight towards Birmingham, but using lightly-traveled roads, and turned north at dusk near Pinson onto another back road with little traffic that would take me almost to Smoke Rise. I reached the camping site late in the evening after a ride of 77 miles. On the weekend, Nathan and I rode to Corner (33 miles) and Gardendale (36 miles). I then returned to Scottsboro, stopping at the courthouse in Guntersville and at a friend's house to talk, and getting home very late at night.
---
Huntsville, 150 miles, May 14-15, 1987
My attorney wanted me to visit the courthouse in Huntsville as well, and since I could not make the trip in a single day by bicycle, I decided to make a little tour of it. I traveled from my home to Huntland, Tennessee, just across the Alabama line and then looped back down to Huntsville. I visited the courthouse, got the necessary information, and found a place to camp on the mountain. In the morning, I decided to continue to make a big loop out of it and returned to Scottsboro via South Huntsville, New Hope, and Grant. This 150 mile tour was not much longer than if I had traveled straight there and back. In addition, I was on lightly-used scenic roads over 90% of the time.
---
Smoke Rise VII, 254 miles, June 12-17, 1987
On this trip, I traveled down 79 to Guntersville and through Blountsville and Garden City to Smoke Rise.

Nathan and I made a 14-mile ride together the next day, going out to our old camping area.

I left the next morning, traveling over to Gadsden by way of Gallant, which I had never done before. After a day in Gadsden, I returned home.
---
Smoke Rise VIII, 277 miles, June 26-29, 1987
On my way down to see Nathan, I noticed I had a good tailwind. I had two choices: I could either average about 16.5 mph there, or could use the extra push to take a longer and harder route. Since we had already explored out to Arkadelphia, I decided on the second choice, turning west from Guntersville up over the mountain to Cullman, then southwest on the road to Tuscaloosa, turning off at the road to Arkadelphia, hitting some steep final climbs. It was a glorious ride, and when I reached the camping site, I had traveled 124 miles in eight hours, 15 minutes. Over the weekend, Nathan and I traveled another 59 miles before I returned home on Monday by the shortest route. I believe that this was the time that I woke in the night and rode part of the way home in the dark, partially to avoid the heat of the day. Along the way, I passed a routeman waiting for a store to open. "The early bird," I called out to him, "gets to wait." He grinned back at me.
---
Smoke Rise IX, 213 miles, July 10-13, 1987
On this trip, I traveled to Smoke Rise to pick up Nathan, who would be bicycling back with me. On the first day, I stopped to camp before reaching Blountsville, as I didn't want to arrive at Nathan's too early in the morning. The next morning, I continued the trip, but when I reached Smoke Rise I found Nathan anxious to go, even though I wanted us to keep the first day's mileage down. I intended to camp near Bangor, but Nathan was anxious to go further, so we made it to beyond Garden City before camping, about 15 miles. In the morning, we began a longer ride which took us through Blountsville, up to Guntersville, and over to Little Mountain, 44 miles. On the last part, Nathan became very angry on the steep climb in the late afternoon heat. We camped at a nice spot along the lake, and the next day we reached my home. Nathan was restless, however, so we ended up making another ride, and finished riding 60 miles for the day.
---
Six Mile III, 428 miles, July 5-16, 1988
When I began teaching school in September, the bicycle trips to see Nathan ended, although we saw each other through other means. In fact, I made no long rides until the month before my 1988 trip to Pennsylvania. After I returned from Pennsylvania, Nathan and I decided to make another long trip together, this one going south.

Again, I wanted Nathan to ride for half a day on his first day, and this time I camped near Guntersville, after traveling just 47 miles. In the morning, I continued the trip to his home, and we traveled into Birmingham together and camped at Ruffner Nature Center. The next day, the weather was hot, we had some hills along our route (going by way of Lake Purdy and state highway 119), and it was clear that Nathan had not been doing much riding. We stopped short at 28 miles. The following day, we made it the rest of the way to Six Mile, following 119 to state highway 25.

I assumed that we would spend a week camping there. I had the rubber raft, which unfortunately wouldn't stay inflated, a fishing rod, and some caving lights. There were lots of places to swim, which Nathan loves. However, he quickly found himself bored, and after two days, wanted to return home.

On the way back, his cycling ability had improved, and we rode the 61 miles to Birmingham, where we spent the night with a friend. The next morning we traveled back to his home. I stopped in Gadsden before returning home.
---
Cheaha, 337 miles, September 6-12, 1988
This ended up being my last touring trip involving Smoke Rise while Nathan was living there. It was not primarily a trip to see Nathan, but a final vacation trip before beginning the school year. According to my plans, I had a week in which to visit Cheaha, Six Mile Creek, and Tuscaloosa before returning to Gadsden after visiting with my son. However, I ended up traveling just half a day nearly every day, so it ended up being a much shorter trip. My alternate name for this trip is the Half Day Trip.

I first traveled from Scottsboro down to Gadsden, and the next day I went over to Jacksonville, 30 miles away. There, I talked to friends so long that I had to camp near town. The next day, I traveled down to Cheaha but found the hills extremely steep on the Talledega Scenic Drive, plus I was having some kind of problem with the bike that caused me to stop often to make adjustments (either the derailleur or the wheel; I don't remember, but I did solve the problem that day). As a result, I camped at only 39 miles. The next day seemed to be a great day. I visited Cheaha, stopped at a store at the foot of the mountain where the owner still remembered me from the 60's, stopped in Talledega for food, and headed into the country. But it was already getting dark, so I found a place to camp near Plantersville. In the morning, it was raining, so I stayed in the tent until late. When I finally got out onto the road, the rain was over for the day. I had now lost so much time by traveling just half a day each day that I was going to be late to meet Nathan. I traveled across the river, through Vandiver and Leeds to Lake Purdy, where I camped for the night, having phoned Nathan that I would be arriving late. In the morning, I made it to Nathan's house as quickly as I could, and we spend the rest of the day together, without doing any appreciable riding. I camped out in our usual spot for the last time and rode back to Gadsden in the morning.
---
School Trips
This group of trips are either short or pieces of a longer trip. During this time, I was making long summer tours, and due to the stress and extra work of teaching or going to graduate school, I had little opportunity to plan trips.
---
Six Mile-Grist, 198 miles, August 31 - September 2, 1990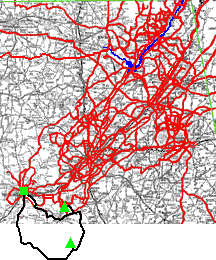 As soon as I returned to the University of Alabama in Tuscaloosa, I wanted to make a quick trip because I knew I would never have free time during the school year. Of course, my goal was Six Mile Creek.

It was difficult for me to remember the roads I had followed over 20 years earlier, so I found myself on the main highway below Duncan, now a heavily-traveled four-lane with no shoulders. I managed to travel a ways until I found a side road and eventually, by exploring back roads, I was able to reach Centerville. The trip from there to Six Mile was easy; nonetheless, my 61 mile ride was a good bit longer than the highway distance. However, my arrival was no joyous occasion. The land owners had cut down and burned all the trees in order to grow pines, and erosion had destroyed what the bulldozers had not. What had been my most favorite and delightful woods was a wasteland. I couldn't even find the spring, so I was forced to camp among charred wood without water. The next day I left, traveling south through Maplesville and then down towards Selma with the vague intent of camping within the national forest. It was not a great day, due to my bad feelings from the night before, but the road was no problem. I camped near Paul Grist State Park. The next day I traveled about 80 miles through Marion and Greensboro before returning to Tuscaloosa on 69. This was nice riding country, and people were friendly.
---
Tuskegee, 100 miles, June 10-11, 1993
NOTE: No map has been made for this trip yet.

This was not intended to be a separate trip. I left Cuthbert, Georgia, where I had been teaching, at the beginning of a trip to Canada, which was canceled due to my mother's problems (but I did make a New England trip instead, at her urging). I had been unable to train up while teaching because I was continually being given extra work, plus having to teach four classes and tutor at night. In fact, I had trouble getting away, even though my school year had ended in May. Therefore, I left with the intent of training on the road, but the heat was terrific. My stomach knotted up, and I was unable to eat much the first day. I found a satisfactory place to camp near the river, and I was able to eat some that night, but the next day was even worse. All I could get into my stomach during the day was some sardines, my energy was gone, and my legs were cramping badly. That night, I stopped at a motel at Tuskegee and called home. My brother was once again able to pick me up, but by the time he arrived, I had recovered and could have continued.
---
Scottsboro, 224 miles, June 16-20, 1993
This is another piece of my aborted 1993 camping trip. After spending a short while in Gadsden, I used the bike to visit my place near Scottsboro. I found the 75-mile ride to Scottsboro to be much too ambitious, so I camped along the river after about 45 miles. The second day, I reached my home in the woods, but I could just stay a couple of days before returning. To reduce the length of the trip back, I left in the evening of the second day and traveled about 25 miles to camp along the river, and then I traveled another 50 miles to get to Gadsden. The route that I followed both ways was the scenic route, along the river for about 1/3 the distance.
---
Birmingham, 78 miles, July 5-6, 1993
This is the final fragment-like trip. After spending some time in the hospital, my mother felt better and advised me to make my long bike trip. I had paid a good bit of money to take a week-long course in Vermont. It was now impossible to bicycle there; however, I could take AMTRAK to Boston and still have a week's time to get to Vermont from Boston. The nearest train station that would accept a bike was in Birmingham, so I made the trip to Birmingham, catching the train on the second day. I had a good ride, meeting another cyclist along the way and riding into town together. I spent the night camping on Ruffner Mountain, but the new naturalist was upset when he learned that I had camped, even though I explained that I had injured nothing and made no fire. This is a real problem: land is set aside to protect it from industry and polluters, and then the people hired to protect it work to keep out the hikers, cyclists, and campers! Getting my bike on the train was no problem, although I did have to put it in a box and tie my bags together. My New England trip began when I arrived in Boston.
---
Albany-Americus, 150 miles, August 28-29, 1993
Note: No map has been made for this trip yet.

After arriving back in Cuthbert, Georgia, from the New England trip, I was determined to keep in shape by making weekend trips. This was the only one I got to make, as the work pressure was much too great. The plan was to ride over to Albany, spend the night in a motel, and return the next day. However, I took my camping gear, just to be safe, which was a good idea. The trip to Albany was round about, as most of the straight route is a dangerous four-lane road. I stopped at the bike shop and talked with some cyclists there, and I was advised not to use the nearest motel. However, the next motel advertised one price and wanted another, so I continued to a third motel, which was not desirable, and where the girl could not understand my explanation that the magnetic strip of a credit card has to be the part that feeds through the reader. So, I left and soon found a very satisfactory camping spot in some small woods. The next morning, I continued north on the same road to Americus before turning west, traveling through Plains, Georgia, where Jimmy Carter lives, and then heading home.
---
My Latest Tours
These trips have all occurred since I began communicating with other cyclists on the internet and, all except the first, after I had created my website. With these, I had more free time to plan trips; however, these were not really vacation trips but trips necessary to visit relatives or achieve tasks.
Scottsboro II, 417 miles, October 10-17, 1997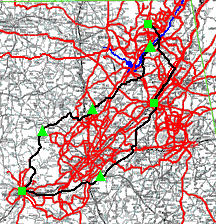 My father had placed my mother in an extended care facility, so he did not want me to stay with him; I had returned to Tuscaloosa, planning to go to school, which did not work out. However, I wanted to see Mother and to go by my place near Scottsboro, so I began this trip.

Even though it was October, the weather was very hot, and I was burned by the sun on my first day. I traveled north from Tuscaloosa, keeping on back roads until well out of town and then following highway 69. I camped near Jasper, Alabama, beginning to write my article on camping in the woods that evening. The next day, I continued on the same road, but turned off past the Sipsey River through Arkadelphia to Blount Springs. There a little girl became very excited about meeting a long-distance cyclist. I camped near Bangor, but in the morning, some people came into the woods and used my hill for target practice, the scariest outdoor experience I have ever had. I must point out that I was perfectly safe and that they had absolutely no idea that I was there. That day, I traveled up through Bloutsville, switched over to 79, and then turned east on minor roads to Albertville, where I visited with Mother and Dad. Dad asked me to stop by in Gadsden as well. I then took a road that carried me to the Tennessee River where I camped before getting to Scottsboro, having traveled 80 miles for the day.

After reaching my place in the woods and staying a day, I turned south to Gadsden, and Dad and I visited Mother again. I then left Gadsden, following 411, a back road, and 231 almost to Pell City and took back roads through Vandiver to camp before reaching Pelham. The next day, I traveled through Helena, Green Pond, and Woodstock to Tuscaloosa. This trip made me feel very good about my cycling ability. I had not been able to ride much during the summer, and I was afraid my ability had declined.
---
Gadsden, 262 miles, Gadsden, November 3-9, 1997
My sister was coming to Gadsden in November and wanted me to be there while she was visiting with Dad and Mother, so I decided to first go to Gadsden and then visit my place near Scottsboro before returning. However, my sister wanted me to stay the entire time that she was there, so I canceled the Scottsboro portion of the trip. My son and his wife were living in Birmingham before returning to teach in Asia, so I stopped at their apartment on the way up. This trip followed State Road 216 from Tuscaloosa to Highway 11 and then Highway 11 to Gadsden. Leaving Gadsden, I followed Highway 411 and 119 down to Lake Purdy, east of Birmingham, where I camped. I then traveled through Helena and Green Pond to Highway 11 and back to Tuscaloosa.
---
Gadsden II, 255 miles, April 11-17, 1998
NOTE: The map would be nearly identical to the previous map, except I traveled in the opposite direction.

Weather had not allowed me to make an earlier trip to Gadsden. On this trip, I reversed the course of the previous trip, camping at Lake Purdy on the way up, and stopping to see my son on the way down. I was very pleased that my speed was good on this trip (although not the 14-15 mph averages of ten years earlier), even though I had only been riding ten miles a day during the winter.
---
Birmingham II, 285 miles, August 2000
After returning to my home near Scottsboro from my year 2000 trip, I needed to return to Gadsden to get my mail from my brother's house, and I needed to visit Birmingham to get some papers needed for my pension. The first day, I traveled just 26 miles to camp by the river, as the weather was still very hot. The next day I completed the trip, stopping at my parent's former home to visit neighbors before getting to my brother's. The next day, I followed 411 and back roads to Highway 11 and Birmingham. Due to the heat, I did not try to camp but stayed at a motel. In the morning, I got my business done and headed north on old 31 through Warrior, Smoke Rise, and Blount Springs to camp near Bangor again, having to stop due to the heat in the library at Warrior for some hours. The next day, I made it back home, stopping at a friend's house during the hottest part of the day.
---
Gadsden III, 123 miles, September 21-23, 2000
My sister was visiting my brother at his wife's trailer near Cedar Bluff, so I went over to see them. My trip was delayed due to a bad cold. In spite of the cold, I was able to make the 79 mile trip, traveling along highway 35 and then leaving the highway at Section and traveling through Fyffe and Lebanon to Ft. Payne to avoid a dangerous stretch of road, then after a back road up Lookout Mountain, on 35 to Gaylesville and down 68 to Cedar Bluff. After staying a day, I followed 68 to Centre and back up Lookout Mountain, turning south to Gadsden. I camped in the badly burned woods about a mile from my parents' former home. The bike trip was over, as in the morning, I had to rent a truck and pack my property from storage to take it home.
---
Rainbow City, 188 miles, October 9-12, 2001
My sister made another trip to visit my brother and his wife. I was asked to meet them to make an automobile trip to Tuscaloosa, to see my mother, who is still alive but who does not recognize anyone. On the first day, I failed to make good progress for the first 15 miles (due to a headwind) and decided that I would not be able to ride all the way to Rainbow City in one day (our trip was planned for the next morning). I called to explain the situation and then continued towards Gadsden, however, following the Tennessee River south, to allow the mountain to shield me from the wind. Unfortunately, this route is seven miles longer, and I would still have a long distance to travel into the wind after leaving the river. The trip down the river was beautful but still a little stressful, as I was worried about whether they would leave without me. Fortunately, the wind had died by the time I climbed up onto the mountain above the river. After descending the mountain on the other side, I was tired enough that I thought about camping, but I continued the 76 miles to Gadsden and ended up camping near Noccalulu Falls, not far from where I camped the previous year. The woods still looked miserable as one year was not enough to recover from the fire. The next morning I traveled another 12 miles to my brother's house, arriving before everyone was awake. On the 11th, I made a trip into Gadsden and visited some friends and several stores. On the 12th, I rode all the way back home (81 miles) in one day, taking the shorter route. I felt very strong and traveled long distances between stops.
---
| | | | | |
| --- | --- | --- | --- | --- |
| Trip | Distance | Days Traveling | Nights Camping | Year |
| Garth I | 140 | 2 | 3 | 1965 |
| Newsome Sinks | 170 | 4 | 3 | 1967 |
| Six Mile I | 80 | 2 | 2 | 1968 |
| Pratt Ferry | 110 | 2 | 1 | 1968 |
| Garth II | 220 | 6 | 20 | 1970 |
| Six Mile II | 112 | 2 | 2 | 1974 |
| Smoke Rise I | 245 | 3 | 2 | 1986 |
| Smoke Rise II | 298 | 5 | 3 | 1986 |
| Smoke Rise III | 188 | 3 | 1 | 1986 |
| Smoke Rise IV | 244 | 4 | 3 | 1987 |
| Smoke Rise V | 267 | 4 | 2 | 1987 |
| Smoke Rise VI | 314 | 5 | 3 | 1987 |
| Huntsville | 150 | 2 | 1 | 1987 |
| Smoke Rise VII | 254 | 4 | 2 | 1987 |
| Smoke Rise VIII | 277 | 4 | 3 | 1987 |
| Smoke Rise IX | 213 | 4 | 3 | 1987 |
| Six Mile III | 428 | 8 | 8 | 1988 |
| Cheaha | 337 | 7 | 5 | 1988 |
| Six Mile-Grist | 198 | 3 | 2 | 1990 |
| Tuskegee | 100 | 2 | 1 | 1993 |
| Scottsboro | 224 | 5 | 2 | 1993 |
| Birmingham | 78 | 2 | 1 | 1993 |
| Albany-Americus | 150 | 2 | 1 | 1993 |
| Scottsboro II | 417 | 7 | 4 | 1997 |
| Gadsden I | 262 | 4 | 1 | 1997 |
| Gadsden II | 255 | 4 | 1 | 1998 |
| Birmingham II | 285 | 5 | 2 | 2000 |
| Gadsden III | 123 | 2 | 1 | 2000 |
| Rainbow City | 188 | 3 | 1 | 2001 |
| TOTALS | 6,327 | 109 | 84 | |