Journey to Colorado, 1990
The earlier web page of this trip published in this location was written shortly after I returned home in 1990, although some details were added when making the page. This account is based on that account, extensive notes from the trip, and additional memories of the trip.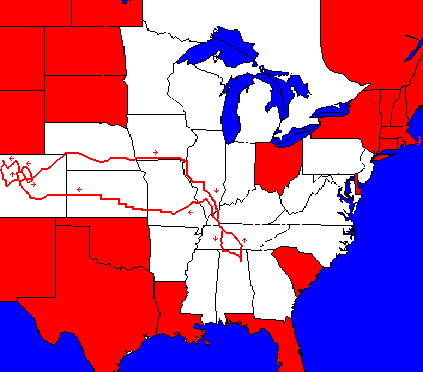 My original plan was to ride from Alabama to the West Coast and back, using Bikecentennial routes both ways, but traveling out through Kansas, Colorado, and Wyoming and back through Montana, North Dakota, and Minnesota. I planned on a 115 day trip. However, the University of Alabama decided to start several weeks earlier, my school asked me to stay a week longer (even though I wasn't returning), and my dad asked me to work for him for ten days. While I still had a long vacation, I knew before I began that I could not make it to the coast unless I made record time, so I was thinking about turning back at Missoula. However, I changed my plans after reaching Colorado.
The bike was in pretty good shape. I had repainted it the previous year, and I had built new wheels for this trip. I had also designed and sewn my own pannier bags over the winter, although a little work still needed (and still needs) to be done on them.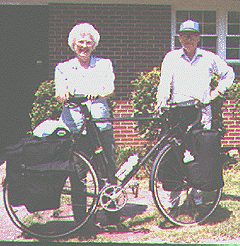 I carried more weight on this trip than any other, due to my wanting to be able to cope with the extremes of weather and anything else that came along. In the spring, I had managed to ride 1,100 miles in hilly Kentucky terrain, and my weight was a trim 165 pounds. But when I stood on the scale while holding the bike, the scale reached its maximum weight of 255 pounds, meaning my load was at least 60 pounds. I estimated that at the peak of the trip I must have been carrying about 75 pounds, including maps and books purchased along the way (I had started with a thick stack of maps plus a book as well) and food for several days. Part of the reason for the weight also was the winter sleeping bag, the thermal underwear, and other extra clothing that I carried to keep me warm at high elevations. In addition, I was carrying a water purifier, so I could drink out of the local streams; camera, tripod, and film, so I could make many photos along with way (the ones included on this page are only a sample); and a number of items that were either carried on that trip alone or not carried again: a solar charger for my batteries, a small radio and headphones, a portable shower (plastic bag with spray nozzle), and a bike alarm, intended to keep someone from stealing the bike (absolutely useless -- the thief could go a block without setting it off and it was not loud enough to turn anyone's head).
The cost of the trip was about $475 for food, $100 for non-food items, and $250 for photographs for the 73 days and 4,349 miles. Excluding the cost of the photos, that would be $7.88 a day or about 13.2¢ per mile.
A note about the miles per hour figures given in this account: my cyclometer recorded the time when I was walking as well as the time when I was riding, so my average speeds are the lowest of any trip.
---
Day one: The first day was very hard. Working in my dad's basement a week had not helped my riding muscles or my tan, so I became tired from riding and from the sun. My leaving my parents' house at 11:00 did not help. After climbing and descending ridges twice, I stopped and made photos of my bike and the last ridge I had crossed, and then I traveled up the valley and stopped to buy a drink 16 miles out from a old man who owns a tiny store (who was not in a friendly mood). I noticed that my rear wheel, which I had recently built, was wobbling.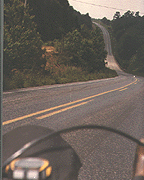 I climbed up onto Sand Mountain and made my second rest stop in Geraldine, then I stopped for my sixth photo at a steep dip where the road crosses a cliff-lined creek. I traveled on to the Sauty Creek Fish Camp, 46 miles (and four hours riding time) from home, before stopping again.
Before starting, I had thought that my speed would be good but my endurance poor for the first day, but the opposite happened. At the fish camp, I also noted that I was mildly burned and somewhat dehydrated. I was actually surprised that I had not burned more, but the sky had been hazy and sometimes partially cloudy.
As I traveled along the lake, I saw a dozen chipmunks running from the edge of the road in different places. My speed actually increased to 14 mph for a while, but I reached Scottsboro (62 miles) in 5:26. Another 13 miles took me to my cabin in the woods.
Gadsden - cabin, 79 miles, 10.7 mph, May 24.
---
Rest day: In the morning, I had a pulse rate of 55, high for me. I also recalibrated my cyclometer, since my actual distance should have been 79 miles (instead of 75) as the cyclometer was set to the wrong tire diameter. I rested most of the day but also took a trip into Scottsboro at a disappointedly slow speed.

Cabin - cabin, 27 miles, 10.5 mph, May 25.
---
Day two: Before leaving in the morning, I tried once again to true my wheel better. I also was visited by a local who had heard about my getting "free" land (a rumor that caused me much mischief). After climbing the mountain and riding some miles, I stopped to see a couple of friends, but only one was home.

I then crossed into Tennessee along a high wooded ridge after 20 miles of travel. All the land on top of the mountain north of Hightop is in the Carter Wildlife Area and is posted "no trespassing." I went to some pains to find a place to rest and eat that was shaded and yet still on the public right of way (I hoped). Coming down off of the mountain at high speeds, the bike was shook by gusts of winds, and the brake made the tire very hot by rubbing. At the foot of the mountain, I stopped in a churchyard and once again tried to true my wheel. As I traveled into Winchester, I carefully recorded my route on the back road.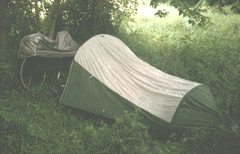 That evening, the sky clouded, and I saw a rain storm approaching. I stopped in a field below just below Tim's Ford Dam. At the end of the field was a little grove of trees next to a small stream, a location providing both concealment and cooking water. It sprinkled during the night, but the storm never arrived.
Cabin - Tim's Ford Dam, Tennessee, 51 miles, 12 mph, May 26.
---
Day three: In the morning, I discovered that Sammy Slug and Millie Millipede had crawled all over the tent during the night. I noticed moss growing on the dead branches of a black walnut tree. The sky was sunny and hot in the morning but became cloudier and cooler during the day.

Taking some more photos, I traveled on a road (highway 50) that wound beneath the trees to Lynchburg, home of Jack Daniel's, which I passed without stopping. Following 82, I climbed over hills to Shelbyville, a town I had traveled to in 1966. Unfortunately, I turned the wrong way and traveled three miles before I realized it. However, I did find a nice little roadside stand to stop, buy and eat fruit, and talk with the owner.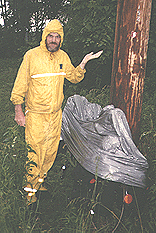 I followed busy 41A for a short distance, but I turned left at Elbethel, where I was hit by a sudden storm. Traveling on, I stopped at a small store just before a second downpour began. From there, I had a little trouble following my route, taking another wrong turn due to the fine lines on the topographic map. This route, traveling through open countryside, was not as nice to me as traveling through the woods.
Before reaching Franklin, I joined the Tennessee Bicycle Route and passed two local cyclists. Traveling into the outskirts of town, I stopped to get water from a friendly couple. Needing a place to camp, I backtracked to the city bypass and camped on the ROW, out of sight of the traffic.
Tim's Ford Dam - Franklin, 79 miles, 12.9 mph, May 27.
---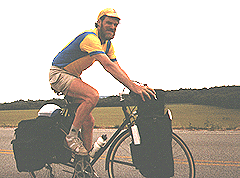 Day four:I started at 6:30, eager to be on my way. The sky was overcastted, and it drizzled from time to time, just hard enough to wet the road but not me or my bags. I followed the Tennessee bike route along 96, which had a good shoulder, then south to the small town of Leipers Fork where I crossed the future location of the Natchez Trace Parkway. I then climbed up over wooded ridges on Pinewood Road (old 96) into the Tennessee State Forest, where there were many possible camping sites. Along the way, I stopped on top of a hill to eat a couple of bananas, passed four local cyclists traveling together, and watched a buzzard circling a few feet over a house (for some unknown reason).

Then I descended into a valley, crossed South Harpeth River, and up to Fairview on a steep winding road, where I rejoined highway 96. Somewhere before rejoining the highway, I found a store and ate some bread and drank a Cheerwine, already 35 miles into my trip at 10:00 in the morning. The temperature was almost cold.

There was a good bit of traffic on 96, and I missed my turn at Burns, expecting to see the town before I turned. A back road put me back on the route, now on 47. I stopped in another store where I bought a tomato, a pepper, yogurt and sardines. My diet is balanced on trips, but my meals are often strange. While in the store, it began raining and rained for two hours while I was in Dickson. Before leaving town, I also stopped and ate a couple of bean burritos at a Taco Bell, where I met a basketball player/cyclist who was interested in camping, so I showed him my gear.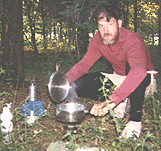 I rode out of town in heavy traffic with my rainsuit on, but the traffic and the rain lessened, and I began to enjoy the afternoon ride along Yellow Creek. I passed Jewel Cave, saw some camping sites, and took a picture where the creek was next to the road.
At five o'clock, I was crossing a little hill when I saw a pretty place to camp on the right side of the road, away from any houses, so I stopped early.
Franklin - Erin, 65 miles, 11.7 mph, May 28.
---
Day five: I was lazy getting going in the morning, probably because it was cold. I pedaled to Erin over many hills, some with Tennessee State Forest land. I bought several kinds of fruits and vegetables at a fruit market and then bread, rice, pasta, sauce, and tuna at a grocery, and then I stopped to eat banana sandwiches on the court house bench.

It was quite hilly between Erin and Tennessee Ridge, but the road was flat from there until I turned north at Mckinnon. Along the way, I passed a cave in the bluff at Steward. At Mckinnon, I encountered a road too steep for me to pedal over and, after that, I traveled up and down steep, wooded hills. However, before I reached highway 79, I discovered the woods were being destroyed to plant pine trees, a process that destroys habitat, plants, animals, and soil fertility.

I then had to travel east to nearly Dover to get to the Trace which passes through the Land Between the Lakes, a fifty mile stretch of woods owned by TVA. Thus, the Tennessee Bike Route had made me cover three quarters of a circle (on the way back, I returned the shorter way, with little traffic). While eating some yogurt, I talked with a motorist who said he had ridden BRAT the previous year.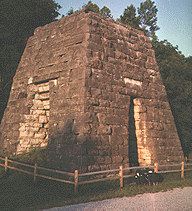 My next stop was the info center on the Trace, but no one was there, so I indicated where I thought I would be camping, using their map. The Land Between the Lakes resembles the Blue Ridge Parkway or Natchez Trace to a passing motorist. However, camping is permissible on most parts of the LBL. Unfortunately for the touring cyclist, the LBL is not very long, less than 50 miles.
I didn't stop until 8:30 and had to pitch my tent in the dark, as my solar recharger had not charged its batteries. I camped on a rise above the road, just before the state line, with whip-poor-wills all around; one only 100 feet away. They made a clucking sound as well as their more recognizable call.
Erin - LBL (#1), 60 miles, 10.9 mph, May 29.
---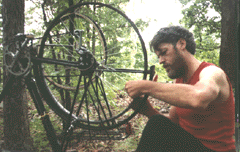 Day six: This day was set aside as a rest and repair day, so I deliberately slept in late. During the day, a road crew was working near me, so I went out to visit for a little. But mainly, I spent most of a day working on the rear wheel, which I had over trued when I had built it the first time. Because the spokes were too tight, it was impossible for me to keep the wheel from quickly getting out of true. To correct the problem, I loosened all of the spokes completely, and then I tightened them again. I trued the front wheel as well, but it did not need much attention. I also spent some time sewing on my bags, but I did not finish that job.

At four in the afternoon, I began riding again, and I traveled until six o'clock. I stopped at a second visitor's center, just as it was closing. That night, I fell asleep while listening to the radio through my headphones after eating a big pot of rice, beans, and corn.

LBL(#1) - LBL(#2), Kentucky, 20 miles, 12.6 mph, May 30.
---
Day seven: When I started in the morning, I had to again adjust my rear wheel, but this was the last time I had any trouble from it. I stopped at a store three miles beyond the northern visitor's center for a snack and some information, and the man there, smoking a cigar, said that most people paid him for information. I asked him if I could ride 62 into Paducah and over the bridge, and he said, "If you are strong enough."

Highway 62 had a fair bit of traffic, but it had wide shoulders and was fairly level, and I had a good wind behind me, so I made a fast trip. My speed didn't drop below 16 mph, even when climbing the hills. Just as I started across Kentucky Dam, a train pulled onto the dam and blew its whistle at me as if I was in the way or something. I took it as a challenge to race, so I spend up to 21 and sometimes 23 mph as the train furiously tried to catch me. As I reached the end of the dam, and our paths separated, I took my hat off and waved it in the air, and the engineer, who had been blowing at me the whole time, waved back at me.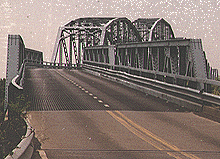 The Brookport Bridge at Paducah was an unexpected and unpleasant surprise. There was little traffic on the bridge, fortunately, but I had a steep climb to get onto the bridge. Then I found myself crossing, high above the water, with a metal grid roadbed to ride on, a very narrow lane, and an inadequate guard rail. My wheels tended to slip and slid on the metal surface, and I hated to think what the bridge would be like in rain, fog, or ice. While sliding around, I was looking down at the Ohio, which seemed to be 100 feet below. Bridges often make me fearful, but this one really had me hyperventilating. The picture shows the bridge from the Illinois side, where the ramp is not as steep or as high.
After washing my clothes in a laundry, I continued, traveling north on 145 to intercept the Bicentennial Bike Route, which I would follow as far as Breckenridge. At first the hills were only modest (I even photographed a little swamp) but gradually became steeper. I ran out of water and had to use my water filter for the first time, but I settled for half a bottle, since filtering was slow. Further up the road, I stopped at a roadside park, but the toilets were too nasty to be useable and there was no water. I finally got my bottles filled at an Illinois Forest Service office; there, I encountered the Western water tap for the first time. A man with three bottles of cold water is wealthy.
I joined the Trans-American Bike Route at 68 miles. Immediately, I found myself on a side road going over three hills I had to walk, and on the first day, I had trouble staying on the route. On the first or second day, I came up with a solution for finding the Bikecentennial Route after getting lost: look for the steepest hill.
At 6:30, I passed a scrubby area off to one side of the road. I had encountered a campground already, but it had looked horrible, but this place did not look like much either: weeds, water, and poison ivy. I pushed through the bad area and, on the other side, I found a very pleasant place to camp. It seemed to be a trail that had been used quite a bit, but I felt that it would be unlikely for someone else to wade through the muck that late in the evening, so I remained where I was.
A fox appeared across a fence, just 20 feet away, and then bounded off. He must have been approaching without seeing me until I turned my head.
LBL(#2) - Tunnel Hill, Illinois, 80 miles, 14.7 mph, May 31.
---

Day eight: In the morning, I hiked along the trail where I had camped and discovered that it lead to a rails to trails route.

After starting, I stopped at a store for breakfast and then traveled over four steep hills, like the one in the picture. The route then took me between several lakes, and I stopped to swim in Crab Orchard Lake. My next stop was Carbondale, where I bought a needed shirt at a bike shop owned by Thais. While there, I stopped by the campus. The city streets near the college are marked with bike lanes, but the students all seemed to be riding on the sidewalks anyway.

By the time I reached Ava in the afternoon, I was very hot and tired. As I was riding along, a man drove out to stop me. Earl was 75 years old, and he had crossed the United States by bicycle when he was 70. He told me about the local bridges, about his travels, and about his philosophy of life. He and his wife gave me a plate of food to eat. There was sort of a ditch with trees on both sides on his daughter's property (he now lived in Colorado, but his daughter lived on his old farm), and he wanted me to camp there, but I preferred a flatter camping site in his meadow, a short distance from the ditch.

Tunnel Hill - Ava, 58 miles, 12.2 mph, June 1.
---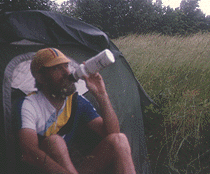 Day nine: It rained during the night. In the morning, I awoke to find my camera sitting in a puddle of water; fortunately, it was water resistant. Even though I was anxious to leave, Earl was anxious to talk, so I didn't leave until 10:30. After leaving the farm, the sky was overcast and rain kept threatening. I changed into my rainsuit and then back out of it. I fought heavy gusts of winds that would rock the handlebars like someone jerking on them. I crawled up the hills and didn't go much faster down them. The day was passing, but I wasn't covering any ground.

When I approached Chester, I noticed that the Bikecentennial Route, for some strange reason, made a huge loop around the town, so I went straight in, stopping at a no longer used covered bridge along the way. I crossed the Big Muddy (Mississippi) into Missouri at 3:25, and traveled across the river bottom with the wind blowing at about 25 mph. The route turned north and, as I reached the first hill, I was hit by a three violent rainstorms, which I could only stand and take. After the last storm, a rainbow appeared.

I then traveled many more miles, up and down hills, with the woods either too small for camping or posted "no trespassing" or fenced. Finally, as I rode by a small creek, I noticed that the land was posted only "no hunting." After using the bicycle to help me balance on rocks as I crossed the creek, I walked back into lovely woods and camped. But it was already nine o'clock; too late to cook dinner.

Ava - Coffman, Missouri, 60 miles, 10.3 mph, June 2.
---
Day ten: It was chilly in the morning, so I put on my wool arms and legs (the legs attached to my shorts with velcro; an idea that didn't work well because pumping pulled them off). I pedaled into Farmington and then out into wooded country again. The traffic was thick and heavy after leaving Farmington, the wind was strong, and the hills were steep. One driver succeeded in scaring me off of the road by blasting his horn while passing very close. Most of the woods were posted.

I stopped briefly at Pilot Knob and saw the "fort." I also took pictures of the hundreds (or thousands?) of people lying on the rocks in the sun at Johnson's Shut-ins (evidently the reason for the bad traffic). I talked briefly to two "cyclists" who were disgusted that they couldn't ride their bikes on the paths. Then, after many hills, I found a tiny site to camp, barely invisible from the road, just within the national forest.

Coffman - Centerville, 62 miles, 10.6 mph, June 3.
---
Day eleven: I got going at 8:50, being cold and also tired from the day before. A short ride took me down to Centerville where I talked to man who told me that lead mining was still going on in the area; in fact, he was working some at a shaft.

The downhills and uphills were farther apart in the morning, which allowed me to ride a little faster, but there were still many climbs between Ellington and Eminence. Along the way, I saw many good camping sites, but the number of houses increased as I neared the second town. I ate lunch in Owl's Bend (not much there) and ate again in Eminence.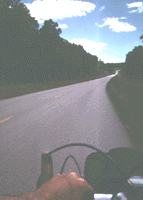 After leaving town, I saw a woman in coveralls pulling a child's wagon with a flag attached, and I thought it was possible that she could be a Trans-American walker, but she ignored me. At the top of a steep climb, I stopped at the store for some water and a drink, and the owners told me that they had traveled all over the Ozarks on a motorcycle before stopping there.
After passing Alley Springs, I stopped for the night on the top of a ridge. It was only seven, but I was very tired from pulling and walking hills. Many times during the day, I had climbed a hill too steep to allow me to pedal at 2.6 mph, and then after getting to the top, I had immediately dropped back down to the same stream again. Sometimes I walked three hills in a row.
In the early evening, coyotes howled nearby.
Centerville - Alley Springs, 53 miles, 10.2 mph, June 4.
---
Day twelve: In the morning, I had to do everything twice because I was still tired, and I didn't start until 10:30. Before I left, a doe came into my camp. She ran until she was near me, then stopped and looked me over carefully, and finally ran off. A short distance up the road, I saw two small does feeding along the road, but they jumped the fence when I appeared.

Fortunately, the road was flatter today, but the wind was picking up. The woods started thinning out, and the landscape became more open.

That evening, when I reached the valley of the Gasconde, I had still been unable to find a spot to camp. Around Dove Creek, there were signs that read "Posted and Patrolled." I stopped and asked a property owner about Lazy Louie's and some neighboring woods. He told me that Lazy Louie's camp was six miles up the road, but he didn't know if it was still open or not. He also gave me directions to a hunters' camp site, a short distance away. To get there, I had to push the bike up a viciously steep hill. The site was full of ticks; I killed 23 before crawling into the tent. However, I had a pretty spot to myself, so I was content.

Alley Springs - Dove Creek, 64 miles, 12.1 mph, June 5.
---
Day thirteen: A rough day of climbs followed. To rest from the heat, I stopped in a church yard. Ten miles later, including three hills that I had to walk, I stopped at a convenience store in Marshfield where discovered my keys missing. So I had to retrace my route to the churchyard, where I picked up my keys off of the ground, and then returned, thus climbing the three hills a total of nine times, and having to walk them each time.

The Bikecentennial map mentioned town parks as places to camp, and since I was exhausted, I was willing to try. The people at the swimming pool were happy to see me and told me that I could swim free as well. That night, while I was sewing my bags, I was "surrounded" by Indians who told me about the big pow-wow they would have there in a few days. I was sorry I couldn't attend.

Dove Creek - Marshfield, 54 miles, 11.1 mph, June 6.
---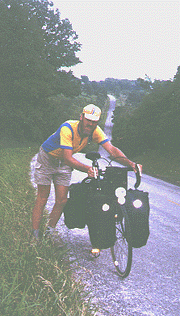 Day fourteen: The next day I traveled an even shorter distance, including seven walking hills, to Ash Grove. On the way, I met Ron, averaging over 100 miles a day on his bike trip east. His first words to me were, "Where did get those bags?" He told me about a couple riding just ahead of me who I kept hearing about all the way to Pueblo yet never did meet. He said that the two were staying in motels, and their kids were traveling by car. After we parted, I stood and watched him quickly descend the hill, and then slowly begin to climb the other side. I guessed that his hundred-mile days were over.

I had this park pretty much to myself, although I did talk to the police and to a woman jogging on its track. The toilet was a mess. However, everything was pleasant enough.

Marshfield - Ash Grove, 49 miles, 11.1 mph, June 7.
---
Day fifteen: The next day, it rained before I got up, but the rest of the day was dry. I stopped at a tiny store owned by a Greek who was watching a Quebec TV show in order to learn French. I had to walk only three hills because the terrain was getting rapidly flatter. For a while, I stayed behind a tractor, which helped improve my speed. There was also some construction work on the road, and I stopped to talk with an asphalt crew.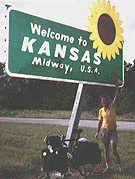 At Golden, I learned that the couple had been by just a couple of hours earlier. Two people suggest that I try the café, so I went down there, where I was approached by a man with a pickup who said that he would carry me wherever I wanted to go, and he said he had helped a lot of Trans-American cyclists that way. I told him that I would only accept a ride in an extreme emergency.
At Pittsburg, Kansas, I had my first "trouble" on the trip. Although the people at the swimming pool told me I could camp free, the park manager refused to let me camp, and said I would have to pay to camp in an RV park, said park having nothing but hook-up valves buried in the ground, not even picnic tables or trees, and with no rest room. I found a wooded creek bed and camped free.
I was disappointed with this week of the trip; the Bicentennial route was pretty but bypassed scenic areas to the north and south and had a lot of heavy traffic to boot. In addition, the climbs were steeper than even in the Appalachians and mostly seemed unnecessary: I would often leave a stream, climb to the top of a mountain, and then descent to the same stream. My joke was to call the state "Misery."
Ash Grove - Pittsburg, Kansas, 73 miles, 12.1 mph, June 8.
---
Day sixteen: I stopped first thing in the morning to wash and dry clothes because a storm was coming in. Farmers told me that frequently rains had been keeping them from doing any work. Before leaving town, I was stopped by a post office employee who said he had been keeping an eye on the bikers traveling through town, so I told him I had not been allowed to camp at the park.

The route zigzags around a bit after leaving Pittsburg. I stopped at a safety rest stop to spread my tent to dry and to cook, and a man came up and started telling me all about himself. After he finally left, another came up and did the same thing. It's ironic how one is treated while traveling by bicycle: one person treats you like an escaped convict, and the next treats you like an important visiting dignitary. Although the two men were quite interesting and entertaining, their making a fuss over me left me feeling uncomfortable.

I traveled on to Chanute and skirted the park there, which did not look like a suitable place to camp. Then I took the road west which Ron had told me to avoid because it was too hard on the tires. However, I had wider tires than he, so the road caused me no problems.

Now it was approaching eight o'clock, and I was surrounded by farms. I decided to ask the first people I saw if I could camp on their land. Then a woman waved to me, so I stopped and asked if she knew where I could camp, and she suggested the cemetery across a dirt lane. I felt uncomfortable camping in a cemetery, not from fear of the dead, but from fear of offending anyone, so I camped behind the workman's shed, well away from the graves.

Pittsburg - Chanute, 71 miles, 13.5 mph, June 9.
---
Day seventeen: After a sound night's sleep, I rode west on my rough road, and then north past an official-looking sign that said:


CAUTION
WILSON COUNTY
POTHOLE STORAGE
NEXT
11 MILES

to Toronto Lake, where I stopped for a swim. As I started to leave, rain began to fall, so I raced against wind and rain for another three miles, where I found shelter -- and food -- at a store.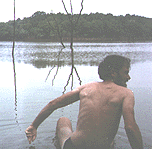 After the rain ended, the wind began blowing to the west. Entering a busy highway 54, I found myself blasted westward by the wind, going uphill at 16 mph and downhill at 32 to Eureka and beyond to Rosalia. This area looked like the prairies to me.
Where the Bikecentennial route turned north, I kept on east a short distance to another safety rest stop because I needed a camping site and because I didn't want to fight the cross winds.
Before I set my camp up for the night, another character stopped to tell me all about himself. He did tell me a fascinating story about hitchhiking dressed as Santa on Christmas Eve. He said that he had gotten a last minute impulse to go back home, and on another impulse, he had put on a Santa Claus suit and thrown some wrapped packages into a sack. He figured that being dressed as Santa would help him get some rides. However, he wasn't as successful as he imagined, and the police were out in force to catch him, inasmuch as the story was being spread around in coffee shops and over the CB's and because hitchhiking on the interstate was illegal. However, he kept a sharp eye out for the troopers and, since it was night, he could easily hide. Nonetheless, he was finally caught, but instead of putting him in jail, the officer drove him all the way to the state line. He said, "We can't take the chance of putting Santa Claus in jail on Christmas Eve; the newspapers would crucify us."
I was tired that night and went to sleep at sunset.
Chanute - Rosalia, 77 miles, 16.2 mph, June 10.
---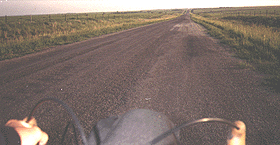 Day eighteen: In the morning, I started extra early, first having to fight my way back to my turn. Then I blasted north at 21 mph to Cassoday, but from there, the wind battered me from the south for the rest of the day (and for the rest of the week). With the wind roaring in my ears, I learned first-hand why the rock group Kansas sang songs about "Dust in the Wind" and "People of the Southern Wind."

Traveling along a back road, I saw nothing except fields and pastures all day long. I frequently saw Mennonite churches, but no others (no signs of buggies here, however). At one point on this nearly deserted road, a teenager drove by and hollered, "Get off the road!"

That night, I rode into Newton and visited the bike shop. The owner was very friendly towards bike travelers and directed me to the city park. He also suggested that I stop the next day to see the D___s in Buhler. Before going to sleep, I was entertained by a tiny chipmunk that showed no fear.

Rosalia - Newton, 60 miles, 11.7 mph, June 11.
---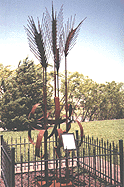 Day nineteen: The next day, I traveled to Buhler, where my lunch was blown off the table and my ears hurt from the wind. I decided to at least stop and say hi to the D___s, and they asked me to spend the night with them. I had already refused when they told me that three other bike riders would be coming, and in addition, these cyclists were traveling in my direction, so I wanted to meet them, and I hoped we would be able to travel together.

I discovered that people in small towns in Kansas seem crazy by Alabama standards: They never lock their doors, often leave keys in cars, and never worry about where their kids are. However, they live in a much safer world than we do also.

When the cyclists arrived, I discovered that they and I had much more in common than I would have thought: they had started from near Louisville, Kentucky, about the same time that I had passed through Franklin (where one of them lived), they had been hearing about me all during their ride (evidently, I was just ahead of them), and they would be returning to the University of Alabama (as I was) in the fall. They seemed to like the idea of my traveling with them at least for a while, and they considered me a much more experienced and capable cyclist. They thought they could travel as far as Sterling the next day.

The D___s told us some stories about the cyclists who had stopped at their home. One family that stopped was especially strange: their bikes were not suitable for long-distance travel, and they were carrying no camping gear. They confessed that they were from a nearby town and had come because they had heard that the D___s would give them a free meal.

Newton - Buhler, 34 miles, 10.8 mph, June 12.
---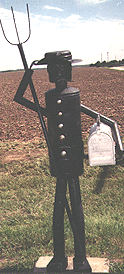 Day twenty: I delayed leaving the next day, thinking the bike riders would leave with me. First, everyone slept in late. Then one of them decided he needed to wash his clothes, but he had to wait until Kathy D___ was through with her clothes. At eleven, they suggested that we watch Batman on the VCR while the clothes were in the wash. Then, after two hours, the clothes still weren't dry. I went and bought some food for lunch and, one at a time, the other three left, bought food, and came back and ate. One of them then took a nap. I noticed that their bags were still unpacked. At four, I decided they would not get started any time soon, although they still seemed to be making pitiful attempts to get going. (they told me when I met them at the U. of A. that they ended up staying a week), so I left for Sterling, a half-day's distance away.

While talking to them separately during the day, I had puzzled over answers they gave me, and I had become more and more suspicious of what they were telling me: 1) They told me that they had been riding only short distances and on sidewalks before they started (and they were riding on sidewalks when I saw them in the fall at the U. of A.). They also told me that they could not begin to cover the same number of miles in one day as I had. Yet they had to have covered as many miles or more as I had since the time when they started. 2) They told me of rough times in Missouri due to lack of proper camping equipment, rainy weather, and getting lost. Yet they had not fallen behind. 3) They told me that they had no lights and could not travel after dark, yet they also told me they had arrived in Newton city park after I had gone to sleep. Yet it was quite dark when I had gone to bed. 4) They told me about people they had met who had talked to me, and one of them was the man with the pickup truck in Golden. 5) They told me that they had been ahead of me at one point, when they had camped in Chanute city park before I arrived.

A clear picture presented itself to me: they had accepted a ride with that man from Golden to Chanute, and that was how they had gotten ahead of me. Then how had they arrived in Newton after dark? I suspected another ride. And how had they kept up with me? I suspected more rides. To confirm my suspicions, when I talked to them at the U. of A., they made a big fuss about my having bicycled all the way to Colorado and back, but when I pointed out that their trip to the West Coast was an equal distance, they were almost apologetic and dismissed their own trip as insignificant. However, I did not ask them directly if they had accepted rides or not.

Of course, it is no crime to accept a pickup truck ride. The only people they cheated were themselves. But they would have been more honest and would have felt better about the trip if they had accepted a lesser goal and have ridden the entire distance themselves.

The wind was less hostile on the way to Sterling. I stopped to pick mulberries along the Arkansas River (pronounced ar-KAN-sis in Kansas and ar-kin-SAW everywhere else). The police and people were very friendly in the town, and the police recommended that I camp at the park rather than camping in the river bed. Police were extremely friendly and helpful throughout Missouri, Kansas, and Illinois.

Buhler - Sterling, 34 miles, 12.3 mph, June 13.
---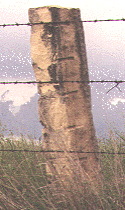 Day twenty-one: I started at eight, crossed the Quivira Wildlife Refuge, a hot barren land, and stopped at an artesian well for water. With just three more stops for rest, I made it to Larned after 51 miles.

When I started north, I met a cycling couple coming south. They told me that if I wanted a place to stop for the night, that I should stay with Mrs. Roup, who had been anxious for them to stop. Since a storm was rapidly approaching from the south, I decided to stop, but when I checked with her, she was very nervous about my presence, so I left as quickly as was polite.

Back on the road, I had to outrun the storm, aided by high winds. Then I turned west on 96, fighting a crosswind that hammered against my front wheel. When some cars passed, I lost control because of the sudden change in air pressure, and swerved off the road. The last motorist stopped to make sure I was OK.

At Rush Center, I met Hazen, a true biker who was traveling east, and we talked long and hard until late. Hazen, like Ron, told me stories of 150 mile days. He also warned me about the enormous climbs I would meet in the Rockies.

Sterling - Rush Center, 86 miles, 12.8 mph, June 14.
---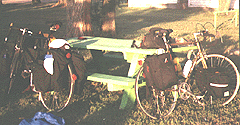 Day twenty-two: In the morning, I waited until Hazen left before starting. Down the road, I noticed my keys missing, and so I returned to pick them up off of the picnic table. Heavy side winds kept my speed to a crawl.

After resting at Alexander, I noticed that the winds had let up, so I began riding through the hottest part of the day, not my usual practice since global warming and ozone thinning had become problems. I reached Ness City at two, feeling almost sick from the heat; my keys, which had been in the top of my mushroom bag, were very hot to the touch. I stopped, rested, and ate at the grocery, and then I went into the library to read.

When I came out, I noticed a black wall approaching from the south, and someone suggested that I should wait until it passed. But, I noticed that the storm was pushing rather than pulling, so I used its force to drive me westward at a good speed. I was hit several times by showers and by terrific side winds. The winds battering me were so fierce that they stripped one dirt road of its dust, which stretched like a wall in front of me. My bike was struck by a tumbleweed, and I was soaked four times, but I felt refreshed and had a fast ride. After seven, I made it to Dighton, very tired, and camped in the town park.

While I was cooking, some women walked by, and we talked some about Kansas customs. I pointed that their city didn't have any stop signs, and one of them said, "What do you expect us to do, run into each other?" I replied, "I don't know why not; we do it all the time in Alabama even though we have stop signs."

Rush Center - Dighton, 69 miles, 12.5 mph, June 15.
---
Day twenty-three: On the ride to Scott City in the morning, I experienced strong cross winds. I stopped to eat at one point but ended up getting eaten instead. Even though the terrain was getting to be quite flat, the changes in the natural world which I was observing were quite fascinating to me. I was now entering semi-desert conditions.

I had also been traveling alongside the railroad since Scott City, and I always enjoyed watching the cars go by. I frequently wave to the engineers on the trains, and out here, they not only would wave back, but they would wave first whenever I failed to.

I rested in the shade at Scott City until afternoon. On leaving I noticed a slight headwind. The wind gradually increased and my speed gradually decreased until I was forced to walk part of the time. Although I seldom stop at houses for water and only when someone is outside, I broke my rule and stopped at a trailer because I was flat out of water. The woman inside treated me as a special visitor and told me that people in Kansas were very pleased to have the Trans- American cyclists passing through their state. She added that it puzzled her that we didn't wave, but someone had told her that we must keep our hands on the handlebars.

Farther up the road, while I was walking, a woman driving by offered me a ride, and I felt very tired and tempted, but I finally made it to Leoti for the night without help. There I had a nice conversation with a couple of men. One of them told me that he hadn't met a stranger until his late teens.

Dighton - Leoti, 53 miles, 8.7 mph, June 16.
---

Day twenty-four: Leaving Leoti, I traveled to Tribune, where I stayed in the park and cooked a meal from eleven until three.

Leaving Tribune I had to cross 58 miles of sagebrush. Fortunately, I had a tailwind and made pretty good time. I guess I can say "I've been across the desert with the horse with no name." My joke out here was that Columbus was wrong; the world is flat; he just didn't get far enough to find out.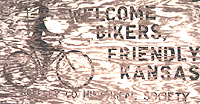 Near the Colorado border, I found an abandoned motel and an old sign welcoming bikers to Kansas. I found myself crying as I left Kansas, and I wanted to go back. With the exception of one teenager, everyone had been so kind, helpful, and friendly that I will forever see Kansas as a home away from home.
In Eads, I talked to a store clerk for a while, and then I set up tent up in a park that was about as wide as a sidewalk. I did not try to cook as it was too dark and I was too tired. A beautiful young woman came by to visit with me and talk some before I called it a night.
Leoti - Eads, Colorado, 83 miles, 13.3 mph, June 17.
---

Day twenty-five: I was delayed in starting the next morning because the store didn't open until 9:30. I reached Haswell without difficulty, a town where I could buy only a soft drink, and found a small but satisfactory park to wait out the heat of the day. Strong winds made me wait until 4:30 to push on, but they finally turned in my direction. After I started, a two hour trip at the speed I was traveling would get me to Sugar City, but as the hours passed the winds kept shifting, and the crosswinds and headwinds reduced my speed so that Sugar City remained two hours away.

I stopped for water at Arlington, the only house for miles, where I was fortunate enough to find the owner home. She told me that she had recently returned from living elsewhere, and how good her own water tasted to her; you just couldn't find water like that anywhere else! I drank some of the water from the tap, and it was cold and deeply refreshing. Half a mile up the road, I thought that it would be a good idea to squirt some on my shirt; the water turned it white! After the water warmed up, I couldn't drink it because it was so alkaline, until I thought of mixing some honey with it. Then, the water was OK.

This area was very lovely in spite of being dry and flat, and I took a lot of photos, of a passing train before reaching Arlington (the picture is above, but the train is too tiny to be visible), of a lone tree with a solitary bird, and of Pike's Peak in the sunset, miles and miles away. Unfortunately, the last picture did not turn out. I later read of Zebulon Pike's "discovery" of the peak. Like me, he saw it across the plains from near the Arkansas River and decided to climb it. According to one account that I read (others differ), he and his men hiked for two days before giving up. Pike never climbed the peak named after him.

When finally only six miles away from Sugar City, I still had a two hour journey because I was forced to walk at 3 mph. I finally arrived at 9:30, very worn out, and I slept poorly as a result.

Eads - Sugar City, 57 miles, 10.6 mph, June 18.
---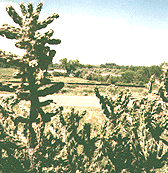 Day twenty-six: In the morning, the winds had reversed, and I cruised on down the road with a light wind at my back. I stopped where the Arkansas River was close to the railroad and road to get a picture of all three from behind a large cactus. I reached Boone by twelve without any difficulty.

After resting and eating for half an hour, I decided to continue into Pueblo since the temperature was still cool. As I traveled, my speed kept increasing, and I was soon cruising at over 20 mph.

I called Mrs. Hill, a friend of my mother, from the pay phone at a store, and she gave me final directions to her home. When nearing a cloverleaf, I got out my binoculars to see which way I should turn, since I could not follow the intended route. When I got to Mrs. Hill's, I discovered that my notebook, with all the details I had sweated over, was missing. I immediately rode back to the store and the intersection but found nothing. That night, I dreamed about my missing book, deeply disturbed. In the morning, I looked in my bag to find the notebook right where I had left it. How did it disappear? The inside of the bag was black and the end exactly matched the height, width, and color of the notebook. When I had taken the binoculars out, it had slid into invisibility. I had done magic tricks as a boy, using black construction paper, and yet I was fooled by this one. This incident did have one unfortunate consequence: I quit taking as many notes since I lost my confident belief that my notebook would survive the trip.

Mrs. Hill was a wonderful host and a sweet person. She liked to cook big Mexican meals, which I knew how to consume with gusto, and she opened her windows at night, so I slept cool and refreshed.

That evening, I saw an odd rainstorm. There was a violent storm above, which caused me to rush outside, but no rain fell until huge silver drops started quivering down and leaving large splash marks on the sidewalk. I think they must have been hailstones that melted before they reached the ground.

Sugar City - Pueblo, 68 miles, 14.4 mph, June 19.
---
Rest day: I was very lazy today. I made it as far as the bike shop in the morning and took a nap in the afternoon.

Pueblo - Pueblo, 9 miles, 11.1 mph, June 20.
---
On the next day, I would begin the most interesting part of my trip.