New England Bike Trip, 1993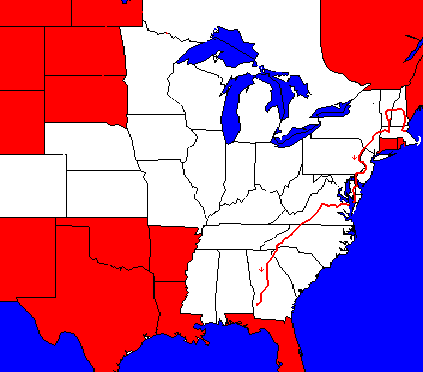 This bike trip had several unusual characteristics. First, it is the only trip that did not begin at home. I had planned to travel north to Canada and then eastward to Vermont, where I would take a summer course, and then back home. However, my mother was in the hospital for much of June, delaying my departure. It was her suggestion that I begin the trip in Boston. So, I used AMTRAK to get to my starting point. Second, on all of my previous trips, I had a thousand miles or more of cycling preparation. This year, I had 168 miles on my cyclometer at the end of May. The school and students had kept me too busy. Third, for the first time, I carried a laptop on my trip. Unfortunately, due to later problems with the hard drive, my day-to-day record was lost, although other records were not. Fourth, this trip saw more stops at motels and campgrounds than all my previous trips put together. Finally, I took fewer pictures on this trip. Basically, my problem was that no one had been showing any interest in them.
---
Day One: Odd beginning for a trip. I had been traveling all night on the train, and when the train stopped in Boston, I got my bike, and began putting everything back together. (I had been obligated to put my bike in a box which meant removing the pedals and turning the handlebars. To reduce my number of bags and to help them travel better, I had also fastened together the two rear and two front panniers. I had carried my handlebar bag with my personal goods.) While I was working there, two Asian students approached me to ask for information about "lokkas." Besides telling them that I had no idea of where lockers were, I also had to explain why I didn't immediately recognize "lokkas" while the Boston natives did.

Traveling out of Boston was a bit awkward. I couldn't just get on the expressways, which all roads seemed to flow into. My map was useless, since I couldn't identify any of my streets on the map. I kept running into dead ends. However, eventually, with the help of my trusty old compass, I discovered the famous route to Lexington and Concord that the redcoats had followed. Everyone was upset due to the heat wave (85°), but I found the weather cool and refreshing compared to my recent rides in Alabama and Georgia.

Walden Pond was somewhat better and a lot worse from what I expected since reading E. B. White's famous 1946 essay in my teens. Thoreau said that Walden Pond, "should be as sacred as the Ganges at least," but people did not treat it that well in his day and have not treated it well since. A solid-waste landfill (trash dump) has been located a short distance from the pond, perhaps on land where Thoreau grew beans. Nonetheless, parts of the pond and surrounding woods away from the crowds of people still retain their freshness. Thoreau wrote:


Nevertheless, of all the characters I have known, perhaps Walden wears best, and best preserves its purity. Many men have been likened to it, but few deserve that honor. Though the woodchoppers have laid bare first this shore and then that, and the Irish have built their sties by it, and the railroad has infringed on its border, and the ice-men have skimmed it once, it is itself unchanged, the same water which my youthful eyes fell on; all the change is in me. It has not acquired one permanent wrinkle after all its ripples. It is perennially young, and I may stand and see a swallow dip apparently to pick an insect from its surface as of yore. It struck me again tonight, as if I had not seen it almost daily for more than twenty years -- Why, here is Walden, the same woodland lake that I discovered so many years ago; where a forest was cut down last winter another is springing up by its shore as lustily as ever; the same thought is welling up to its surface that was then; it is the same liquid joy and happiness to itself and its Maker, ay, and it may be to me.


At the site of Thoreau's cabin, I encountered a mountain biker, enjoying his ride in spite of the clearly posted "no cycling" signs. When I pointed this out, he said, "I don't care about the law; I just do what I want to do, just as Thoreau did," showing a vast misunderstanding of what Thoreau said and did. Thoreau had great respect for the law; when he broke it by not paying his poll tax, he did so publicly to protest the invasion of Mexico and went to jail as a result.

I was sure the authorities didn't want me camping at the pond, although it would have meant a lot to me, so I found a well-hidden spot along the freeway ROW and had a quiet evening.

Boston - Concord, 25 miles, 13.1 mph, July 8.
---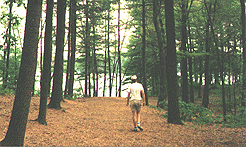 Day Two: I intended to leave town fairly early, but I was not finished yet. I first revisited Thoreau's cabin site, and then I went to the library for more information. I wrote down my description during that day as a letter:

Dear Henry:

I don't know if the woods today are much like they were in your day, but they seem to match the description. The trees are a mixture of small oaks and pines - about 40 - 50 feet tall. There is a lot more light in your woods than in mine. Even though it is an overcast day, my laptop screen looks dark. F4 to F5.6 at 1/60 on the camera.

The Fitchburg train has just rattled by. The birds are all having fun communicating and moths are flying everywhere. If those were the only sounds, one would feel back in your day, but the noise from the nearby highway is often very loud. Plus, there is a lot of noise from people at the lake although, due to the overcast, there are few people here compared with yesterday when hordes came. Still, you said you entertained as many as twenty five at a time, so there must have been noisy groups in your day as well.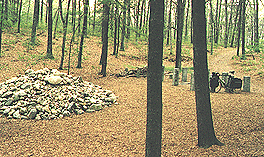 Ants are crawling under my feet, black ants and red ants, the descendents of your famous warriors. Moths are flapping about everywhere; I can sometimes hear their wings. I have found a few surprises. I didn't know about the deep hollows around the pond, for instance. I am overcome with the faint but delicious pine scent in the air. Of course, that may have come from the wood chips that have been scattered along the paths. I'm going to have to read the details you described more carefully.
Now I'm at the Concord Library, doing just that. I notice that you said your finest place was in the woods behind your house, where the sun seldom shone. That woods must have been denser than the one surrounding your house site today. And your house must have been more in the sunlight then, because the finest spot is now in front -- a beautiful place to talk to people. Indeed, I find you mention the view of your clearing as you look out your window at flying pigeons. You also mention sumacs -- a good bit of light is needed for them to grow. You said the sun fell in your west window, which means the trees to the west were not there. You set your furniture on the grass "amid the pines and hickories" "to see the sun shine on them" while cleaning your house; grass would not grow there today. You said you would like to stretch an awning over them; that shade would not be needed today.
The water in the lake is at the low part of its cycle, if it still has yearly cycles (we've disrupted everything else, God knows). You said a single jump would carry one into deep water, but now the edges are shallow with steep banks around. No sign of the white rocks you said surrounded the lake, but a heap of them is next to the site of your cabin. The "meadow" that is sometimes invaded by the pond is probably next to the inlet near your cabin. The water is just one or two feet below connecting the two together. You said that in '52 the water was five feet higher than when you lived at the pond and it was possible to fish in the meadow.
Before you went to live there, the forest around the pond had been thicker. In Walden, you mention that the trees had been cut down (before 1854). You said:

That devilish Iron Horse, whose ear-rending neigh is heard throughout the town, has muddied the Boiling Spring, and he it is that has browsed off all the woods on the Walden shore, that Trojan horse, with a thousand men in his belly, introduced by the mercenary Greeks! Where is the country's champion, the Moore of Moore Hall, to meet him at the Deep Cut and thrust an avenging lance between the ribs of the bloated beast?
Now the trunks of tree on the bottom, and the old log canoe, and the dark surrounding woods, are gone, and the villagers, who scarcely know where it lies, instead of going to the pond to bathe or drink, are thinking of bringing its water, which should be as sacred as the Ganges at least, to the village in a pipe, to wash their dishes with! -- to earn their Walden by the turning of a cock or drawing of a plug!

Before leaving town, I visited the Thoreau Society headquarters, and there I learned of the society's yearly meeting. So, I talked with various people and went to hear a lecture that night on the discovery of the cabin site (it is only a short distance from the pile of stones). After the lecture, we were talking outside on the warm night, when someone came out and announced an air-conditioned but crowded room upstairs. Everyone hurried to go upstairs, while Thoreau must have quietly turned over in his grave.
Around Concord, 16 miles, 12.1 mph, July 9.
---
Day Three: In the morning, I left my campsite under the tree for the last time. I chose this opportunity to get into the water at Walden Pond (normally the woods are empty but the water's edge is crowded with people). I was enjoying my thoughts about Thoreau, nature, and Walden Pond, when some swimmer across the pond chose me as the target for his swim. When he reached me, he started bragging to me how he had crossed the whole pond, and then he started yelling for his friends to join him. So, I had to leave, my meditations already ruined.

I attended an excellent lecture at the church by Robert D. Richardson, Jr. explaining personal problems between Thoreau and Emerson. I also visited the cemetery where Thoreau is buried. Then I left Concord, stopping by the site of the Concord battle along the way.

From Concord, I traveled northward through Carlisle and into Chelmsford, passing near the site of Brook Farm along the way. Even though I had gone just a short distance, the day was ending, so I looked in vain for some woods until I spotted some behind a police station. Going inside I made my request, and I soon pitched my tent under the trees. Not a bad spot either.

Concord - Chelmsford, 21 miles, 13.1 mph, July 10.
---
Day Four: For some reasons, I have very little memory of this day. In the morning, I crossed the Merrimack River, moving eastward. I remember stopping at a rest stop and not feeling very happy about my physical condition. I was still overweight, and I had not yet built up my endurance. However, I was enjoying being in New England, and I was not worried; I would just build up on the ride. I had my thoughts mainly on my visit to Concord.

A curious truth is that I can not remember camping that evening although I do remember being in the vicinity of the site that night and thinking about where I would camp. I kept a computer record of my trip, and I remember typing the details the next day, but when my hard drive crashed, I lost that narrative account. I do remember that the last location where I was looking was near a ridge, and I have a note saying that I camped on top of the ridge, so I must have found a safe place there. But I have no memory of it.

On this trip and my next two, I did little planning before I went, I worried about my mother's condition, I took few photos, and when I got back, I had no time to reflect on the trip, let alone write about it.

Chelmsford - Nottingham, New Hampshire, 44 miles, 12.1 mph, July 11.
---
Day Five: In the morning, I rode into Rochester, where I spent some time in the library. I was not very happy with this library because I could not find a place to plug in my laptop. Using the laptop required me to look for places such as a library to write since my batteries would only last a short time (less than two hours each) in the woods. So, I saved the batteries for note-taking. After this trip, I went back to carrying a small notepad. I carried the laptop on top of my clothes in my rear pack. It sat on foam, wrapped in a waterproof nylon bag and protected with one or two plastic bags.

In the afternoon, I followed a road parallel to a turnpike and later a highway, so traffic was light. I was also very close to the Maine state line all day. In the afternoon, I passed a school, and I noticed a large woods on the opposite side of the road. Moving into the woods, I decided that it was an excellent place to camp. There were a number of paths in the woods, so I decided to wait until nearly dark to pitch my tent, which I did.

Nottingham - Wakefield, 47.6 miles, 11.4 mph, July 12.
---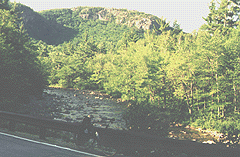 Day Six: I spent the day mainly on small back roads along the Maine border. According to my maps, I actually crossed into Maine in going around a small lake. On this day, I recognized that all the buildings -- houses, barns, stores, and churches -- look exactly the same in New Hampshire, except for their windows and doors. They all are barn-like in appearance. However, I didn't take a picture of a New Hampshire house until a couple of days later.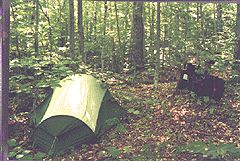 In the afternoon, I bought groceries in Conray, passed a tourist railroad, and headed into the White Mountains. I stopped at the ranger's station and bought a map of the national forest and discovered the camping rules. I was required to camp according to the map 1/4 mile away from the highway and 200 feet away from any trail, although I remember the required distances as being twice that far. These kind of restrictions create two difficulties: first, 1/4 mile off of the road is likely to be up a steep hill and, second, that's a long distance to push a bike through undergrowth. I have camped within 50 feet of the road and have still been invisible, and 400 feet is about as far as I ever need to get. The ranger suggested a popular camping area where I would need to leave my bike at the road, but I chose instead a service road, but I still had to struggle to get 200 feet off of it due to the terrain. However, it was a good spot, so I was satisfied.
Wakefield - Kancamagus Hwy, 46 miles, 11.4 mph, July 13.
---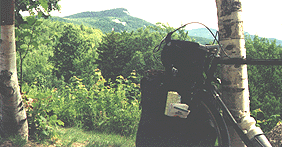 Day Seven: I had some company on this day's ride: a group of people riding for MS. Along the way, I passed a moose surrounded by hordes of people. My sympathies were entirely with Bullwinkle, so I didn't stop. The people I was pedaling with seemed to regard the climb as a bit of a challenge (the highest point was 2860), so I didn't mention the Rockies. Before a great deal of time had passed, we were descending, and I had passed through a major part of the White Mountains. The whole distance from Conway to Lincoln was 34 miles, and I had covered part of that distance the day before.

Leaving the cyclists at their sag wagon, I crossed into a second part of the national forest, where I hoped to camp that night. However, I could only find one service road going back far enough, and the location had been cut and was overgrown with brush and weeds, so getting any distance off of the trail would have been impossible. So, I left this part of the park, and after passing through Wentworth, I saw a small lonely woods in which to camp.

Kancamagus Hwy - Wentworth, 52 miles, 12.4 mph, July 14.
---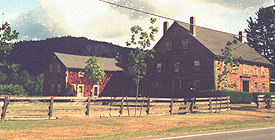 Day Eight: In the morning, when I left, I failed to see my thin metal tent pegs and left them on the ground. After crossing the river into Vermont, I discovered a laundromat at Ely, my clearest memory of this day. Now I had an opportunity to wash my clothes, recharge my computer batteries, and write about my experiences.

I left the laundromat and took a back road to get away from the interstate. This route carried me up over some hills and down narrow lanes until I was once again paralleling another interstate near Joseph Smith's birthplace. The countryside in this region is very much like Alabama or Tennessee, a mixture of cleared and wooded land.

That night I camped in the Green Mountains, although once again, I can't remember any details. I do remember the first site I checked, and I know approximately where I was and the first place I passed the next morning. I also remember finding the tent pegs missing when I started to pitch my tent.

Wentworth - Sherburne Pass, Vermont, 73 miles, 11.3 mph, July 15.
---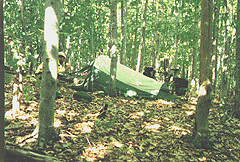 Day Nine: Traveling down this part of Vermont reminded me of the Paint Rock Valley in Alabama, with woods and scraggly fields, except there was more traffic on the road, and I had no trouble in finding stores. In fact, I even passed a bicycle store with many new bikes for sale or rent in the middle of nowhere.

Because I had overestimated the size of these states, I realized that I would be reaching the school too quickly, so I decided to deliberately keep the mileage low and to look for an extra nice camping site. So, after leaving Ludow, I camped rather early for the day and enjoyed spending time in the woods.

Sherburne Pass - Terrible Mt., 32 miles, 11.6 mph, July 16.
---
Day Ten: On this day, I could have easily traveled all the way to my destination, but I would have been arriving much too early, so I did not travel far and instead looked for a very nice place to stop. I even found a computer magazine to read to help me pass the time. I found a pleasant and open woods with much pine straw on the ground and spent most of the afternoon reading, not pitching my tent until nearly dark.

Terrible Mt. - Rawsonville, 22 miles, 13 mph, July 17.
---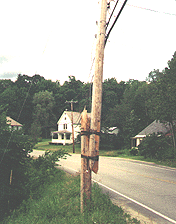 Day Eleven: Again, I had a pleasant an uneventful ride, traveling mainly down a half-cleared river valley. Because there seemed to be many places to stop, I bought some food to cook my lunch, and after turning off of 30, onto a back road going through Dummerstown Center, I stopped and cooked along the edge of the road at a pleasant spot. The road was very steep at this point, and I ended up pushing the bike up and up and up. Then, when the road finally started down, it was terrifyingly steep, and my brakes would not stop the bike at all. Finally, I made it down to the flat road traveling along the river.

When I arrived at the college, I had to wander around a while before I could find anyone. I then stayed at the college for a week, taking a course about learning disorders.

Rawsonville - Putney, 30 miles, 13.3 mph, July 18.
---
Day Twelve: At the end of the week, I was ready to ride again. The class finished a little early to give people time to drive home, and I was itching to get going. I had made a couple of rides totaling 21 miles and had gone for a long walk one day, but otherwise I had been sedentary. Leaving the school, I first stopped at a post office to mail home my non-cycling clothes and my notebook.

Then, I tried to put as many miles between me and Putney before dark. Fortunately, I was mainly following a river valley. Although I was slowed somewhat going through Battlebro, I was able to travel a reasonable distance to get away from any town. In fact, I did so well that I found myself running into a larger town in Massachusetts before I knew it. Now I was getting worried, but after leaving town, I spotted an overgrown wooded area between the road and some fields, so there I made camp for the night.

Putney - Deerfield, Mass., 38 miles, 14.1 mph, July 23.
---
Day Thirteen: Somewhere, I needed to turn west on a light-duty road; however, my sense of distance played me false again, and I ended up running into Northhampton before I made my right turn. It all worked out well though, because I met Glenn who was on a long one-day one-way ride, so we teamed together until he arrived at his destination and met his friends. The road we were traveling was a little busy and a little less scenic than Vermont, but it was a pleasant ride nonetheless.

After reaching Pittsfield, I called my sister to tell her I was coming, and then I continued along light duty roads into New York, where I saw a pretty camping place and pulled off, scaring some deer as I moved back into the woods.

Deerfield - Canaan, N. Y., 70 miles, 12 mph, July 24.
---
Day Fourteen: No one has ever discovered one of my camping places, but in the morning, the owner of the property opposite -- and perhaps the property I was on -- (whose home was almost out of sight) was running a weed whacker along the road. Because of thick brush, I had to struggle to get to the road, but he never took his eyes off of his work and he couldn't hear me over the motor. Then, I swung onto the bike and rode past him. For all he knew, I had come down off of the hill.

People who have never been to a place have misconceptions. I found New York to be prettier than Vermont and New Hampshire, and I also found the people to be very friendly. My route lead to a safe crossing across the Hudson River at Hudson and then down along the river towards the Catskills.

That evening, however, I was beginning to worry about where to camp for the night when I stopped at a small store. Then Joel -- a cyclist -- drove up and asked me if I wanted to camp in his yard. The route to and from his house ended up being a good shortcut as well.

Canaan - Rosendale, 66 miles, 13.4 mph, July 25.
---
Day Fifteen: The traffic was getting worse, but otherwise I had no problems on the ride today. On my right were the Catskill Mountains which I viewed all day as I traveled down a mainly flat road in a mainly wide valley, sometimes cleared for farms and sometimes full of houses. This route had been used for a canal at one time, connecting the Hudson and Delaware Rivers together; in fact, a piece of this canal still existed at the highest part of the route.

In the evening, it was raining lightly and the overcast was making it darker. I passed a motel, but was not tempted to stop because it looked too expensive. Riding into Port Jervis, I met another traveling cyclist. He explained that he had come into town to buy food, that he had gotten a room at the motel and would be willing to share it with me. On a pretty evening, I probably would have gone on, but the rain looked threatening, so I agreed.

Rosendale - Port Jervis, 53 miles, 12.7 mph, July 26.
---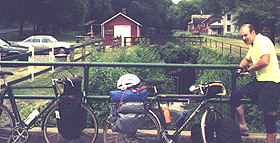 Day Sixteen: Mark and I got along fine on our ride the next day, but we had very different personalities. We could never make more than a one day trip together. A friend of mine in college was a putterer. He would take an hour to do what most people can do in ten minutes. I don't waste time like that, but I am never in a hurry, and the day passes slowly; I guess I'm an ambler. Mark was a driver. He was reluctant to stop; when he stopped, he ate and drank quickly and was ready to go again. The breathtaking views of the Delaware Water Gap, acres of ripe raspberries, and terrifying traffic situations were all the same to him, and he never seemed to slowed down except for a historical marker (his one acknowledged vice). In fact, when we finally parted, Mark was hopeful of making it into the Philadelphia area that day (130 - 150 miles). However, he was also a helpful and interesting companion.

After we parted, I went back to my slower pace and found a delightful camping place miles from any houses on the bank of the Delaware River under some huge trees.

Port Jervis - Frenchtown, N. J., 100 miles, 13.2 mph, July 27.
---
Day Seventeen: Continuing to follow the river, I continued to have difficulties with heavy traffic but not as bad as I feared. Traveling into Trenton, I was able to switch to quieter city streets, at one time short-cutting through a pedestrian mall (by walking). On the other side of Trenton, my road and another joined together, with the cars accelerating into the junction, so I was forced to walk past that death trap. However, that was the worst of it, and I found most of the rest of the ride to be fairly comfortable. I arrived at my sister's before the worst of the rush-hour traffic.

Frenchtown - Somerdale, 70 miles, 13.1 mph, July 28.
---
Day Eighteen: After four days of rest at my sister's house, I was on my way again. I found a lightly-traveled route to take me to the Ben Franklin bridge, but I did not enjoy carrying my bike and its load up the steep steps at all. I walked across the bridge rather than riding, due to the pedestrians.

I talked to some touring cyclists who had just reached Philadelphia, one pulling a trailer, and then I headed out of town -- in the wrong direction. Realizing my mistake, I backtracked five miles, but I ignored feelings of thirst in the heavy traffic. When I walked into a quick stop for something to drink, I collapsed onto the floor. The people working there were friendly and didn't panic, so I used their restroom, got a big drink, and went outside to slowly sip. I recovered well, but I felt weak and shaky, so I decided not to push it that day.

Right after I crossed the state line into Delaware, I saw a small motel with a freshly paved parking lot. The price was reasonable, so I stopped for the night.

Somerdale - Claymont, Delaware, 39 miles, 12.3 mph, August 2.
---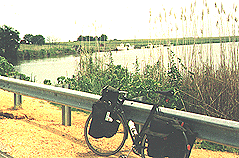 Day Nineteen: This was a pleasant day's ride. After passing through Wilmington, I followed highway 9 along the coast, a route with little traffic, being passed by four high-speed cyclists at one point.

My only problem was the long distances between places to stop for food and drink.

In the evening, I arrived in Dover. Since the terrain had been open, I doubted that I would find a camping site, so I checked about motels. Unfortunately, prices seemed to be high, so I decided to ride out into the country and try my luck. However, before leaving town, I found dense woods at the site of a future subdivision, and I decided that that would make a decent camping site.

Claymont - Dover, 64 miles, 12.3 mph, August 3.
---
Day Twenty: Traveling west from Dover, I got onto 313 which gradually curves around and follows along the state border in Maryland. I thought that this route would have little traffic, but I encountered more than I expected. But otherwise, it was a good route and ride.

During the day, I was able to make my first profit from cycling. Ahead of me, a motorcycle pulled off the road, and the operator started trying to recrank it. So, I pulled over and said, "Can I help you?" "No," he replied, "There's nothing you can do for me." "Well, I have a pretty decent tool kit," I told him. "You can't help me," he said, "I don't need tools, I need gas." "Well, I have that too," I said. So, a few minutes later, a happy biker took off after having given me a quarter for my gas.

Near dusk, I found some trees and brush on both sides of the road. I pick the spot I thought least likely for someone to stop, got back out of sight, and spent a pleasant night.

Dover - Mardela, Maryland, 73 miles, 14 mph, August 4.
---
Day Twenty-one: My trip today took me to Crisfield, where I hoped to take the boat across. Unfortunately, I arrived too late in the day, and I ordered crab at the restaurant, which made me sick. Needing a place to spend the night, I went to the local campground, which was having a half-price special. Again I made a mistake in not asking why.

That evening, I put off pitching my tent until dusk, talking with some of the other campers. Suddenly, no-see-ums started attacking ferociously. The others quickly retreated to safety while I had the job of pitching my tent, which filled full of the creatures.

During the night, I decided that I couldn't stand it any longer, so I tried to empty the pests out of my tent without getting more inside. But the huge numbers outside rushed inside, so I had to retreat to the john, where I spent the rest of the evening. If only someone had warned me.

Mardela - Crisfield, 54 miles, 13.9 mph, August 5.
---
Day Twenty-two: Much of the day was spent waiting again, as the boat only runs twice a day. However, the trip definitely made up for the wait. The first half of the trip was uneventful, and I swapped boats at Tangier Island, which meant I didn't have time to go ashore.

As we proceeded on the second half of our trip, the waves started getting higher. I went outside, and enjoyed the waves breaking over me, to be joined by a crew of other hearty souls. At one point I had to go back inside to carry in my panniers that were beginning to get wet. The people sitting inside watched me standing there, swaying back and forth with the waves, and someone asked me if the waves didn't bother me. I said, "No, I just relax and enjoy the motion." At those words, someone asked for the bucket, but several other people had to use it first. I quickly went back outside. After we arrived, I learned that a tornado had struck Richmond and killed two people at Wal-Mart.

That night, I found a store with some food and a place to camp a short distance away. I sure was wet!

Crisfield - Heathsville, Virginia, 19 miles, 12.9 mph.
---
Day Twenty-three: Today, as I traveled farther from the Chesapeake Bay and closer to Richmond, the road began picking up more and faster traffic. I stopped and washed my clothes, and continued on my way. Because I was anxious to get off of 360, I turned a little early, but I ended up having a pleasant ride on that road, which was basically traveling through the woods. When I reached 30, the road I had intended to use, I found it busy as well.

As it was getting towards dark, I started scanning for a nice place to camp. I saw a likely woods but pedaled past to the field beyond to see if it contained a house and found it full of bicycles instead! It seems that a group about to finish their tour across the US had chosen that field and had gotten permission to camp. Most of the cyclists had left with the sag wagon, leaving behind a few members to watch the bikes. So, I stopped, got easy permission to camp there too, pitched my tent close to the woods, and then tried to make friends. The experience was puzzling. The people were not hostile nor tired, but they showed absolutely no interest in talking about cycling, neither wanting to hear about my trip nor to tell me about theirs. I was so bothered by this indifference, that I got into my tent and never got out again until I left the next morning.

Healthville - Dawn, 68 miles, 14.1 mph, August 7.
---
Day Twenty-four: I next followed some confusing back roads that I had traveled along on my 1988 trip. Rather than try to stay on the bike route, I just took the best available roads and made better time as a result, although I noticed that I bypassed Monticello on this trip.

In Alabama, before leaving on my trip, a cave explorer from Charlottesville had stopped by my cabin with a common friend, and he had said something about, "When you pass through Charlottesville . . ." While pedaling down the street, to my astonishment, he called to me, and asked me if I wanted to spend the night at his place. However, he also warned me that he would have to wait until evening to get permission from his landlord for me to stay there. But the day was not late, and I had another destination in mind, so I said goodbye after a nice talk, and I rode once again to the home of the Cookie Lady to spend the night.

Dawn - Afton, 100 miles, 14 mph, August 8.
---
Day Twenty-five: When I had stopped at the Cookie Lady's before, I had eaten some of her food, not paid her a cent, and left early. This time, I gave her a good check, and I stayed and did some yard work for her, so I left in the afternoon.

Up on the parkway, someone pulled a car off of the road on the outside. As the soil was soft, the car started sliding downhill. Since it was a light car, several people and I tried to push it back onto the road while the owner spun the tires, but our efforts were in vain, and they had to leave it there to go get a wrecker.

I found a place where I could get off of the parkway and into the national forest to camp and spend the night. During the day, I had picked up a magazine saying that the park needed money -- I had passed a place where tourists had messed right on the ground because there were no facilities -- and I thought, since I'm saving money by camping free, I ought to send $50 to the parkway when I finish this trip.

Afton - Bald Mountain, 26 miles, 9.8 mph, August 9.
---
Day Twenty-six: I found a copy of Bicycling the Blue Ridge and used it to help guide me through the rest of the trip. This small book includes information about places to eat and sleep not available from the parkway services. Having more money on this trip, I was also able to enjoy eating in the parkway restaurants as well, and demonstrated my ability to down hot cakes.

In the afternoon, I saw from the road two bicycle travelers, Jim and Daryl, camping at the Otter Creek campground. So, I stopped to talk to them. Like me, they were both teachers and thus could make long summer trips, but they were traveling north while I was headed south. They suggested that I camp on their site that night, and we fooled the park attendant by pitching one tent only until after he left. (The "ranger" did not mind two tents, but he wanted the tents placed on rough gravel.) Why would a backpacker's tent need to be placed on gravel? We did more damage by walking around than we would by lying down.

Bald Mountain - Otter Creek, 40 miles, 12.5 mph, August 10.
---
Day Twenty-seven: On this day, I climbed from the base to the top of the mountain, which, including some downhills, involved 4,665 feet of climbing. My lack of preparation for my summer travel had not seemed to bother me earlier, but now that I was on the Blue Ridge, I could really tell a different. Rather than the climbs being a joy as on my 1988 trip, they were slow grinds and a lot of walking. However, I enjoy the beauty of nature, so I just settled for my slower pace and did not let things bother me much.

In the evening, I hiked down along the Appalachian Trail to find a place to camp off of the parkway.

Otter Creek - Purgatory Mt., 36 miles, 9.1 mph, August 11.
---
Day Twenty-eight: In the morning, I rode down to Roanoke to get something to eat and to wash my clothes. I was also able to call my son and ask him about the meteor shower the night before, which I had not been able to see.

In the afternoon, I climbed out of Roanoke, once again noticing how much weaker I was. This day I climbed a total of 5,755 feet, and I noticed it too. It was my goal to camp at Rocky Knob, but I realized that I did not have the energy. Nor could I find a place completely off of the parkway to camp, because all the surrounding area was fenced-in fields, so I set my tent well out of sight and right next to a farmer's fence, with cows and goats grazing next to me.

Purgatory Mt. - Hwy 640, 61 miles, 11.3 mph, August 12.
---
Day Twenty-nine: The rain started before I got up, and conditions were neither safe nor comfortable for riding (there's a lot of local traffic in the middle section of the parkway). I wasted some time at Smart View, but I noticed no improvement in the weather. When I got to Tuggle Gap, I discovered that the rain had caused my cyclometer to quit working. There was a small motel and restaurant there, and since I was also feeling tired from the day before, I decided to stop early, relax, chow up, and do some writing. It was a nice motel, the food was good, and the weather remained poor, so I was happy with my decision.

Hwy 640 - Tuggle Gap, 17 miles, 11.4 mph, August 13.
---
Day Thirty: Today, the weather reluctantly got better, so I started late, but I made good mileage on this flatter section of the parkway -- not that it was by any means flat. Since I had been this way before, I was comparing my memories of the past trip with the events of this trip on this day with many stops and many changes. On the '88 trip, I had had two companions off and on, but now I was alone. I have never decided whether I am happier alone or with other people. Since I spend large amounts of time alone and most people don't, I guess I am about equally happy either way, everything else being equal.

When I stopped at one place for an odd snack (whatever was cheap), which I ate sitting on the sidewalk, a woman approached and asked if I was saved, and I said "yes," but she went off in a dubious frame of mine anyway. I guess she thought, I had a beard and was traveling by bicycle, how could I possibly be saved?

That evening, I once again faced a dilemma about camping, as I could not completely get off the parkway again as the surrounding countryside was open. However, I was in a spot where no one would ever walk, I created no mess, and I was not disturbing anyone, so what was the problem? However I also remembered the fellow riding his bike at Walden Pond and saying he didn't have to obey any rules or regulations. Was I just like him?

Tuggle Gap - Cherry Lane, 66 miles, --, August 14.
---
Day Thirty-one: I wanted to make it to some Harold and Susan's home in Boone, so I needed to push it a little. Unfortunately, today included twice as much climbing as yesterday (two miles worth rather than one). So, it was a more difficult day. On the other hand, I was encountering better views and forests rather than scattered woods, so there was improvement that way. However, it was also a Sunday, so there was heavy traffic, and many people pulling off of the road to picnic, tearing up the roadside due to the still damp ground and probably leaving litter in the woods as well.

Going up a hill, I came across a motorcycle accident, so I helped direct traffic and clear debris off of the road. No one had been hurt, but a brand new and borrowed motorcycle was going back to its owner in sad shape.

Right after I started going down the other side of the hill, my chain broke. I had been fussing with one link. So, I pulled off the road to fix it. Right behind me, a park ranger pulled off with his yellow light flashing. He told me that I was under arrest. I asked him why, and he said for camping. So, I pointed out that it was the middle of the day, that I had a broken chain, and friends were expecting me that night in Boone. I said that if he wanted to arrest someone for pulling off of the road, there were hundreds of picnickers back there.

He then expressed his frustration that he could never catch any bicycle campers, since we were up before nine and didn't camp until after five in the evening when he quit work. He seemed very human, so I decided that I could talk to him about the problem. I pointed out that the parkway is a very difficult place to ride a bike, that a cyclist couldn't predict how far he could travel, that the campgrounds were few and often closed, and that a bicycle camper wouldn't cause any damage anyway. He pointed out that much trash had been thrown back into the woods, and I told him that was due to the picnickers. People traveling by bike don't have room for much trash. I said, "What difference is it to you if someone camps back in the woods; no one goes there anyway?" He replied that he had been back in those woods surveying, and they had found "lots of evidence" that those areas were being used by lovers, and he didn't mean male and female either. And he told me that it was illegal to camp back in those woods; the parkway would send people to prison for that. I told him that parkway people had told me to just be sure to get past the boundary lines. He said, "Those workers tell lots of cyclists that, but they're not authorized to do so. Most of our boundaries aren't marked, and we can still arrest you for camping in the national forests without a permit anyway." I told him that I would fix my chain and go on, and he warned me that he would be watching for me.

Cherry Lane - Boone, 60 miles, --, August 15.
---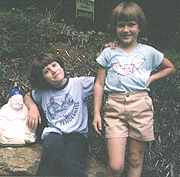 Day Thirty-two: My friends left in the morning on a trip, so I took a trip into Boone to see about my speedometer. The mechanic did in a minute what I had been unable to do in two days, and the speedometer hasn't given me any trouble since. I believe I also bought a tire or two.

However, I was now leaving fairly late in the day, so I decided to go no farther than the next campground; I guess I was worried about the ranger.

I asked if I could be given a place where I wouldn't have to sleep on gravel, so they gave me a spot in what looked like a walkway. However, it was horribly dirty, and I worked for hours to get it decent, throwing the trash in dumpsters but using bags that they supplied.

Boone - Julian Price, 18 miles, 10.8 mph, August 16.
---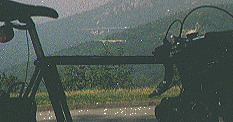 Day Thirty-three: This was a pretty day and a pretty part of the parkway, although I could not get that ranger out of my mind. During this part of the trip, the mountains are continuing to get higher, and the forests extend everywhere. I took a picture of the Linn Cove Viaduct but did not stop this time. However, I did ride down and walk around at Linville Falls, which I had never done before.

That night I camped at Crabtree Meadows. It was another disappointing night. The site was dirty and crowded, and I felt miserable. I decided at that point to not send one penny to the parkway; I didn't care what happened to them. When I go on a cycling trip, I go to enjoy nature, which I do best after I camp for the night. There was nothing natural, pretty, or even environmentally conscious at this camp. It was just lots of pavement, parking lots, and nasty camp sites.

Julian Price - Crabtree Meadows, 50.7 miles, August 17.
---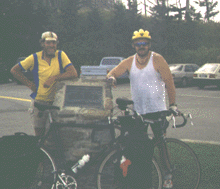 Day Thirty-four: I still had a lot of climbing to do that morning. When I reached the road to Mt. Mitchell, I was pretty tired, so I rested by walking, something I often do. While walking, a car pulled up. The driver said, "Something wrong with your bike?" "No," I said. He said, "I mean, you're walking. Do you have a flat tire?" "No," I said, "I like to walk." "Well, that does look like a heavy load," he said, and took off. "God give me the patience," I thought.

After a short distance, I started riding again. Then, another rider caught up with me. So, we ended up riding up together and talking a little. The fellow looked heavy, but he was a better climber than me, so I thought he would drop me, but we ended up riding to the top together.

I noticed that one leg was much thinner than another, so Kenny told me that his whole one side was weak from birth, and he had also had several operations for tumors in his back, and would be having another operation soon. I said, "Man, you really have it rough." He said, "Listen, I have been wanting to make this trip all of my life, and now I'm finally doing it. I'm the luckiest man in the world."

That night, I made it down to Asheville and found a spot across a marked property line to camp.

Crabtree Meadows - Asheville, 63 miles, 10.8 mph, August 18.
---
Day Thirty-five: In the morning, before I got off the parkway, I saw my ranger "friend" going the other way. He gave me a gesture to show he recognized me. Because I had called my parents the night before and found they would not be home, I decided to cut across through Georgia. So, I left the parkway and traveled south through Brevard. The traffic was OK on the two-lane, but the minute I hit four-lane, I was harassed by passing cars. I traveled down to Rosman, and then climbed over the mountain into South Carolina. This was a shorter route than the one I had followed in 1991.

Because I already had stopped at the state park, I knew that I didn't like it, so I tried even harder to find a camping spot before getting there. But the trees had been clearcut, the ground was stony, and nothing was suitable for camping, so I ended up in the same site. Stopping there ended up being a fortunate decision. On my 1988 trip, I had bought a whole baked chicken in Asheville and had thrown up the next day. On this trip, I had bought one again, but I ate the chicken over two days, and I threw away the fat. That night I was violently ill and threw up again and again and again until I was weak and empty. All that was coming up was chicken fat! I will never buy a whole baked chicken on a bike trip again!

Asheville - Keowee-Toxaway, 65 miles, 12.2 mph, August 19.
---
Day Thirty-six: The next morning, I was still weak from throwing up all night, and besides my stomach was empty, so I decided to not push myself. Because I would not be going through Alabama, rather than turning north to go through Clayton, Georgia, as on my 1991 trip, I turned south to go through Toccoa. I realized that finding a camping spot would be more difficult, and I wasn't in the mood, so I decided to try for a motel and a large pizza, which is exactly what I did that evening.

Keowee-Toxaway - Toccoa, 47 miles, 11.5 mph, August 20.
---
Day Thirty-seven: Today, I stayed on light-duty roads as I steered a course that did not get too close to Atlanta or Athens. I was in hilly country with homes, farms, and scattered woods. As I was riding along, I ran into a local man riding a bicycle who knew nothing about cycling but had just discovered that a bicycle fit his lifestyle very well. It seems he was a natural cyclist because he had traveled all across the state on his bike, but he was more interested in God than any other topic.

I stayed at a motel that night, not seeing suitable places for camping. Southern motels tend to be very cheap anyway. There I first noticed a problem with the hard drive on my computer which would lead to loosing my narrative account.

Toccoa - Social Circle, 84 miles, 12.7 mph, August 21.
---
Day Thirty-eight: Not being in a cycling area, I didn't expect to encounter any cyclists, but when I stopped at in the town square at Monticello, hoping to find something to eat on this Sunday, I met another rider. Unfortunately, I have forgotten his name. He was on a loop ride from Macon, so we rode fourteen miles together until he turned south. I continued on ten miles farther until I got to Forsyth, where I was so thankful to get some food that I thought about staying there for the night. However, once I had eaten and rested, I was still restless, and so I went on.

I was having an unusual problem with my bike too. It seems that sometimes the freewheel would act like a fixed hub, forcing me to pedal without resting. This made gear changing and braking especially interesting. Then, at other times, I could pedal forward for several revolutions with no resistance at all; in other words, freewheeling in both directions. This made hill climbing interesting.

Butler had an unsuitable motel, and the terrain beyond was not promising. Going around a bend, near dark, my chain came apart once more. With the last of the daylight, I fixed the chain in front of a house. After I restarted, I bicycled just a short distance in the dark, using my lights, of course, when I found great camping sites on both sides of the road.

Social Circle - Butler, 92 miles, 13.2 mph, August 22.
---
Day Thirty-nine: Today was a succession of small towns and lightly traveled roads. At one point, my kickstand and generator broke off and fell to the ground (my freewheel was still acting up from time to time). I thought, is my bike going to make this trip? I didn't know it, but my rear axle was also broken, and I'm glad I didn't know it. So, through hot weather and not very pretty countryside and lots and lots of up and down riding, and several stops for food and drink, I finally made it back to Cuthbert, where I had been living and teaching school.

Butler - Cuthbert, 83 miles, 12.9 mph, August 23.
---
Final Thoughts: This trip demonstrated that experience is more important than fitness. It also established in my mind that a residual fitness can last from year to year. It also demonstrated the trend for each summer to be hotter than the previous. The policy on the Blue Ridge Parkway was another important issue: was that ranger just a hot-headed kook, or was he squarely following orders (except the comment about lovers)? He definitely showed no appreciation for the outdoors, but that was to be expected, I guess. Unfortunately, I had my hands full with my work, and I did not have time to investigate before my next trip there.