Seven Southern States Loop, 1991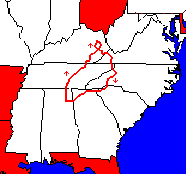 This year my intention had been to ride my bike to Quebec, but I found I had too much unfinished work to do and not really enough time to make the trip, so I decided to make a three or four week excursion instead and visit both of the schools where I have taught outside of Alabama, one in Kentucky and one in North Carolina. Looking at the map, I decided that it would also be nice to return through South Carolina and Georgia. And I thought about crossing the river into Ohio while in Kentucky.
I spent the early part of June at my cabin in the woods near Scottsboro, Alabama, studying Spanish and taking rides to help prepare me for my journey.
Following my usual practice, I loaded my bike with everything I could think of; however, I carried less weight than when going to Colorado the previous year, since I didn't need winter clothes or a winter sleeping bag: about 55 pounds.
---
Day one: I started by walking the 10 to 12% 450 foot climb to the top of the plateau to avoid tiring early, enjoying the woods along the way. This isolated segment of the Cumberland Plateau is about 28 miles long, and I traveled about ten miles on mildly rolling terrain with many homes and the rest of the way on a long winding ridge through miles of forests. The only problem was that these mountaintop forests were marked "no trespassing" and were patroled. I had talked with some people who had been given heavy fines for picking blackberries.

The day was pleasant, with the sky overcast, so I didn't stop for a good rest until after descending the mountain, going through Winchester, Tennessee, and reaching the lake. There, I thought about stopping after only 45 miles because of the heavy traffic from the air force base, but I finally rode on through rolling farm country to Viola, a tiny town, where two of the citizens told me I could camp in their small park.

Scottsboro - Viola, Tennessee, 68 miles, 12.2 mph, June 19.
---
Day two: The next morning, I initially encountered little traffic, and so I had a pleasant ride. I bypassed McMinnville to avoid running into traffic there. Traveling on towards Sparta, I was able to stay off the main road until well past town, and then I rejoined the main highway where it wound along the side of the river at Rock Island. I finally made my noon stop in the library in Sparta, reading for a couple of hours.

The temperature was very high after I restarted, but I ran into the fringes of a heavy storm, which cooled me off. At one point, I pulled off the road (no shelter) because I didn't want to run into the heavy rain (approaching cars had headlights on and wipers running). When I started again, I went just a short distance around a bend and came to a small store where the water was still pouring off the roof! After stopping at the store for a snack, I rode up along the Calfkiller River on cool wet roads (

800 X 510 Wet Roads

793 X 487 Cemetary).
To get to Monterey, I had to climb the mountain on a steep, winding road (I walked much of the way). I was fortunate enough to find a spring along the climb. After traveling through Monterey, I encountered some small woods that had been recently cut. Picking one of the roads used by the loggers, I traveled back a ways and set up my tent.
Viola - Monterey, 68 miles, 10.9 mph, June 20.
---
Day three: In the morning, some people came into the woods in a pickup, evidently gathering firewood. I could hear them moving and dropping heavy things, but I couldn't see them, and they didn't see me, since I had been careful to choose a partially hidden site. When I started, I traveled east to Clarkrange on the highway and then further east on smaller roads to Sunbright, where I stopped to eat lunch. Traveling north on highway 27, I almost immediately ran into rain, at first just sprinkles and then hot and heavy. My cyclometer quit working due to getting wet. A little further on, I stopped to help a young "cyclist" who was traveling from Ohio to Dothan, Alabama. He was riding a Murray bike, but the rear wheel was "dragging." The quality of the wheel was too poor to allow proper adjustment, but I was able to help him somewhat. I couldn't help but notice that he had no rear brake and no camping equipment. He told me that he had started with $100 but was down to $2, so I gave him some food to eat (I had very little money to travel on myself and all of it was in traveler's checks). He told me that he was spending the night at churches and with the Salvation Army.

I stopped again at Huntsville, due to heavy rain. I wanted to turn east there, but that road was narrow, with no shoulders, and heavy traffic, while the road north was wider, with good shoulders, and less traffic. In Oneida, the president of the local bike club stopped me to chat (the club's primary interest was trails in the state forest). After leaving Oneida, I encountered new highway (

500 X 338 Highway 27 Near State Line) and, just as I reached the state line, I saw a tiny place where I could pitch a tent and be invisible from the road (

497 X 600 Camping Site). Unfortunately, mosquitoes gave me some trouble.
Monterey - Struck, Kentucky, 71 miles, 11.1 mph, June 21.
---
Day four:In the morning, I put on some coveralls to protect my legs from the mosquitoes while I packed my tent (this is the only long trip on which I've carried coveralls; I thought they would provide some warmth in the mornings and evenings and yet be easier to change into and out of than pants). Traveling north, I noticed a road that seemed to be the same as the one shown heading east on the topo map, so I stopped to ask a boy. He said that he had lived there for years, but his parents had never once used that road to go to Williamsburg, so I concluded that it must not be the same road as the one on the map. But after traveling a short distance, I realized that it was. How can people be so ignorant of the road they live on?

I stopped in Pine Knot for something to eat and to phone my parents. Leaving Pine Knot, I traveled east through woods and steep winding downhills to Williamsburg. At one point, I passed a motorcycle, and the operator turned and followed me down around some bends to see how I would handle them and then waved good-bye. On those kinds of downhills, no car could keep up with me.

After resting awhile in Williamsburg (

500 X 316 Tourist Center), I journeyed north on boring, heavily trafficked roads to London (paralleling the interstate). From there, I took highway 472 to highway 11, pedaling on typical winding Kentucky roads, a bluff on one side, a stream below on the other, until I found a camping spot up above the valley in a strip mine. It was rather unsatisfactory because 1) I could not find a hidden spot and 2) because the ground was bare soil and rocks covered with high weeds.
Struck - Wild Cat, 83 miles, 14.8 mph, June 22.
---
Day five: The next morning, I followed similar roads to Booneville, a small town I have visited several times while living in Jackson the previous year. From there, familiar and enjoyable winding roads and one high climb took me to Kay's home near Jackson, where I had a good visit with her and her friend Fennigan for a few days. While I was visiting with her, I also stopped by Lees College, where I had taught for one year.

Wild Cat - Jackson, 45 miles, 11.2 mph, June 23.
---
Day six: After I left Jackson, I followed another familiar highway and good ride east to Beattyville. From there, I traveled north to Natural Bridge. I then stopped to climb a steep trail to explore the natural bridge and the wooded area around it and to take some pictures. Other people were also hiking on these trails. From there, I traveled east to the national forest above the Red River Gorge. Following the rules of the forest, I made my camp quite a distance back into the woods. It was not possible for me to camp within the gorge itself, due to greater restrictions on camping in that area.

Jackson - Red River Gorge, 60 miles, 12.1 mph, June 27.
---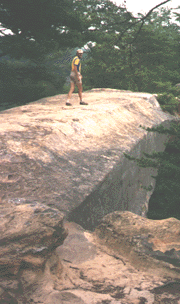 Day seven: In the morning, I took many pictures at Sky Bridge, above the gorge. Then I descended and took a walk into the wilderness area, where I got water from a spring below a cave. Back at the bike, I met another cyclist and we rode through the Nada tunnel together, a long, narrow, man-made tunnel with rough-cut sides. We took pictures of the tunnel, and then we traveled on down to the highway, where we separated.

After I re-traveled the tunnel, I found a kitten abandoned on the rocks, and decided to take it with me, both because of and despite its cries. Climbing north out of the gorge, I traveled to Frenchburg and then onto Cave Run Lake. Because camping was not allowed on the shore, I camped on forest land after the road had climbed high above the water. The kitten cried all night.

Red River Gorge - Cave Run Lake, 50 miles, 11.7 miles, June 28.
---
Day eight: It rained hard in the morning, both before I started and after. I was able to take shelter in a store. I soon turned south and headed toward Jackson again, climbing and descending until I reached West Liberty. From there, mixed flat and hilly riding took me to near Saylersville. Along the way, I left kitty in a churchyard; I felt guilty, but relieved at leaving it; kitty was glad to see me go. From Saylersville to Jackson was mostly one long flat, winding ride, following a meandering stream. In Jackson, I visited with Alice, a former student, and her husband, and pitched my tent on their farm.
Cave Run Lake - Jackson, 82 miles, 12 mph, June 29.
---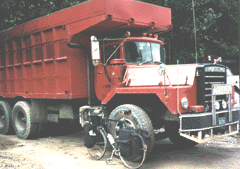 Day nine: Leaving Jackson the second time, I followed a flat, winding route along Troublesome Creek to Hindman, and then a short steep climb took me over the hill to the hostel at Pippa Passes. I found that the woman who ran the hostel shared a common friend with me. However, as the only guest for the evening, I ended up feeling rather lonely, a feeling I never have when camping alone in the woods.

The section of the Bikecentennial route between Booneville and Hazard includes a terrific climb (which has caused many people to quit) and 12 miles of dangerous road on highway 15, north of Hazard. By traveling into Jackson and then along my route to Pippa Passes, the cyclist can avoid most of the hills and traffic. The following routes are alternates for the Bikecentennial (Adventure Cycling) route and refer to the mini-map numbers on the map of that route:
There are actually two alternative routes, depending on whether the cyclist wants to go into Jackson or not. The first, which avoids the most traffic, by-passes Jackson:

Start at Booneville, on map 129, but instead of taking highway 28, take 30, which will take you towards Jackson. After making the high climb on this route and crossing the Middle Fork of the Kentucky River, you enter Shoulderblade, which is tiny. Then cross another hill, and you will reach route 397. Turn right (southeast) onto it and go over another short climb. You will then be on SR 1110. Turn left (east) and travel to highway 15. You will now have to travel one mile south on highway 15, and then turn left onto state 476, at Lost Creek, following Troublesome Creek upstream. Stay on 476 until you cross under (or get on 80). You will now have rejoined the Bikecentennial Route at Dwarf at the junction of maps 130 and 131.

The second goes through Jackson and is somewhat less safe:

Start at Booneville, on map 129, but instead of taking highway 28, take 30, which will take you to Jackson. When you reach the junction with 15, turn right. This will take you into Jackson. Motels are on either side in Jackson (the one on the right is on a parallel road), and were about $35 a night in 1988. The supermarket is at the top of the hill on 15; keep on straight on 15 after getting groceries. If you don't need to go to the supermarket, going into town and through the town square, leads to a back road (SR 1812) along the North Fork that avoids a hill and the traffic found on highway 15 for four miles. You now have to follow highway 15 for several more miles to get to the turn on 476. Turn left onto 476, at Lost Creek, following Troublesome Creek upstream. Stay on 476 until you cross under (or get on 80). You will now have rejoined the Bikecentennial Route at Dwarf at the junction of maps 130 and 131. While this route includes several miles of highway 15, the traffic is not as bad near Jackson as it is near Hazard; however, you should use caution; people frequently travel much faster than the speed limit on this road.
Jackson - Pippa Passes, 62 miles, 11.6 mph, June 30.
---
Day ten: The next day, I had two steep climbs before a mostly flat route to and along Pine Mountain to Elkhorn City. The steep climbs (especially the first) seemed typical of the Bikecentennial route; my joke has been that one can always find the Bikecentennial route by climbing the highest, steepest hill. However, in climbing these hills, I met a westbound cycling couple touring along this route and then five more, who were quite spread out while climbing a steep grade. The couple stopped to chat a minute and the two women in the second group did also, but the three men were much more intent on climbing than in making friends, even though they were in the lead. I wondered if that group would manage to survive long together.

Then I traveled on to Breaks Interstate Park, where I decided to camp in the campground, both due to few opportunities elsewhere and due to curiosity about camping in a campground along the Bikecentennial route. The young man who was operating the booth at the park at first seemed quite friendly, although he made me wait a while. I asked him to pick a site that would be suitable for a cyclist to camp. However, when I reached the site, I found it already occupied by some families sharing two sites. I also noted that there was no place suitable for me to pitch a tent except on a pad with large diameter gravel. So, I returned to the ticket booth to ask for another site and had to wait much longer and until dark, with the park attendant now acting resentful. (Was it my fault other people were using my site?) While waiting, I discovered the site used by the other cyclists, but the young man insisted that I would have to pay extra to get it. He finally gave me a poor site on a steep hillside. It was now too late for me to try to cook my dinner. I could see no advantage for me in having camped within the park.

Pippa Passes - Breaks SP, Virginia, 70 miles, 11.6 mph, July 1.
---
Day eleven: The following day I was also traveling up and down, crossing the Appalachian ridges. When I got to Honaker, I stopped to wash my clothes, and Frank Brown, an autogyro pilot, stopped and told me that cyclists often stayed at his house and invited me to stop. Again wanting to sample another way of travel, I stopped by his house and looked at his wife's antiques. However, I finally decided that I would be more comfortable sleeping in the tent, so I pitched it in his yard.

Breaks SP - Honaker, 38 miles, 11.3 mph, July 2.
---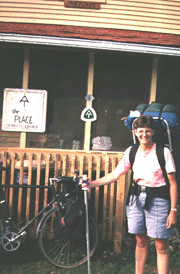 Day twelve: My next stop was "The Place" in Damascus. I intended to stop for only a few minutes, but immediately fell into the camaraderie of hikers and bikers meeting together, and found it hard to leave two days later. Although The Place is owned by the local Methodist Church, the two-story building is largely maintained and paid for by the groups and individuals that use it. There is a box to drop donations in, and guests clean up the house and cut the grass during their stay. In addition, they tend to leave extra food, equipment, and trail news behind for the use of other travelers. Often the topic of conversation is people who have been met along the trail.

On the first day, I met some hikers who had already been staying at The Place. In the evening, I visited a low-price pizza parlor with some of the fellows. In the morning, I asked a friendly couple if I could hike with them for a distance. My first surprise was when the man moved ahead a good piece, leaving the woman and me to walk together alone. As we walked, I picked some berries to eat. The woman attacked my behavior, saying that I was eating food needed by the wild animals to survive. Since we were hiking within a few feet of the road, I suggested that the animals would be safer if they would stay away from the roadway. I tried to get her to taste some of the berries, but she refused, saying that it really wasn't safe to eat them. I pointed out that if the berries weren't safe for me to eat, then they wouldn't be safe for animals to eat either. I then went on to say that I thought the animals were much more endangered by automobiles and pollution than from someone eating a few berries. However, she refused to accept that pollution had any consequential affects. I reminded her of the dead trees that she must have seen on her hike, but she told me that they died only because they had gotten too old. I was rather puzzled by her statements: here was a person willing to walk the entire Appalachian Trail and yet unwilling to admit that man's behavior had any harmful results, except for the picking of berries! But, with her strident tones, I did understand why her husband was walking far ahead. At the first opportunity, I found an excuse to turn back.

The next day, more hikers arrived: George, a retired physics teacher, the only person I ever met who talks more than I do, and who is an education to listen to; "Doc," who was fighting a battle with cholesterol that had killed his wife; and "Hete," who decided to buy a bicycle to return to Kansas on. I also met two cyclists, Allen and Teresa, who were westward bound; however, while there, Allen (who said he had helped make Pretty Woman) decided he needed to get back to his work in California, and Teresa decided to travel on alone.

Honaker - Damascus, 42 miles, 10.4 mph, July 3.
---
Day thirteen: After leaving The Place, I climbed up to Boone, where I ended up spending a day with Harold, Susan, Erin, and Cetie; Susan is the daughter of old friends; Erin and Cetie are adorable 4 and 3 year-olds. Harold likes to rescue bikes from the trash dump and restore them for his use and the use of his family.

Damascus - Boone, North Carolina, 46 miles, 10.8 mph, July 6.
---
Day fourteen: In the morning, I followed the directions backwards and went three miles the wrong way. Susie happened to be going that way, so she honked at me and set me back on course. I entered the Blue Ridge Parkway on a back road, and then traveled past Blowing Rock, across the Linn Cove Viaduct, past Grandfather Mountain and Linnville falls, and then down the mountain to Marion, taking a side road as soon as possible to miss some traffic.

Riding down the mountain here was a nostalgic experience for me because a student and I had spent some hours hunting for caves in the area around Linnville Caverns. However, I did not plan ahead about where I would camp, and I found myself approaching Woodlawn near dark. There was a national forest sign there, so I ask a national forest employee if there was any place nearby where I could pitch a tent, so he directed me to a safe area that was definitely not a camping area.

Boone - Woodlawn, 62 miles, 12 mph, July 8.
---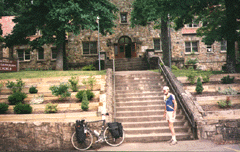 Day fifteen: In the morning, I traveled into Marion and then on to Old Fort. I had purchased an atlas for North Carolina, and it showed a dirt road that crossed the continental divide and would carry me to Black Mountain, so I followed that route. The trip over the divide was enjoyable because I traveled through forested areas.
At Black Mountain, I turned north to pay a visit to Montreat-Anderson College in Montreat, where I had taught in 1968-69, a place I had not visited since 1971. Many of the classrooms at the college looked the same as when I taught in them, over 20 years earlier. I also walked up the hill to my old apartment, which looked better than when I had lived in it. Then I returned to Black Mountain. climbed over the mountains down to Bat Cave, and traveled past Lake Lure. By that time, I was needing a place to camp, and I saw a brushy area with small trees away from any houses and stopped to camp.
Woodlawn - Lake Lure, 60 miles, 12 mph, July 9.
---
Day sixteen: he following day took me to South Carolina and scenic highway 11. Unfortunately, the weather decided to become very hot, and I quit enjoying myself as much or taking pictures. Crossing SC was a rolling ride, with some forest and some views and little traffic; tourism was way down.

For the evening, I was forced to camp in a public campground because the surrounding woods had been completely clear-cut and turned into a waste land. Although the site itself was not unpleasant in this state park, some late campers arrived after dark, put up a bright light that shone through my tent wall, made lots of noise, talked loudly as they drank beer, and showed no interest in sleep until the wee hours. So, I had a poor night's rest.

Lake Lure - Lake Keowee, South Carolina, 72 miles, 12.1 mph, July 10.
---
Day seventeen: All through the next day, I felt rugged from missed sleep as I crossed from South Carolina into Georgia, and I cooked under a hot sun (I have thought about calling this my diaper rash tour). Some men told me about a short cut on my way to Clayton, Georgia, so I didn't have to travel as far south as the road map indicated. On the way, I bought an old road map that I thought was current (it showed none of the construction of recent years I discovered to my sorrow). I also encountered a rafting agency back in the woods. That night, after traveling through Clayton, I found a lovely wooded camping spot on a saddle in the mountain above the 197/76 intersection, the best camping site on this trip.

Lake Keowee - Lake Burton, Georgia, 58 miles, 11.1 mph, July 11.
---
Day eighteen: Although I had some climbs in the morning in wooded mountains, the rest of the route was flatter. Unfortunately, road construction was already underway to build a four-lane through here which may make this route dangerous for cyclists. Along part of my route, I was able to take the old two-lane road rather than ride on the less safe four-lane. When I reached Blue Ridge, I stopped to rest in a picnic area, and there I started a conversation with a couple. He advised me to camp in the woods behind his house because he felt I would not be able to find another nearby camping site.

Lake Burton - Blue Ridge, 60 miles, 11.9 mph, July 12.
---
Day nineteen: In the morning, following advice from the night before, I found Cherrylog road, which parallels the newer highway from Blue Ridge to Ellijay. This road has little travel and is quite scenic; however, I did have more hills as a consequence. I continued south through Ellijay and on down to highway 53, which runs to Rome. I continued nearly to Rome, and camped in a tiny pine woods alongside the highway.

Blue Ridge - Rome, 82 miles, 13.5 mph, July 13.
---
Day twenty: The next day, I took a picture of the nursing wolf in Rome, looked around inside Cave Spring, passed Lake Weiss, and pedaled down to my parents' home near Gadsden, where I recovered from heat and diaper rash for two days. It would have been a lovely ride in cooler weather.

Rome - Gadsden, Alabama, 77 miles, 12.4 mph, July 14.
---
Day twenty-one: Finally, I crossed the final mountain to my cabin. The trip had been 28 days, 21 traveling, and 1369 miles.

Gadsden - Scottsboro, 74 miles, 12.1 mph, July 15.