Pennsylvania II, 1996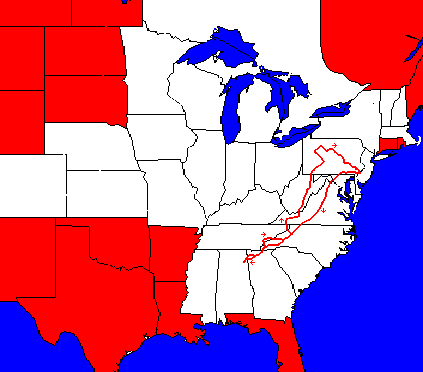 This year, I was intending to go to school at Indiana, Pa., so for my summer trip, I decided to ride up and look the school over. When people said, "You're going to ride a bike there?" I would reply, "Well, it's too far to drive."

I also wanted to visit Northern Pennsylvania, particularly the part where my ancestors had lived. And I thought about maybe getting into Canada, if I had the time. Again, I had not spent enough time riding my bike before the trip started. But, I was looking forward to a summer of travel and freedom. During the week before I left, I rode about 20 miles each day in extremely hot weather as a rather inadequate preparation.
---
Day One: My trip began at my niece's house near Hokes Bluff, Alabama, (east of Gadsden) where I left my van for the summer. The weather was very hot, so I was uncertain how many miles I could go in one day. My trip began along a route I had not taken by bicycle in over twenty-five years, so there was some pleasure in that. I first went through Ball Play, Alabama, named because of the Indian sport. There, a van stopped, and my best friend in college got out. By coincidence, Steve was working in that area but could spend an hour catching up with me in some shade while his colleague gathered some water samples.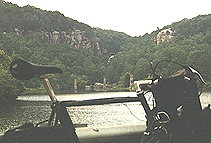 After going through Centre, Alabama, I then ran along the east side of Lookout Mountain until I reached Little River. There, I was interested in getting into the water, but I heard voices. Three women were in the creek enjoying the water and playing at building a dam, but they said I was welcomed. The cold water and pleasant company really helped me cool down.
When I stopped at a store, I somehow got into a discussion with an old, local farmer. He was highly indignant about environmental efforts. He said he had personally tested freon, and the only thing in the can was air.
That evening I pulled off the road where there was nothing but woods on either side. I noticed a fence on the other side, but nothing on mine. I pitched my tent, not having heard a sound. However, after dark, a huge number of loud and vicious dogs approached the tent. Their loud barking made it difficult to think, but I decided that it was too dangerous to go outside. Finally, I realized that the dogs must be behind the fence just across the road and unable to get to me. After over an hour, they finally found something else to bark at and moved away. But it was a difficult hour.
Hokes Bluff - Jamestown, 50 miles, 12.1 mph, June 20.
---
Day Two: The morning continued the very pleasant ride. I stopped by a country store to have something to eat and enjoy the local talk. I learned quite a bit about everyone nearby in a short period of time.

On approaching La Fayette, the road continued straight ahead, but the sign told me to turn right. After almost three miles and a hill, I came to the main highway, which was now too busy for me to use (I had traveled down that road in 1965). Fortunately, there was a light duty road following the hilltop. But if I had continued straight where the sign had told me to turn, I would have had a straight, flat ride all the way to town.

As I was leaving La Fayette, after eating lunch, I saw a ranger's station, and got a map of the local national forest. Because the temperature now was roasting hot, I decided to camp at the first opportunity. When I stopped at a little store, I got some extra food. Perhaps an idea was already in the back of my mind. At any rate, after I stopped for the day, I hiked around and found a spring, so I knew I had water. So, I stayed there not one night but two; however, I was hot even back in the woods during the middle of the day.

Jamestown - Villanow, Ga., 48 miles, 10.8 mph, June 21.
---
Day Three: Although I had had a day's rest, I did not seem to be especially strong, and the day heated up early. At one point I passed a lake but looking at water did not make me any cooler. Then I ran into short steep hills that, combined with the sun and my poor condition, were very miserable. When I stopped to get into the shade, I encountered "no trespassing" signs.

Therefore, it is not hard to understand that I rode on into Ellijay and got a motel room. So far, my trip had not been impressive by any standard.

Villanow - Ellijay, 48 miles, 11.9 mph, June 23.
---
Day Four: The trip from Ellijay to Blue Ridge, along a light-duty road that travels up and down through partially wooded countryside, was very pleasant, and mostly completed before it got too hot. After resting and eating in Blue Ridge, I made a wrong turn, but finally got on the road to Murphy.

At the dam, I stopped to rest and found a paperback lying on the ground which, even though I didn't especially like it, I read over the next two days. I was bored more than enjoying the trip.

The road from Blue Ridge to Ranger was a nice road for cycling; unfortunately, the process of making a four-lane out of it had already begun. I stopped at an interesting old store where the front had been sawed off and a new extension added so the front of the store would be the required distance from the widened road.

Somehow the temperature had dropped, almost as if crossing the Georgia line had done it. That night I found a nice little spot to pitch a tent along the four-lane, and it started raining not long after I stopped.

Ellijay - Ranger, N. C., 44 miles, 10.7 mph, June 24.
---
Day Five: I started late in the morning, due to rain. The rest of the day was dry but much cooler. The traffic was bad on the four-lane, so I was glad to get off of it at Murphy. There I washed my clothes and read my book some more, stopped at a small supermarket, and read my book some more. I had never been so bored on a trip, and it had just begun! And this was the part of the trip that used to excite me!

Between Murphy and Andrew, there are back roads paralleling the four-lane, so I was able to get to Andrew without many traffic hassles. There I stopped and ate at a supermarket, buying a local map of the Smokies, which I unfortunately lost the next day.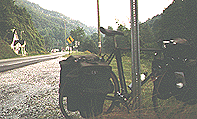 Out of Andrew is a steep climb up to Topton (Top Town). As this was an important place on my 1965 and 1971 trips, getting there generated some interest for me. However, rather than going down through the Nantahala Gorge, I turned left, and found a camping spot a few miles farther.
Ranger - Topton, 33 miles, 10.1 mph, June 25.
---
Day Six: Robbinsonville was a good place to stop for food; in fact, I found only two other places to stop for food this day.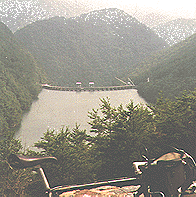 After leaving the town, the road winds through the woods and around a lake, then along a stream. At one point, I passed directly below a dam on the Little Tennessee River. At the top of a steep hill from the dam, where the roads join together, is a motorcycle campground, and I stopped and talked a bit. Then I pedaled and walked to the top of the next ridge. The road from there was very winding and beautiful, with woods on both sides, and even drop-offs on both sides. At one point, I looked down on another dam. This was the unpeopled side of the Smokies. I had lost my boredom completely.
Finally, I came out to a large lake, and I found a nice place to camp nearby that was hidden from the road.
Topton - Chowee Lake, Tenn., 43 miles, 13 mph, June 26.
---
Day Seven: Today, after following the lake a short distance, I turned to the north on the Foothills Parkway, which has never been finished. Since there was no food or water on this route, I had to stop and use almost all of my water to cook some rice to keep from getting the knocks. Some berries also helped with the problem of thirst. On the second half of this "parkway," I was descending more than climbing, and so I reached the highway in fairly good shape, and then traveled along this fairly busy road to Townsend, where I was able to stop and eat a ton of food.

From there I had a pleasant ride on a busy road that took me into the fringes of the Smoky Mountain National Park. The road was crowded, the stream was crowded, and there were people walking along the road everywhere -- in other words, it was perfect for bike riding; I could even stay in the middle of the lane for long distances.

My previous bike trip on this road had been 31 years earlier, so it was very pleasant to tour it again. On several occasions I stopped and talked with some of the motorists.

Passing through Gatlinburg without stopping, I hoped to find camping to the northeast. However, the one side of the road was cleared land, and the other side was the National Park, so the opportunities did not seem good. Then I found a nice and reasonable campground, and thus finished my day.

Chowee Lake - Pittman Center, 57 miles, 11.9 mph, June 27.
---
Day Eight: In the morning, I ended my ride along the east flank of the Smokies; this side was not especially attractive. Then I had to head northwest to Newport. The roads are being changed in this area.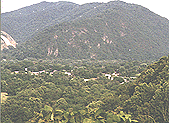 From Newport I took the road to Hot Springs (I would be traveling in a straight line due east for the rest of the day and most of the next day). This road was a little busy and fast, but got a little better as I neared Hot Springs. Both before and after Hot Springs, there were steep climbs, and road construction was underway before Hot Springs.
After crossing the hill above the town, I descended and followed a winding creek heavily used for trout fishing. It took some cleverness to find a camping site not visible from the road in the narrow valley.
Pittman Center - Laurel Creek, NC, 63 miles, 11.6 mph, June 28.
---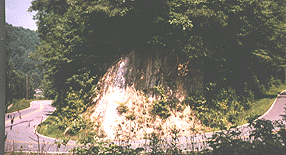 Day Nine: I traveled many winding little roads in the morning, along tight creeks and up and down steep hills, and even got lost one time, cycling several miles before backtracking. Although I was "back in the sticks," there were lots of homes. At one point, I needed to get water, and the man I asked told me that most people in that area drove long distances to get to work.

When I reached the highway, I found a restaurant to eat in -- always an odd experience for me, since I don't eat beef or pork and always want something cheap -- and shortly after, I left highway 23 for a back road that turned into a gravel road. After a dusty distance on this, I found a steep descent that I had to walk due to the gravel. But halfway down, I was able to ride again, and I soon came to paved road that lead into highway 19, thus having avoided a long dog-leg to the south and much traffic.

I stopped twice for food before getting to Burnsville, where I bought even more. We cyclists don't spend much, but we seldom pass a grocery. On some parts of this ride, I was able to stay off of the main highway by using the older road. The main highway was not dangerous, just uncomfortable.

When I reached Spruce Pine, I turned south, leaving my straight line east, and headed to the parkway. At the edge of the mountain, I got a motel room at the place where I had caught the bus in 1971. On that trip, we had averaged 38.5 mpd and had taken 11 days to get there, and I had just averaged 50 mpd and taken 9 days to get there by an easier route. I didn't feel very impressed with my "accomplishment." On the other hand, I didn't feel the least bit discouraged either.

Laurel Creek - Spruce Pine, 62 miles, 10.9 mph, June 29.
---

Day Ten: I called Dot and Lee in Boone and told them I would be arriving that morning, but I had forgotten how winding and steep the parkway was, so by the time I told them that I would arrive, I was just half-way there. So, I got off the parkway, called them again, and then began a very fast trip the rest of the way, due to a long fast downhill ride, so that I arrived long before the time I had stated.

I found a delay in getting a new tire for the bike, so I spent an extra day with my friends and then left while they prepared to spend the 4th of July with their family.

Spruce Pine - Boone, 40 miles, 11.3 mph, June 30.
---
Day Eleven: On leaving Boone, I had an easy and mostly downhill ride. This road is a little busy but is not really a problem. My goal was The Place, a house kept up for the Appalachian through-hikers and the cross-country cyclists. This time I found it much dirtier than it had been before, so I persuaded some of the hikers to help me clean it up, and one of them even cut the grass. To avoid traveling on the 4th, I stayed an extra day. I might add that I had begun the trip with my shorts and panniers in bad condition, so I spent a good bit of my time with needle and thread, both here and at Boone. I didn't enjoy my stay here as much this time as I had previously, probably because I was so busy sewing, but it was not unenjoyable either.

Boone - Damascus, Va., 41 miles, 13.6 mph, July 3.
---
Day Twelve: Having spent a week and a half on the road building up and having spent a few days resting, I was now more than eager to ride. For a short while, I followed my 1993 route, but then I continued north, underneath the interstate, and on to Saltville, which I last visited on my 1988 tour.

Rather than follow my 1988 route up through Clifton Forge, I turned west toward Tazewell, wanting to get there along a light road. However, after crossing a mountain, I discovered dirt road ahead, and had to backtrack via another road which finally lead me to another way there. This road climbed another ridge and then led me down through karst terrain that had been cleared for cattle; an area filled with hollows, sinkholes, and limestone outcroppings.

From Tazewell, I traveled northeast along the line of the Appalachians, traveling along a valley that was marked as being in the national forest. However, no national forest was in sight. When I stopped, a man told me that if I got to such and such a point, I would be in the forest, so I pushed as hard as I could. However, while there were fewer houses, I could find no camping site. When a couple passed me and pulled into their drive, I asked them and learned that no such place was ahead. However, they decided it would be OK for me to pitch my tent at the edge of their property.

Damascus - Rocky Gap, 88 miles, 12.4 mph, July 5.
---
Day Thirteen: Continuing up the valley in the morning, I intersected a highway traveling through a gap in the mountains west of Pearlsburg. This was a very winding, widely divided four-lane, with very high speed traffic, no shoulders whatsoever, and no visibility ahead. So, I would wait for a break in the traffic, travel as far as I could before I saw another pack of vehicles approaching, and pull off again. On the other side, I stopped and got something to eat, and then I rode towards the northeast again, but this time on the West Virginia side of the mountains. This wasn't a bad route to follow, a little busy sometimes, but not being used as a through road. However, there weren't any woods to camp in, just small farms. At one point, when I stopped in a store, someone told me that his parents had a tourist home where I could spend the night for $10, so that's where I stayed.

Rocky Gap - Pickaway, West Virginia, 56 miles, 12.3 mph, July 6.
---
Day Fourteen: This morning, I had to follow the road that paralleled the interstate to the east for a while, which at any rate provided me with places to buy food. Then I turned northeast again, wanting to stay on a less-traveled road and in the national forest. I was paralleling my 1988 trip, just a valley or two farther west, but the road was much flatter and the trip less difficult, even if the traffic was somewhat greater.

Rather than traveling through national forest, I found myself traveling mainly through farmland, although there were patches of forest too. At one point, I came to a national forest campground that I thought was absolutely beautiful. The camping sites were separated by woods, no trees had been cut down, and the sites had been kept as natural as possible, with thoughtful arrangement of the mandatory "stuff" (picnic tables and fireplaces).

However, I wanted to go farther, so I decided to camp at their next site, twenty miles ahead. As I traveled, I noticed that the deer were calmly feeding with the cows in the fields, even though it was not even dusk.

The national park site at Frost was not as nice, looked a little run-down, and I think there was even a "camp at your own risk" sign. However, it was free, there was water, and I had the place to myself, so I wasn't an unhappy camper.

Pickaway - Frost, 70 miles, 12.7 mph, July 7.
---
Day Fifteen: Today was one of those days. To begin, I didn't get started until nearly eleven o'clock, and once I got going, I seemed to drag. There was a little more traffic today, and I had more hills to climb, but I thought maybe that stopping too late the night before was the real cause.

When I went by Arbovale, I noticed a library, and stopped in to read for a while.

After crossing another ridge, I turned west on 250, which was carrying a lot more traffic. I was able to buy a map of the Monongahela National Forest in town, and I learned from it that my last camping opportunity in the forest for the day was just ahead, so after climbing another ridge, I started looking for a spot.

As I pedaled along a flat stretch of road, I looked to the right and left. On the right side, I could see well down into the woods, so I decided to camp on the left, where I would be less visible. The ground was difficult at the first place I tried, and I realized that my only good spot was still quite visible from the road. Cycling a quarter of a mile farther, I found a better spot and pushed the bike well up into the woods before I camped.

Frost - Durbin, 34 miles, 13.4 mph, July 8.
---
Day Sixteen: This morning, starting was no problem. I crossed the ridge and descended along a steep stream bed, noticing flood damage to the road and also noticing a house in the middle of the stream bed. At the bottom of the mountain, I was on a flat plain, with residential neighborhoods on each side and a good bit of traffic on the road. The problem with traffic in West Virginia is that all of the roads are comparatively narrow and without shoulders.

At one point, using my forest map, I attempted a bypass of the main road. After three miles, I came to a "bridge out" sign located just 50 feet from the bridge, and so I had to retrace my route.

The traffic was heavy but cooperative in Elkins, and I briefly stopped in at the bike shop before continuing. The worst part of the day's ride occurred when I needed to cross over a ridge to get to Parsons. The traffic was very heavy, the road was narrow, and the sight distances were poor. However, I had no problems from the motorists whatsoever, other than the usual intense desire to reach their destination. Once I reached Parsons, the traffic split, and I had less trouble.

After leaving Parsons, I climbed the hill to an excellent picnic spot with a good spring of water, so I cooked and ate there. The idea occurred to me that if I was out of sight that that would be a great place to camp. Although the ridge rose like a wall above the spring, a short hike discovered a beautiful spot, and it was only the matter of getting the bike up a hillside that was as steep as a roof. It was hard work, involving more lifting than rolling, but I didn't have to remove my panniers.

Durbin - Parsons, 64 miles, 14.1 mph, July 9.
---
Day Seventeen In the morning, I discovered a lot of dump trucks hauling back and forth along my road. However, they eventually lead to construction work, and I had no further problems from them. As in Hot Springs, I encountered rafters, so I took a picture of some rafts going down the Cheat River.

It was in this section that my pedal came off. I had been thinking I had all the necessary tools, but for some reason, I was unable to repair my pedal by myself. The first motorists I asked were unable to help me, but a utility truck stopped for some reason, and with their tool, I was soon back in business, not even having lost much time.
My one large town for the day was Kingwood, a terrific climb up, stop for food, and then right back down again. But the rest of the time, I was following the river. I stopped at the park on the river in a smaller town to eat, and a local cyclist told me that the town had been badly damaged by recent flooding along the Cheat.
From there, it was a long climb up to the interstate, where I lost all the traffic, then along a "back" road into Pennsylvania. It was then a pleasant ride to highway 40, which I had traveled in 1988, and which now had good shoulders.
I crossed the highway and continued towards Ohiopyle. I was hoping to find a camping site, but I didn't know the state regulations, and many people had built near the park, so I continued into town. Some sympathetic outdoors folk told me that nothing was cheap or nearby until someone remembered the hostel, which was a nice place to spend the night.
Parsons - Ohiopyle, Pa., 71 miles, 12.6 mph, July 10.
---
Day Eighteen: The first one-third of the day was interesting because the road wound through nice woods.

After crossing highway 31, I found myself retracing the route I had followed on my 1988 trip, but then I had been going south to join that highway and now I was headed northeast towards Indiana, Pa. Although I only followed my old route for less than five miles, somehow I became confused enough to think I was traveling the same route for a much greater distance; the fact that everything looked so similar, small streams, valleys, woods, and farms, undoubtedly entered into my confusion. I even asked a woman at a store/post office questions about the "changes" which must have left her confused.

I approached Ligonier on the wrong road, so I took a short cut to get back on the right road, but got lost and had to follow highway 30 for a short distance. In the town, I forced myself to stop, eat, and rest, before proceeding.

As I approached the next group of towns, I again got lost and found myself riding into Bolivar. Now you many not think I am famous, but thousands of people were lined up on either side of the road to clap and cheer my appearance. Even the police were waving at me as I rode by. And I thought the people in Washburn (1988 trip) had been friendly! Finally, I noticed all the people in parade costume waiting for me to pass, and I thought, they've even brought in a band to celebrate my arrival! However, I was in a hurry, and it was getting late; what did thousands of flatterers mean to me? And so I went on.

Before I got to the next road, I pulled off to camp, but I was poorly hid from the roadway and the ground was most unsuitable, so I decided to go on. At the bottom of the next hill, I saw some fellows riding mountain bikes, so I decided to ask them if they knew of a place; but they said that nothing existed, so I thought I might be in trouble. Climbing that hill, I saw a path going up into the woods. Pushing my bike up, I found a great camping site and even had a deer come by during the night.

Ohiopyle - Heshbon, 66 miles, 12 mph, July 11.
---
Day Nineteen: Today, the ride to Indiana was rather short, but I hit very steep climbs, so I was tired when I got there anyway.

I spent several days at the school and in town, visiting teachers, talking with students, getting a bank account, finding a place to live and paying a deposit, before continuing my trip again.

Heshbon - Indiana, 20 miles, 12.1 mph, July 12.
---
Day Twenty : I had originally intended to visit Pittsburgh and New Castle but too much time had passed, and I needed to be heading back. However, I felt I still had time to visit my ancestors' church and cemetery, so I decided to head north. Because I had several things still to do, I didn't get to leave until in the afternoon.

The ride was through brushy country and some former mining areas, nothing pretty, but light traffic. This was about the hottest day since leaving Georgia. I found just two places to stop for food during the ride.

I continued to New Bethlehem and was told of a park where I could camp. This was out of my way and charged a fee as well.

Indiana - New Bethlehem, 53 miles, 11.8 mph, July 16.
---
Day Twenty-One: The next morning I lost half a day. I had the worst constipation I had ever experienced, probably the result of bean burritos and a hot, dry afternoon, so being at a public location with a toilet was probably a good idea. I also spent some time in a laundry, to wash some clothes and help me recuperate.

However, I had no further problems. I rode first east and then north to Sligo, where I called home for further information. I wanted to visit the churchyard where my ancestors were buried, but I did not know what questions to ask. After a talk with my dad and a store owner, I was on my way, and soon found myself on Mt. Zion, one of the prettiest places I've ever seen for a cemetery.

I thought about camping there, but I didn't know whether that would be acceptable or not, so I headed north and passed through Knox. I was wondering to myself where I would camp, and I saw a sign, so I rode down the dirt road, looked at it, and decided I didn't want to pay to camp there. I was still on the dirt road when the owner caught me, very upset that I hadn't stopped. So, I ended up sleeping there anyway (there really wasn't anything wrong; I'd just rather have a patch of woods).

New Bethlehem - Elk City, 42 miles, 11.9 mph, July 17.
---
Day Twenty-two : Today, after a few miles of highway, I turned north on a less-traveled road, heading towards the Allegheny National Forest. The day started cloudy, and soon I was encountering rain. The temperature was cool, so I was not anxious to get soaked. However, there were no places to stop. At one point I passed a picnic ground, etc., where I could have stopped, but a sign announced "no trespassing."

At one town, I stopped and ate at the store until the rain let up a little. At another time, (before or after?), when I sensed another strong downpour, I noticed a little "carport" standing by itself, with no sign of ever having been used for anything, but it helped me wait out the rain.

When I reached Marienville, at the edge of the forest, I ate but took my time about leaving, visiting the railway before I left, but mainly waiting out the rain.

However, the rain was over for the day. Using the forest map, I thought about camping at several places, but finally chose to nearly leave the forest before camping.

Elk City - Brush Hollow, 52 miles, 11.5 mph, July 18.
---
Day Twenty-three : I experienced a little rain on the ride south to Ridgeway, where I washed clothes, ate, and typed on my computer for a while. Then later, I saw a park bench along the road and stopped to spread out my tent in the sun to dry.

Turning east, I was surprised at how tiny the road was, a good sign. I was between high forested mountains following a narrow, winding road. However, in spite of the few houses, there were a number of stores, as this area gets a lot of tourists and outdoors people. This was an extremely enjoyable day's ride, and I even passed the birthplace of my childhood cowboy hero, Tom Mix.

I was beginning to worry about a place to camp, however. A stream on one side, little room along the road, and steep hillsides do not make good places to find free camping. And, when I asked, I found that rooms were not available. But a local teenager told me where I could find a place.

Following his directions, I crossed the bridge on a local road and went upstream. Many little cottages were built within the forest land, and I guessed I could camp in any area, but there was no one to ask. Then, beyond this area, a sign announced restricted camping. So, I found my own spot by taking my bike high on the slope, way above the cottages.

Brush Hollow - Sinnemahoning, 67 miles, 12.4 mph, July 19.
---
Day Twenty-four: This was another excellent day's ride, with only one town of any size. I did have trouble finding food, however, stopping at one store before I got to that one town and buying sardines, sandwich bread, and whatever else I could find and eating like a starved man.

When I realized that I was passing out of the state forests, I backtracked and found a good site in the woods for the night (I had found someone during the day to explain about regulations and to give me a map).

Sinnemahoning - Lock Haven, 52 miles, 12.9 mph, July 20.
---
Day Twenty-five : Today looked like a less pleasant day, since I would be riding through some crowded towns with confusing roads, but it was also a good day to eat and eat. This was the first day I encountered a hoagie at a low price, so I ate two and bought a third one. In fact, in a short day, I stopped three times for food.

I decided to cross over the Susquehanna rather than traveling out to the bend of the river, but my heart went out towards the people living there; Flight 800 had exploded on the 17th, and many children from Montoursville, a few miles ahead, had been on that plane.

After crossing the river, I was back on lightly traveled roads, but I was headed towards a very densely populated area. Using my maps, I found a camping site where I either saw five deer or saw one deer five times.

Lock Haven - Collomsville, 32 miles, 13 mph, July 21.
---
Day Twenty-six : Crossing the Appalachians in Pennsylvania had been difficult for me in 1988; on this trip, I intended to let the river slice through the mountains for me. However, my plan was to follow the east side of the river, while most of the roads were on the west, and then to bypass Harrisburg.

So, in the morning, I crossed the mountain, and rode down to a nice country store for my breakfast, before crossing the river on a lightly-used bridge. During the day, my scheme worked fairly well, with only one defect. Since I was staying so close to the river where there was little traffic, I was not passing any grocery stores. Therefore, when I went through Milton, I had to detour into town, and then back to the river again. In Sunbury, I had to follow the main road through town and across the bridge, but I had no difficulty.

I followed the wide Susquehanna southward all day long, from time to time passing ridges sliced in half by the stream. Occasionally, but not usually, the traffic was bothersome. However, I certainly wasn't finding any place to camp. At one grocery, while I was eating, I learned that there was a motel on my route, so that's where I stopped.

Collumsville - Milon, 68 miles, 13.8 mph, July 22.
---
Day Twenty-seven : Although I was late leaving today and the day before, both days were good ones for me.

In the morning, before reaching Harrisburg, I had the choice of staying along the river on the main road or take a short-cut over a steep mountain, so I chose the latter. However, traffic was heavy on the shorter route, so I found myself walking a good bit. In fact, at the hairpin turn at the top, I even had difficulty walking around. I had intended to look for the Appalachian Trail, which crosses here, but I was too busy with cars to notice it.

As I approached Harrisburg, the road became interstate-like, and I turned off at the first exit. A policeman advised me that I had the right to use the road, reminiscent of the policeman I met in Kingsport, Tennessee, in 1988, but I was by-passing Harrisburg anyway.

I had a nice ride up a pleasant valley without much traffic, met some boys cycling, and then crossed over the mountain to the east of Harrisburg. Except for one short section, I managed to stay on lightly-traveled roads. It was pretty obvious that I wouldn't be able to find a camping spot in that mixture of residential areas and farms, so I asked about motels or whatever, and I finally decided that my best location for the night was the AYH hostel at Bowmansville. However, when I reached town, the hostel seemed to be closed. After a period of checking on options, one businessman said I could pitch my tent between his motorhomes.

Millersburg - Bowmansville, 81 miles, 12.9 mph, July 23.
---
Day Twenty-eight: I was up early and traveled down to highway 23. Parts of this road did not have shoulders, which made it rough due to the traffic, but other parts were just fine.

A casual conversation led to my visiting an Amish bike shop located on a back road -- extremely well stocked with both all the latest gear and the old and odd gear as well. Later that morning, I saw a young Amish woman traveling on a two-wheeled scooter with large wheels. She traveled down the hill pretty quickly, but since she could not pedal, she had to dismount before she reached the top. She then watched me descend and climb the hill, and her eyes were shining.

Highway 23 took me quickly towards my destination, a major improvement over the Bikecentennial route. When I crossed the bridge at Valley Forge, I discovered that the bike path had been extended out to there.

On the bike path, I met a group traveling on mountain bikes, the one young man having trouble, so I stopped, adjusted his bike, and pointed out that his worse problem was in using too high of a gear. As soon as he started moving again, he shifted back into that gear and proceeded at 7 mph. I had promised to stay with them, but I couldn't stand that, so after just a few minutes, I passed them and took off at 25 mph. You can't help a fool.

I crossed Philadelphia, walked across the Ben Franklin bridge, and cycled out to my sister's house, where I spent a few days visiting with her family.

Bowmansville - Somerdale, New Jersey, 82 miles, 12.8 mph, July 24.
---
Day Twenty-nine: I left my sister's house after she left for work, following back streets most of the way to Camden. Except for carrying my bike up the stairs on the bridge, I had a pleasant trip, following the same route out that I came in on until I passed Phoenixville and turned southeast.

After my turn, I traveled through some high-priced areas. I stopped at a supermarket in a small shopping center and found nothing that I would be willing to buy because the prices were far too high. I traveled five miles and stopped at an almost identical shopping center, and everything in there was much more reasonable in price.

I thought I would spend this night in a motel, but on checking, I discovered very high prices, so I continued. When it was already getting dark, I discovered a small wooded area down below the road to spend the night.

Somerdale - Coatesville, Pa., 72 miles, 13.4 mph, July 25.
---
Day Thirty : The day began with lots of rain. I took my soggy self down to Coatesville and used the shelter of a building. The morning lingered on. I was finally able to get into a late-opening grocery, but the rain continued. Finally, I decided to ride anyway.

My speed was slow, but at least riding was keeping me warm. At first, I could hardly see, but gradually it rained less and less; so gradually that I never noticed when it quit. In Quarryville, I found a laundry to wash and dry some clothes, and some Amish girls with a buggy stopped to dry their clothes too. Even though many Amish lived in the area, none of the stores had hitching racks, so the girls had to take turns holding the horse. Evidently, auto-centric people don't like them any more than they do cyclists. The girls were quite friendly and answered all kinds of questions about their buggy gladly.

I crossed the Susquehanna and kept on going. Crossing my 1988 route, I headed towards Harpersville, rather than towards Washington. The roads were light-duty, but were all up and down. There was no place where I could even relieve my bladder, so I stopped and asked at a gas station, and they were very friendly. When I finished, they asked me where I was going to spend the night, and I told them I was getting worried. So, they suggested that I camp behind the house of one of them, which I did.

Coatesville - New Park, 56 miles, 11.8 mph, July 30.
---
Day Thirty-one : Although New Park is close to the state line, I spent half of the day in Pennsylvania, heading westward. The weather was overcast, and I stopped in a little laundry, this time only to dry damp clothes and the sleeping bag. In rainy weather, stuff that is only damp will start to smell, so it's not a bad idea to spend a quarter or two.

In the afternoon, I began heading southwards towards Frederick. I could see the Blue Ridge heading down to cross at Harper's Ferry with me. As I approached Frederick, the traffic became worse, but at one point I was able to get onto a parallel road. I hadn't seen a place to camp all day, so I started asking questions, and finally decided on a motel.

New Park - Frederick, Maryland, 76.5 miles, 12.4 mph, July 31.
---
Day Thirty-two: In the morning, I began following highway 180 down to Frederick. As I got close to Harper's ferry, I became lost because the road was not clearly marked (the sign makers always assume that your only destination is the interstate). Finally, the interstate ended, and I got to "share the road" for a few miles. The bridge was the worse obstacle, as it was narrow, with heavy traffic, but I timed it right and made it across safely. Then I had a narrow, winding road, with a poor shoulder. I made it to Harper's Ferry and went into the town to see the building where John Brown fought his last battle.

Leaving Harper's Ferry, I had to "share" going down a hill, and then I turned left onto a back road. This ended up being a backward D shaped route that took me as far as Charles Town. Much of it ambled along a trashy and unromantic Shenandoah River.

Leaving Charles Town, I traveled on light-duty roads to the west of the town to re-intersect with 340 at Berryville. Between there and 522, I found a country road, not on my map, which I assumed would let me avoid the second highway, but I went several miles before I saw someone to confirm my impressions. These back roads were quite enjoyable.

I spend the night at a motel in Front Royal.

Frederick - Front Royal, Virginia, 75 miles, 12.3 mph, August 1.
---
Day Thirty-three : In the morning, I made the short trip to the start of the Shenandoah National Park and began my ascent. This was a pretty long climb, but it did not seem especially hard. On the way up, however, my rear tire started rubbing a fender brace. I assumed that the placement of the wheel just needed re-adjustment, but as soon as I unlocked the quick release, I realized that the axle was broken. So I took a break, replaced the axle, and then started on my way. Five-speed axles might break easily, but they are simple to replace too.

At the first place where I could stop, I got into a conversation with a friendly park ranger and discovered that the Shenandoah National Park is quite friendly to bicycle campers who wish to pick their own campsites. However, he did not have a camping permit, so he suggested that I stop at the next park exit, which was only a few miles away. The people there who helped me with the permit got some of the details wrong, and when I had arrived at the spot I had indicated I would be camping, I found the trail too steep to descend with a loaded bike. As I did not want to break their rules by stopping somewhere else, I decided to camp at the campground.

When I reached the campground after dark, it was "closed" because it was "full" and no one was around to help me. I have shared campsites, but the people I met were self-absorbed, and I did not feel like pushing. However, there were many empty sites, so I finally pitched my tent on the grass between two of them, but neither party ever arrived. The worst problem I noticed here, besides the large number of people, was the terrific smoke from all the campfires.

Front Royal - Big Meadows, 58 miles, 10.7 mph, August 2.
---
Day Thirty-four : In the morning, I got to marvel at all the tame deer at Big Meadows.

The rest of the trip through the park was much easier, and rather uneventful. I very much enjoy cycling through woods and forests, stopping and looking, and sometimes taking a short walk, but these events blur together over time.

Before leaving the park, I talked to a ranger at great length about the camping situation in the park and also about the two young women who had been murdered that spring. Although he said that the people who had given me the permit had been wrong about some details, he did not really clarify for me what I would have to do when I next entered the park. All I can report is that the Shenandoah National Park is friendly to bicycle camping in most sections of the park, but one must stop and get information at the entrance.

Then I rode down to the Cookie Lady's home.

Big Meadows - Afton, 59 miles, 13.1 mph, August 3.
---
Day Thirty-five : In the morning, the Cookie Lady told me about a special party held for her by cyclists who had followed the Bikecentennial trail. She had a nice booklet for sale with her story and pictures.

I was late leaving her home, as I had been in 1993, but this time I felt much stronger, and I traveled farther. I noticed on this ride large numbers of local cyclists, male and female, and I also met some touring cyclists going north. This section of the Blue Ridge, down to Roanoake, is the second prettiest part, with many high views and lovely woods.

In camping for the night, I remember my hostile ranger from the 1993 trip and looked for a place where I would be unmistakably off of the Blue Ridge Parkway land and on the national forest land. In looking for such a place, I found a sign stating that the penalty for camping on Blue Ridge Parkway property was six months imprisonment. To me, this is a perfect example of a victimless "crime" with the punishment based on the prejudices of auto-centric park management alone. Also, ironically, the Appalachian Trail runs through this part of the parkway.

Afton - Indian Gap, 51 miles, 11.7 mph, August 4.
---
Day Thirty-six : My distance today was dictated by my desire to find another unambiguous campsite. Looking at my topos of the Blue Ridge (which I've carried on each trip since 1971), I found two possible sites before Roanoake.

In the morning, I finished the first segment and dropped down to the James River, where I got some groceries at Big Island. The grocery store had grown larger once again, probably profiting from my frequent stops (1988, 1993, and now).

The monster climb now began, with an elevation gain of 3,300 feet and well over a mile of climbing for the day. However, while I walked much of this climb, I rode more of it than in '93, showing that I was in better condition. However, I began to notice another change in me. Traveling the entire parkway now for the third time, I was no longer excited as I had been on my first trip; the parkway was getting to be routine.

My camping spot was way out along a ridge, definitely out of the park boundary. However, I did not find a boundary marker anywhere.

Indian Gap - Great Valley, 57 miles, 12.5 mph, August 5.
---
Day Thirty-seven : The problem on this day would be the lack of any suitable camping site. I decided to try to travel all the way to Toggle Gap, where I liked the motel.

In the morning, I dropped down off the mountain into Roanoake. The supermarket there is a special treat, since it is several days from the last supermarket and several days to the next. I met two men in the laundry (another important stop for me) who said they would like to make trips like mine if they were young enough and who were surprised to find that I was a decade older than them.

By the time I got to Smart View, it was already dark, but I used my generator light to continue on to the motel. Traveling at night is really nicer than traveling during the day, but this was my first night ride on the Blue Ridge. This day also included over a mile of climbing.

Great Valley - Toggle Gap, 81 miles, 12.6 mph, August 6.
---
Day Thirty-eight : Normally, when I stop at a motel, I start a little later in the morning, and this is especially true if I arrived late, but I was feeling good and got started early (for me).

I usually avoid all the tourist stuff, but on this trip, I stopped and studied the water mill at Mabry Mill for the first time. It's always funny walking around with the tourists: they're all so worn out and enfeebled from their car trip (where they only had to sit) while I am full of energy.

I missed an opportunity that night. I had forgotten to bring my copy of Bicycling the Blue Ridge, and therefore, I forgot about the Youth Hostel near Galax, Virginia. However, I crossed a local road and the park boundary (oddly across the local road) and camped in a small wood. This day's ride included about 4,000 feet of climbing.

Toggle Gap - Galax, North Carolina, 56 miles, 12.9 mph, August 7.
---
Day Thirty-nine : It was quite a stretch traveling all the way to Boone today, but I found it to be no great task, even though my trip included a mile and a half of climbing. I don't remember anything really special about the day, even though it was a lovely day's ride.

I spent the night with my friends Susie and Harold in Boone.

Galax - Boone, 72 miles, 12.5 mph, August 8.
---
Day Forty : I was in no hurry to leave in the morning as I was enjoying my visit and I intended to stay at Spruce Pine again, but I finally departed. This segment of the trip was much like the one on the way up, however, I was on the parkway the whole time, so it took longer.

This is a very pretty section of the parkway but again my interest was less due to having traveled that way so many times. After trying to find the camping site used in 1971, I returned to the motel used on the trip up. Their meal was good, but it did not include enough calories and there was no other source of food except some crackers in my bags.

Boone - Spruce Pine, 55 miles, 12.1 mph, August 9.
---
Day Forty-one : This part of the parkway is the very most magical, and yet I found no magic there. I planned to get something to eat in Little Switzerland, but I was unpleasantly surprised to find that the grocery had become a gourmet food restaurant. I ordered a hoagie for a good price and got a very small sandwich, about two bites worth.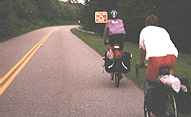 Fortunately, after I stopped for another pittance of food at Crabtree Meadows, I met Ted and Chuck, who had been traveling faster and farther than me. In fact, they had started at Linville Falls, 15 miles back from my starting point. Since I had traveled alone on the entire trip, I was pleased to have companions, and I suggested that we ride together. So we climbed into the Black Mountains and then rode down to Asheville together.
On the uphills and downhills that followed, I saw in practice what I had believed true about bike tires. Ted's bike had narrow tires - about 1 to 1 1/8 inch or 25 to 28 mm, Chuck's had mountain bike tires - about 1 1/2 inch or 38 mm or larger, and I had 1 3/8 inch or 35 mm tires. On every downhill and uphill, Ted was the fastest and Chuck was the slowest, even when we were only coasting. However, on a dirt road, our positions would have been reversed.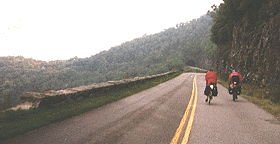 At some point, I told Ted and Chuck about camping out and my problems with the ranger on the 1993 trip. I very much got the impression that my story offended them, although they didn't say anything directly. At any rate, in spite of all of our downhill travel at high speeds, it was starting to get dark as we reached the bottom of the mountain. Chuck's speed dropped to a crawl due to lack of food, and I was feeling awfully hungry. We passed the place where I camped in '93, but they said they needed food more. However, when we did turn off the parkway, they kept going past the supermarket and stopped at a motel. When I caught up to them there, they immediately prepared to leave without even checking inside. I then decided that they were trying to get away from me, so I said good-bye and returned to the grocery store where I ate and ate. When I returned to the motel, I learned that all the motels in town were full that night. But, it was dark, late, and I had no place to camp. So, I went to the entrance to the parkway, found a place well off the road, and slept dressed without pitching a tent.
Spruce Pine - Asheville, 66 miles, 11.5 mph, August 10.
---
Day Forty-two : In the morning, the weather began clouding up. I began the long climb up to Mt. Pisgah without realizing what was in store for me. I met some other cyclists, but they were climbing much faster than I was. I also stopped and talked to a woman and her son who were collecting wild plants. The air became foggy, which slowed me down because I was worried about the heavy Saturday traffic that seemed to ignore the possibility that cyclists were on the road. Then it began to rain as well.

By the time I reached the top, I was pretty miserable and wanting the cold rain to end. I ate in the restaurant, spent time in the laundry, and finally got a camp site for the night, a miserable spot. It rained all night.

Asheville - Pisgah, 24 miles, 10.8 mph, August 11.
---
Day Forty-three : In the morning, I packed in the rain, waited in vain for the fog to lift, and finally started on my way. Fog and rain took turns making me feel uncomfortable.

When I reached the Graveyard Fields, where people can hike down and camp off of the parkway, I discovered that a whole busload of young people had camped on the parking lot because the stream was flooded, some of them under vehicles. I'm sure my favorite ranger would have been glad to have put me in jail for six months; would he have arrested all these people for camping on the parkway too? They had done so openly and had left trash scatter around as well. But, of course, they were traveling in motor vehicles, and that's different.

People frequently sleep in their cars on the parkway, no problem there.
After I continued on my way, it began raining again, and I shivered from the cold. My Gore Tex jacket seemed to do no good. In addition, I discovered that my brakes would not work at all, so I could not stop or even slow on the steep downhills. There was no shelter either, for me to dry off. This is a pretty part of the parkway with great views, but I could enjoy little of it. In fact, I was shivering so much that I considered conditions to be life-threatening, and I would have flagged a pickup for a ride, if I had seen one.
Finally, the rain let up somewhat, and I descended to the exit at Balsam Gap. After warming up a little, I descended to Sylva, where I got a motel room.
Pisgah - Sylva, 52 miles, 12.6 mph, August 12.
---
Day Forty-four : In the morning, I stopped at a grocery and took my time about deciding what I wanted to do. Originally, I had intended to cross over the Smokies at Newfoundland Gap, and I only had a twelve mile ride to get back on the Blue Ridge to go there. However, the weather was unsettled, and rain could begin again at any time. Besides, I needed to get back for my trip to school.

So, I took the main four-lane out of town as the quickest, although not nicest route, and I stayed on this road to the beginning of the Nantahala Gorge. Fortunately, traffic was very light. When I reached the Nantahala Gorge, on the other hand, suddenly trucks and cars seemed to be slamming in out of nowhere, no one slowing to a safe speed. After I walked over the first hill, however, the traffic slowed down, and I traveled the rest of the way without difficulty. A fun activity was racing the tourist train up the gorge (I was faster).

While climbing to Topton, I thought about camping in the gorge, but I was still going strong, so I decided to return to my camping site on the way up, on the other side of Murphy. On the back roads between Andrew and Murphy, I found myself getting somewhat lost but having no real trouble, since I only had to remember to travel west.

Sylva - Ranger, 72 miles, 13.3 mph, August 13.
---
Day Forty-five : I backtracked all day today, running back into the fierce Southern heat about the time I crossed the Georgia line. The towns passed much quicker, I didn't stop in Blue Ridge, and the day was not old when I reached Ellijay, so I continued on, but traveling farther south as I had done on the 1991 trip. This route continued down the valley and then crossed a single mountain before reaching wide, flat plains called the piedmont region.

I even thought about continuing on and camping near Rome as I had done on the previous trip, but the day was getting old, so I stopped at a motel instead.

Ranger - Calhoun, Georgia, 84 miles, 13.4 mph, August 14.
---
Day Forty-six : The last day was a long pleasant one, except for the heavy traffic near Rome (I had passed through Rome on a Sunday in '91). Because of the traffic, I decided not to visit Romulus and Remulus near the center of town. Instead, I skirted the town to the north and followed highway 20 into Alabama. The traffic on this route was not bad.

After a stop for food in Centre, where most of the options were greasy, I followed my route out back to Hokes Bluff. I noticed that I didn't recognize much on the way back. I arrived at my niece's house and then pedaled down to my brother's place for the night.

Calhoun - Hokes Bluff, Alabama, 82 miles, 14.3 mph, August 15.
---
Final comments : One decision I made from this trip was not to retravel the Blue Ridge Parkway any time again soon. A good bit of my pleasure from a trip comes from the surprise of new things, and that was no longer happening on the Blue Ridge. I was pleased that I had traveled Skyline Drive through the Shenandoah National Park, but the rest had gotten to be ho-hum and was the least interesting part of my trip.
On the other hand, I was very pleased to see a return to my form of 1988. Although my trip from Alabama to Spruce Pine had been slow on the first part of the trip and it had taken me five traveling days longer to make it to Pennsylvania, I had been much stronger on the way back. In traveling from Afton to Asheville, I had made the trip in the same number of days (seven) and in approximately the same number of hours in '88 and in '96. (It had taken me ten days to travel the parkway in '93.)
I can only speculate about what my next trip will be, even though summer is just a month away.