Second Bike Trip to Ontario, 1995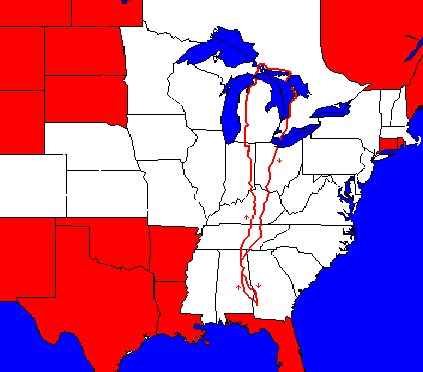 This trip was almost unplanned. Once again, I had little time in which to ride during the school year, and it had been two years since my last trip as well. My trip bike was in sad shape, since I never had gotten around to overhauling it. I decided to spend the summer at my cabin in the woods, but I didn't get to the cabin until almost July because of work at school and my mother's trip to a hospital. While I was at the cabin, I felt really restless as if I wanted to go somewhere. When I started riding on my other bike, I discovered that I was really building up fast. After riding just a week, including just one 60-mile ride, I decided that I wasn't too out of shape to go on a trip after all. Of course, I wanted to go to Canada.
However, I still needed to visit my son and to get my bike back in shape. Due to the short time, I decided to take the bike to the shop. However, the bike shop owner was reluctant to work on it because his helper was gone. This led to more delays, and I also lost time on my trip to see my son. Then when I returned to the school I found another week's worth of work to do.

---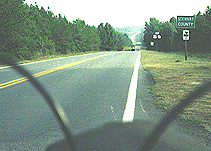 Day One: I quickly assembled my camping equipment and loaded the bike, and I hoped I had everything I needed. As I started, I noticed that I was hearing a noise from my front wheel that I had never heard before. Fortunately, the weather was cool this morning for Southern Georgia, so I was anxious to be off.

By the time I reached the county line, my front wheel was sounding awful. So I pulled over and took the front axle apart. I found many of the bearings broken in half. I felt I had to continue or abandon the trip because it was already so late, so I cleaned out the bad bearings and proceeded on a wobbly front wheel.

At the middle of the day, I stopped in some woods and watched some armadillos playing. They seemed to be pretty dumb creatures, hardly aware that I was there, and when they found me, they did not know what to do.

The heat was bad when I started again, but I wasn't suffering from heat exhaustion as I did two years earlier, so I made good time. That evening, although I was traveling mainly past woodlands, everything was marked "no trespassing," so I stopped and camped at the fire station in this rural, Black community.

Cuthbert, Ga. - Rutherford, Alabama, 60 miles, 12.2 mph, July 19.

---
Day Two: The heat was worse today, but I managed to get as far as Tuskegee without difficulty. There, I sought relief in the library and read during the heat of the day.

Starting out in the afternoon, I found myself getting heatsick before pedaling twenty minutes. I got into the shade, and as soon as I could ride, I rode to the nearest store and bought liquids. As the evening progressed, I found myself able to ride farther and farther without resting, but I decided to stop once I found a good camping site.

Rutherford - Walnut Hill, 55 miles, 11 mph, July 20.

---
Day Three: In the morning, I discovered that I didn't have any energy, even though the temperature was not yet bad. I limped into Dadeville and went to the library, where I read for hours, only stopping to have an excellent lunch in a tiny restaurant.

It rained that afternoon, and as soon as the rain ended, I was off. The long rest and the rain restored my energy, and I rode until nearly dark. This area was all small woods and farms, with lots of small patches for camping, which I took advantage of.

Walnut Hill - New Site, 35 miles, 11 mph, July 21.

---
Day Four: Today, the weather was somewhat better, and I was stronger, so I made good time, but eventually the heat started catching up with me, so I stopped at a small restaurant. The girl keeping the restaurant was only 15, but she was bright, and she enjoyed having company. So, I bought enough food to keep me happy, and we talked and talked. She asked me to stop by when I returned.

After starting again, I found myself feeling well, and I was traveling mainly over roads I had traveled as a student, 30 years earlier. When I got to Jacksonville, I called some old friends, and they asked me to spend the night with them.

New Site - Jacksonville, 68 miles, 12.3 mph, July 22.

---
Day Five: I had a pleasant and not very long ride back to my parents' home the next morning. I was assuming that my trip was over, as I had learned my mother was in the hospital again.

After a week, my mother left the hospital, and I felt free to travel on up to my cabin, but it seemed certain that I no longer had time to make the trip. My bike had been repaired in the meantime; the bikeshop owner had used the wrong bearings.

Jacksonville - Gadsden, 26 miles, 12.2 mph, July 23.

---
Day Six: I left for the cabin and once again surprised myself by having a fairly strong ride. For some reason, and not due to any great amount of cycling, I was much stronger than I had been two years earlier. For example, I had been forced to take two days to get to the cabin then. My speed was fairly high considering the terrain and the load I was carrying.

This is a very nice ride which I have made frequently. First, I ride along the base of Lookout Mountain for six miles, having nice woods to look at, then I cross a ridge and ride through a mixture of farm country and woods another fair piece until I climb 800 ft. up onto Sand Mountain, a long, wide plateau. Then I travel rolling terrain past small farms and through a town until I come down off the mountain along Guntersville Lake. Much of the remaining trip is along the lake, much is in deep woods, but a good bit is through cleared fields away from the lake. Then after eating in Scottsboro, I ride another dozen miles to my cabin, mainly through farm land.

Gadsden - Cabin, 81 miles, 12.8 mph, July 31.

---
Day Seven: Deciding not to waste an opportunity, I boldly continued on my trip the next morning, just to see how far I could go. Leaving my cabin in the woods, I mainly walked to the top of the mountain to avoid being too tired (12% grade), and then began my trip. This road follows the top of the Cumberland Plateau along a ridge that gradually gets narrower and more wooded until one can see off of the mountain on either side. Unfortunately, most of these woods are marked "no trespassing." I was following the same route that I used in 1990 and 1991, at least as far as Winchester, Tennessee.

After going through Winchester, I reached the lake. On my last trip, I had kept going at this point on to Viola, but this time, I was more tired, it was later in the day, and so I decided to stay. In camping, I made sure my tent was not visible to anyone driving in on the dirt road.

Cabin - Woods Res. Lake, Tenn., 51 miles, 13.3 mph, August 1.

---
Day Eight: The next day, the trip went very nicely in the morning, and I stopped to eat in Viola. As I traveled, roads kept joining together and the traffic started getting worse. On my last trip, I had swung to the east to go into Eastern Kentucky but now I went to the north through McMinnville.

Although I had been making good time, I was quite bothered by the heat, and I was seeing nowhere to camp. So, in traveling through Smithville, I decided to stay in a motel, not even thinking about the possibility of camping along the lake just a few miles ahead.

Woods Res. Lake - Smithville, 55 miles, 13.1 mph, August 2.

---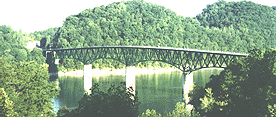 Day Nine: The next day, I took a picture of the bridge across the lake as I passed through an excellent camping area. After I reached the interstate, I had to get some local directions about the back roads, since the main road ended, but I didn't have any trouble, and I soon rejoined my road which took me to and along the Cumberland River. This was mainly a flat ride through pretty country, but with a fair bit of traffic and no isolated spots, so I didn't see any camping opportunities and pushed on until dark. I rode into Burkesville pretty late, so I decided to get another motel room. Unfortunately, the price was a good bit higher here.

Smithville - Burkesville, Ky., 81 miles, 13.1 mph, August 3.

---
Day Ten: I saw, after leaving Burkesville, that a camping spot would have been impossible to find before dark. The road ran up a narrow valley that was fenced and farmed on both sides. However, I soon left this valley and climbed up on a wooded ridge that would have been perfect except for the distance. Then I started down through mixed woods and farmland, crossed the interstate, and rode into Columbia.

After eating lunch, I asked a woman how far it was to Campbellsville, and she said twenty minutes. Unfortunately, my chosen road was a major link between the parkway and that town, and I ran into fast and heavy traffic with no shoulder. I was able to follow the older road the paralleled it for part of the distance, but in some sections I had to take the main road between packs of cars. The "twenty minute" ride took me four hours.

Just after Campbellsville, I encountered a tiny patch of woods, and I prayed for one more suitable, and immediately a larger patch presented itself. So, I camped there for the night.

Burkesville - Hobson, 60 miles, 13.4 mph, August 4.

---
Day Eleven: In the morning, I got into Lebanon pretty early, which was good since it was a Saturday, and I had a small stretch of main road to cover. In 1966, I just traveled down the main highway, much of the time.

After I passed through Springfield, it started misting. I had been hearing weather reports about approaching storm, and the tail wind had been helping me, so I figured the storms had finally caught up. As I rode, the mist turned into sprinkles and then turned into rain. By the time I reached Bloomfield, I was wet in spite of my rain suit. I needed to get warm, kill time, and try to wait out the rain.

The only place to eat was a pizza place, but I managed to enjoy my pizza as I slowly warmed up. Then I went down the hill to the laundry and washed and dried everything, especially the clothes I was wearing. Finally, I had to admit that the storm was going to continue, so I might as well do so too. Someone told me where the next motel was, and I took a route to it that passed by some woods, but the rain was pouring down, and the woods were small, so I kept on to the motel.

Hobson - Taylorsville, 51 miles, 13.2 mph, August 5.

---

Day Twelve: The next morning, everything was bright and pretty, and I rode through farm country to Shelbyville. After crossing the interstate, I stopped at a place selling Subways, which I had never eaten before. Before the trip was over, I ate a lot of their 12-inch veggie sandwiches.

After leaving town, I followed some light-duty roads in moderately hilly terrain on my way to the bridge across the river at Madison, hoping to save distance and traffic. At one point, I made the wrong turn, so I ended up with the distance anyway.

After crossing the Ohio, I found myself climbing some wooded ridges. But between the steepness of the ground and some "no trespassing" signs, I did not find a place to camp, and I was getting worried. As I was passing a lovely field alongside a stream, I saw the owner doing some work, so I stopped and got permission to camp along the stream.

Taylorsville - China, Indiana, 81 miles, 12.7 mph, August 6.

---
Day Thirteen: When I stopped at the first store that day, I felt it was going to be a great day. The weather was pleasant, and it didn't look that much like rain. My route took me away from highway 421 until I got to Versailles (which does not take the French pronunciation). Due to a good shoulder, I was able to follow the highway for ten miles, but then I turned eastward to follow lighter-duty roads.

As I entered Batesville, I encountered the beginnings of another storm. There were some scattered woods around -- fairly rare for Indiana, but they were low-lying and unusable for camping. In town I washed my clothes, but the weather hardly improved. I felt horrible about stopping so early, but I felt the storm was coming and the next town was too far away, so I decided to stay at the motel.

China - Batesville, 48 miles, 12.6 mph, August 7.

---
Day Fourteen: In the morning, I was feeling depressed, and the weather didn't look great either. I didn't get started until eleven o'clock.

But it worked out to be a nice day. After traveling north a ways, I started following a valley with train tracks. Gradually, I became aware that a rail club was working very hard to create a tourist railway. So, I stopped and talked to the people before going on.

After leaving Connersville, the road became flat and straight, with farmland on either side. Towards dark, I was worried about where I would stop. However, I encountered the Purdue agricultural station, which included some woodlands, so I stopped and asked the ranger if I could camp. Tim told me that I could sleep in the shelter if I didn't pitch my tent. However, as soon as it became dark, I was attacked by hordes of mosquitoes. I took off, tried to camp in a field, and finally ended up in Redkey, where some children on bikes pointed out the police station. Before going in the side door, I noticed a great place in the back to pitch a tent, so when the officer told me I couldn't camp in the park and no other place was close, I suggested there, and he agreed.

Batesville - Redkey, 85 miles, 13.1 mph, August 8.

---
Day Fifteen: In the morning, the road was straight as far as Bluffton and then I turned west to go through Huntington rather than the larger Ft. Wayne. At Huntington, I met the route that I had followed on my 1966 trip to Canada, but nothing looked familiar to me.

In Columbia City, I met a group of cyclists who were meeting for a ride in the town square. However, there was no feeling of camaraderie towards me; there wasn't even a "Hail fellow, well met," although the first one to arrive told me that I could ride with them if I wanted to. I think the others had the idea, "Who is that guy?"

Not too much farther up the road, I reached Chain O'Lakes State Park. I remembered my camping spot clearly, but I couldn't see it. Probably planted with trees. The park was better than most, I guess.

Redkey - Chain O'Lakes SP, 89 miles, 13.6 mph, August 9.

---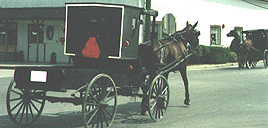 Day Sixteen: I had to make an important decision: should I try for Sault Ste. Marie, should I enter Canada near Detroit, or should I turn back? The last was the most sensible; the first was my strongest desire. With that choice can you blame me? After debating the matter a while, I turned west to by-pass Battle Creek and Grand Rapids, using some back roads around a lake.

I soon found myself running into an Amish area, with "signs" of horses on the roads, then cyclists that wore white shirts and hats, and finally black buggies running up and down the roads (by the way, a bicycle is faster, although the buggies move at a pretty good clip).

When I had to travel westward for five miles, I saw that motorists were using this light-duty road to travel at high speeds from Chicago to Detroit thus avoiding paying the toll fees, in spite of the fact that Amish buggies were using the same roads. There were no warning signs and no effort had been made to give the Amish a place to pull off the road either (they will ride on the shoulder or with one wheel on the dirt whenever they can).

In Michigan, I was almost the only person at the campground, and I still didn't like it.

Chain O'Lakes SP - Jones, Michigan, 74 miles, 13 mph, August 10.

---
Day Seventeen: On this day, I turned the wrong way twice, which cost me a total of twelve miles. I first followed 40 and later a country road, both of which ran north. I was running to the west of Kalamazoo and Battle Creek, in a area with many homes, small farms, small towns, and small woods.

Tonight was a good example of camping when there is no place to camp. I checked several small woods, but none were suitable. Riding up a small hill, I noticed some small trees on the slope to the left. Pulling to the side of the road, I saw plenty of room for me and my tent, yet hidden from above and from either side.

Jones - Burnips, 74 miles, 13.3 mph, August 11.

---
Day Eighteen: In the morning, I was running east of and close to Grand Rapids. On nearly every street that I traveled I could see one or more cyclists. Some of the streets didn't go through, and I had to ask advice from several of the cyclists. At one point, I stopped to use the phone and left my phone card sitting there.

Finally, I crossed under the interstate I had been trying to cross under, and then had to make a dog-leg to the west because a road was closed. These delays bothered me because I was worried about getting back home in time for the first meetings at school. Even though I had never been here before, I ended up advising several motorists about this detour too.

Then, I joined highway 37, the road I had traveled 29 years earlier, but the traffic was terrible because of the weekend. Going around a bend, I noticed a small woods and the lack of nearby houses, so I pulled off for the evening.

Burnips - Newaygo, 73 miles, 12.8 mph, August 12.

---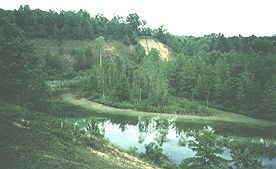 Day Nineteen: Traffic was a little better today than yesterday, but not highly desirable. This day's trip went over what had been one of the prettiest parts of my 1995 trip, but now I was sorry that I had returned. Things had changed enough that nothing looked familiar. There were many stores and other businesses along the road now, while it had been pretty deserted and quiet 29 years before.

At one place, I stopped and took a walk in the woods. At least the woods had not changed much, but there were fewer places where I could stop and walk. What I remembered for years as a highly desirable place to return to, in spite of its small trees and blow sand, had lost the charm that made it exceptional.

At another point, I found a bridge and embankment that looked exactly the same as it had on my 1970 car trip, when I had taken a picture. It seemed strange to me that an eroded bank would look the same.

That night, I found a place to camp on a tree farm.

Newaygo - Yuma, 67 miles, 12.4 mph, August 13.

---
Day Twenty: I thought the traffic would be better today, but I was wrong. At more than one time today, I thought about taking another route across Michigan altogether, but on talking with the locals, it never seemed that I had a good alternative.

The only relief I had from the traffic was in Traverse City by taking less important streets. On one of these, I thought I saw a black squirrel. A resident told me they were common, and I was entranced (the week I arrived back home, I saw a black squirrel in Southern Georgia).

A couple of cyclists gave me their maps and some advice. For a while, I was able to parallel the highway heading north. Finally, I just had to take my chances with the traffic. Fortunately, I had a strong tail wind, so I tried to ride at a very high rate of speed.

I wanted to camp on the beach where I had 29 years earlier, but I had been seeing "no trespassing signs," so I asked several people, including a childhood friend of the family who I called on the phone. They all said camping was impossible, so I got a motel room.

Yuma - Charlevoix, 93 miles, 15.5 mph, August 14.

---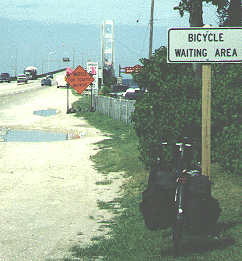 Day Twenty-one: After I started today, I passed a picnic area near where I camped with large "no camping" signs. Then I rode past the place where I had camped before. There were no "no trespassing" signs or anything. All I need to do was to lift my bike over the guardrail and take in down to the woods next to the water! I had broken my own rule: never believe what a motorist tells you! I stopped and visited with the friend of the family from childhood; we hadn't seen each other in about 40 years, yet I recognized her right away!

Traffic split as I approached the tip of Michigan, and I was able to ride easier. It's a shame I didn't have time to take the scenic route. Instead of taking the bus across the Mackinac bridge, I now had to wait for a pickup, but the charge was still quite reasonable.

That night, while I was camping in the woods, an elk came near my campsite, the first time I had seen one that close.

Charlevoix - Rudyard, 77 miles, 14.4 mph, August 15.

---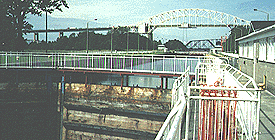 Day Twenty-two: Today, I "cheated" to boost my speed. A large construction vehicle, sort of an oversized tractor, was crossing the upper peninsula, moving faster than any farm tractor, so I stayed behind him for many miles. On the downhills, I could rest, but the uphills were murder.

When I reached Sault Ste. Marie, I discovered that I could ride across the international bridge to Canada. I was worried about the traffic, which was heavy, but they were tied up behind me and going the other way, so I had a free ride. People who watched me crossing must have wondered what was going on because I was crying like a baby all the way across.

Once in Canada, I called back to the school to be absolutely sure which day I needed to be back for our pre-school meeting. Unfortunately, I found I did not have time to take a day to rest and enjoy Lake Superior.

Since leaving Canada in 1970, I had saved my money, but now no one would take it. They said I should keep it as a collector's item. Canadian money gave me a fit: I would show up at a shop to buy something, with my brain still short of oxygen, and I would pull out my coins, and they all had the same picture of Queen Elizabeth on them! I finally learned that the trick was to turn them all upside down. It's easy to tell maple leaves, moose, sails, and beavers apart!

Rudyard - Desbarates, Ontario, 72 miles, 14.2 mph, August 16.

---
Day Twenty-three: Unfortunately, highway 17 from Sault Ste. Marie to Espanola is not a very safe road for cyclists, with a torn-up road bed, no shoulders, and lots of truck traffic. Fortunately, the number of trucks dropped and the pavement got better the farther east I went. I met a local rider who had been commuting a long distance to work in back on this same road for many years.

I wish I had had time to travel north from Sault, but I was very worried about making it back in time. However, this area was very pretty in places, so I did not feel cheated or anything.

One great advantage in Canada is stopping at small groceries, which are common. They always have fresh bread that they had made themselves, and I love fresh bread better than anything. At one store where I stopped, two other traveling cyclists were already stopped, so I talked with them a little. They were going my way, but said they rode too fast for me to keep up with them. I left before they did and never saw them again. I counted about 15 other touring cyclists on this trip in Michigan, Canada, and Tennessee.

Desbarates - Serpent River, 83 miles, 12.8 mph, August 17.

---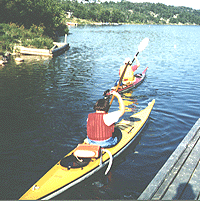 Day Twenty-four: I reached Espanola before lunch, but then had to wait out the hottest part of the day in a mall. When I traveled to Canada in 1966, the sun was unable to dry my clothes, and I lost my tan. Now the heat was as bad as Alabama used to be, and now that I turned south, the sun began to blister my face.

After I turned south to go out to Manitoulin Island, I crossed some rugged hills with deep cuts. Needing something to drink, I descended down a steep road to a store owned by Amerindians at the water's edge. A good bit of the land in this area is own by the tribes. While there, I met some kayakers beginning a trip of a few days, and I thought that that would be a great way to spend the summer traveling around the Great Lakes.

On this road, I would see no traffic for a long time, and then suddenly a pack of cars would descend on me. This traffic pattern was caused by a swinging bridge and the ferry at the other end of the island. I was amused by one impatient motorist when we reached the swinging bridge; she evidently was going to pass all of us, but I don't know how she intended to cross the water.

I passed by what was labeled "the only free campground" because it did not look too great, because I still needed to buy food, and because I needed to be closer to the ferry. But after through miles and miles of farmland, I realized that I was not going to find a place to camp. So, I had to pay $15 for the privilege of squeezing between two motorhomes with noisy TV's.

Serpent River - Little Current, 81 miles, 12.6 mph, August 18.

---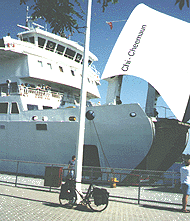 Day Twenty-five: I started before daylight in order to get to the ferry on time. Traffic was not bad at first but got worse as I neared the ferry launch. As always, people were impatient, yet I was going to be in time to be on the same boat as they were, so what was their rush?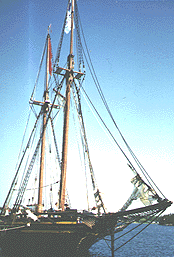 Some of the motorists became angry when they found that bicycles were the first on and the first off. More stupidity on their parts. I was on and off the boat in a fraction of their time. On the boat, I worked on my computer and took some pictures. I was able to visit Canada only because I was able to use two ferries on the longer trip back to save time.
At Tobermory, there was a replica of a sailing ship, so I toured it and took pictures. The Bruce Peninsula is a great place for lovers of the outdoors, although I was forced to stick to the pavement and keep traveling on, due to lack of time.
Little Current - Mar, 73 miles, 12.9 mph, August 19.

---

Day Twenty-six: I took a right at Mar, visited the cabin of some friends (who weren't there), and headed on south. Lots of people have cabins in this area, some of them built on Amerindian land.

When I got to the main highway (21) traffic was not too bad, but I chose to ride along the lake through Kincardine anyway, less traffic, better view. By the time, I had to leave the lakeside, I was worried about finding a place to camp, but nothing seemed to suggest itself.

Traveling down the main highway near dusk, I saw a small patch of woods and people on the porch of the adjoining house, so I asked if I could pitch my tent there. The people were very friendly, and the owner sent me down along his private road to the shores of Lake Huron to camp.

Mar - Kintail, 83 miles, 13.2 mph, August 20.

---
Day Twenty-seven: This was a nice day's ride, without much in the way of interesting details. In one town I could see out onto the lake as I crossed a bridge, another town was quite crowded with Sunday shoppers, and in another I sat for a while on a park bench next to the street. In the afternoon, I was able to wash my clothes for the second time since entering Canada (I carried three pairs of shorts, six pairs of socks, six pairs of underpants, and three shirts, so I needed to wash at least once every six days).

That night, I was curious about the Provincial Park, but I decided to avoid the fees, and I found empty woods along the roadside.

Kintail - Northville, 65 miles, 12.8 mph, August 21.

---
Day Twenty-eight: This morning, I turned and got onto a smaller road, so I left the traffic behind. Because I was hungry, I pushed very hard in the morning to get to a place to eat. Fortunately, I had a little tail wind for a change. It occurred to me while I was eating in a little park that I was making excellent time with the help of the wind (blowing very favorably from the northeast), and that I would not find a place to camp before I got to the ferry, so I decided to see how far and fast I could go (I couldn't quite figure how far the ferry was, but I thought less than 100 miles from my starting point).

So, that evening, I found myself not too far from the ferry when I passed the 100 mile mark, and dusk was approaching. So, I kept on. However, when I reached the ferry dock at 110 miles, a large sign explained that I needed to go to the next town. So, riding on back roads using my generator light, I arrived at the ferry just as they were about to leave. Everyone helped speed things up, although I literally entered the ship (much bigger than the other ferry) while it was being closed.

The boat went out to Pelee Island, and one of the crew explained where I could camp, warning me not to try to camp on the beaches, which were patrolled. On the island, I rode to the camping site, but everyone was in bed, and there was really nothing there. Not really being sleepy anyway, I rode to where some large rocks were near the water's edge, and saw and watched the waves on Lake Erie -- which I had been on as a small boy -- and the moon. I was going to be 50 in two months, and I thought that this 130 mile ride and the lovely night were the best birthday present I could have.

Northville - Pelee Island, 130 miles, 14.2 mph, August 22.

---
Day Twenty-nine: In the morning, I had a long wait for the boat, and so I toured the island (the pretty spots are along the shores). Back at the boat launch, I discovered that inexpensive food was not available, so I cooked my own.

I was more tired on this boat trip, as I had only dozed some the night before. In Ohio, my first task was to get some food, and the second was to get out of Sandusky as quickly as possible to avoid the afternoon rush, and the third was to make a beeline across Ohio, as I only had twelve days left to get back to school. I decided that highway 4 would have light enough traffic and yet carry me quickly south. In my whole trip across Ohio, I did not see any place to camp; in fact, I stayed in motels most of the way back.

Pelee Island - Bucyrus, Ohio, 57 miles, 12.2 mph, August 23.

---
Day Thirty: Well-rested in the morning and wanting to cover ground through the flat farm country, I pushed myself all day, stopping to eat but for no other reason. When I first planned this trip, I had intended to follow the Scioto Valley, but I didn't feel I could go that far out of my way, so that plan was dropped.

Somewhere today, I had the only case on any trip of anyone's bothering my bike. I had parked in the narrow space between two buildings, so it would be completely out of the way while I ate. But two boys had been given some kind of chore in that area, so they just pushed my bike over rather than move it out of their way. I heard the bike crash and rushed over and really chewed them out. Fortunately, nothing was damaged.

Bucyrus - Washington C. H., 103 miles, 13.9 mph, August 24.

---
Day Thirty-one: Getting started the next morning was a little harder, and even though I averaged a higher speed today, I traveled fewer hours.

Actually, I might as well confess a problem that all my hours in the saddle had created: I had developed a boil on my bottom while traveling south in Canada. I knew that going to the doctor would ruin my trip, so on the worst day, I had reduced my mileage. But then, as my mileage had increased, I started having more trouble, although not as bad as before. So, some of the reason for pushing harder and stopping longer was to reduce the pain.

This evening I ran into a major traffic jam along the river which actually speeded me up, since I could safely pass all those cars.

Washington C. H. - Aberdeen, 73 miles, 14.8 mph, August 25.

---
Day Thirty-two: In the morning, I crossed the bridge into Kentucky. In traveling from Maysville to Mt. Sterling, I was following a trip I had made by car while teaching in Kentucky. It had looked like a pleasant bike ride, but the traffic was bothersome, and the hills seemed to bother me more than I expected. At one point, I had a flat tire which I fixed. Probably, what I needed most was a good rest day, but I was late getting back!

Aberdeen - Winchester, 70 miles, 12.8 mph, August 26.

---
Day Thirty-three: I did not leave the motel until the last minute today, at noon time, and if the motel had been a little cheaper, I probably would have stayed a second day, late as I was.

On my ride today, I took some back roads that went past Boonesboro. I have always heard that Daniel Boone marched through the wilderness to found this town at the edge of the bluegrass region. I found the actual place did not match the story. First, it was almost as far west as Lexington, and not near the Cumberland Mountains. And second, it was in a narrow winding valley, just like a hundred other narrow valleys that Boone would have had to pass to get there and far from any bluegrass.

In a chance conversation with a motorist, I discovered that he taught environmental science at the University of Kentucky, so I asked him what he thought about the violent storms and the unnatural hot spells, and he told me that the weather was perfectly normal and there was nothing to be alarmed about.

That evening, I had another flat tire before stopping for the night.

Winchester - Mt. Vernon, 53 miles, 14.4, August 27.

---
Day Thirty-four: In the morning, I rode into Somerset on a road with little traffic. As I was traveling through town, my front rack suddenly broke at the attachment between the rack and the brake. It was not difficult to continue a short distance, but I doubted I could finish my trip. I stopped at a welding shop, but the welder told me that the break was impossible to weld and gave me directions to the bike shop.

It seems the bike shop had moved out onto the main strip, and I had trouble finding it. The traffic was horrible. However, when I got there, I found it was my lucky day. There was a front rack on sale for $5.00 and the repair man was very helpful, so we mounted new rack, remounted the front light, fixed my pedals, and installed a new rear tire.

Traffic was bad leaving town too, but the volume decreased the farther I went. I climbed up on the Cumberland Plateau and found a camping site, my first since Canada.

Mt. Vernon - Flat Rock, 57 miles, 13.0 mph, August 28.

---
Day Thirty-five: Today, after not going far, I reached a section of road traveled on my 1991 trip. Although all of my trips retrace some mileage close to home, this trip was remarkable for the number of old paths it crossed, not only my 1966 and 1991 trips, but my 1965, 1971, and 1988 trips as well. This day's trip went through mainly wood countryside.

On a very winding section of road, I saw a tractor-trailer coming towards me too fast for the bend, so I got completely out of his way, and his rear tire ran off the edge of the road on my side right where I would have been.

I had avoided some sections of this road before to avoid traffic, but my goal now was to go as fast and as straight as possible, and I kept going. In Harriman, I encounter two cyclists, one with a trailer, and we ended up sharing a motel room together.

Flat Rock - Harriman, Tenn., 78 miles, 13.5 mph, August 29.

---
Day Thirty-six: We separated in the morning because they were going the other way. I decided to follow the highway straight to Chattanooga and from there down to Gadsden, even though I would encounter more traffic.

However, I did not find the traffic especially bad, and I made good time all day long. In the outskirts of Chattanooga, I got off to avoid some rush hour traffic, but I was really more interested in getting some food in my stomach. Downtown Chattanooga was easy to ride through, and I could see that they had been making improvements. But it was even nicer riding out of town, winding around the side of Lookout Mountain, a familiar route when I was a child in the back seat of the car, and a familiar route on my bike trips.

After leaving town, I looked for a camping spot, but ended up at dark at another motel.

Harriman - Trenton, Georgia, 97 miles, 13.8 mph, August 30.

---
Day Thirty-seven: All of the route to my parents' home today had been traveled by me on my 1965 and 1971 trips and not since, so I was in nostalgia land all day.

When I got close to Ft. Payne, a town I've traveled through many times, a whole string of cars honked their horns angrily at me.

This was a pretty ride although the temperatures were rising, and I was tired from pushing for so many days.

Trenton - Gadsden, Alabama, 71 miles, 12.5 mph, August 31.

---
Day Thirty-eight: About all I could do to extend my visit was to wait until my mother was up before saying good-bye. Both to see her and to rest, I really wanted to wait another day.

The route that I followed was an old, familiar cycling route, and the same way as on the route up. The weather wasn't as hot, however. When I passed the store where I talked to the 15-year-old girl, I stopped by, but she wasn't working. When I asked about her, the woman was very suspicious.

That night I camped again in some scrub.

Gadsden - Delta, 68 miles, 12.6 mph, September 1.

---
Day Thirty-nine: Today I separated from my route up, wanting to avoid the traffic below Dadeville. My students always complained about how small Cuthbert was, but I passed a small college in a town with one gas station, one restaurant, one grocery store, etc., and one street.

The weather was hotter, and not too unpleasant, but when I passed a motel in West Point, I decided to stay there rather than look for another camping site, which I could have found in a mile or two.

Delta - West Point, Georgia, 73 miles, 12.5 mph, September 2.

---
Day Forty: This morning, I had a tough time getting started. The route that I had chosen was a good one, as I was mainly traveling through woods on lightly traveled roads. The hills seemed harder to me. I believe my problem was simply that I needed a good day's rest.

That afternoon, when I reached Columbus, I traveled five miles in the wrong direction before I discovered my mistake. That had me very discouraged, and I doubted if I could get past the military base before dark, so I got a motel room in Columbus and ate at an "all you can eat" restaurant.

West Point - Columbus, 50 miles, 11.9 mph, September 3.

---
Day Forty-one: Getting started was easier this morning. I had been worried about traveling on the four-lane through the military base, but I had no problems. Also I had worried about the many hills, but actually the ride did not seem to be so very long. I wondered why I had not ridden 105 miles the day before, I felt so good.

I stopped very little today, so I arrived at the school fairly early, while everyone was still at work. I changed clothes and went over to say "hi," but no one reacted much to my being back or showed any interest in my trip. I also discovered that the Dean had misinformed me about the day I needed to be back: I was a day early.

Columbus - Cuthbert, 55 miles, 12.4 mph, September 4.

---
Final Thoughts: The question is sometimes asked, which is better youth or experience? On part of the trip, I had been racing against my younger self on my 1966 trip. While in Michigan, I actually thought that my younger me had been a superman, and that I was the weaker middle-aged man. However, a closer look at the figures reveals another truth. It took me 9 days to travel from Gadsden to Chain O' Lakes Park in 1966 and 11 days in 1995. However, the 1995 trip followed a more winding route, so it was 138 miles longer. I actually traveled about two miles more per day. In addition, between the park and Sault, my daily mileage was higher on every day except one. On my 1966 trip, when I got to Canada, I took it easy for a week, while on this trip, I raced back home. The average daily mileage for the two trips is almost exactly the same, so maybe it's best to call it a draw.
This trip further strengthened my belief that fitness from one year lasts to another. However, there's no doubt that I needed a couple of good rest breaks on the way back. On the trip, I also hated having to push every day.