Journey to Colorado, Part II
The trip so far: I have traveled by bicycle from Alabama through Tennessee, Kentucky, Illinois, Missouri, and Kansas to reach Colorado. I took an extra day's rest in Pueblo before starting again.
---

Day twenty-seven: After leaving Pueblo, the Bikecentennial route does not head directly to Cañon City, but goes out to Wetmore first. On this ride, I continued to follow the Arkansas River on highway 96. Then I climbed somewhat to a large reservoir, and the road continued to climb past that point, eventually reaching some tight curves and steep grades. The terrain was very dry with only occasional shrubs.
I turned north at Wetmore, with the Sangre de Cristo (Blood of Christ) Mountains ahead of me. This route would be an excellent start on a trip to Gunnison or Leadville, but it was eleven miles out of my way to Cañon City, although it did bypass twenty-one miles of four-lane. On the ride into Florence, I saw some cliffs with remarkable impressions on their face, almost as if some giant dirt daubers had constructed huge nests there in some bygone age.
Past Cañon City, I ran into a touristy area and a good bit of traffic. The road was also steep, as I climbed over 1,000 feet approaching Royal Gorge. Once I turned north on highway 9, I found little traffic. I continued to climb along Currant Creek as the day got later. There did not seem to be any chance that I would complete this climb before dark, so I started looking for a place to camp, even though I was traveling through a fenced semi-desert with no cover.
I noticed that there was no fence along the Currant Creek side, and the "creek" at that point was a wide, flat sandy area. On the other side, I saw a scrawny pine amid cactus plants that would conceal my tent from the road. Of course, if there was a heavy rain, I wouldn't be able to cross back easily, but I wouldn't be camping in the creek bed itself. When I pushed my bike over, I was dismayed to find the ground covered with red ants, since this was my only possible camping site. However, I realized I was no longer in Alabama and the cold night would soon drive the ants underground. So, I rested and ate, and when it came time to pitch the tent, the ants were gone.
Pueblo - Gribble Mt., 70 miles, 10.6 mph, June 21.
---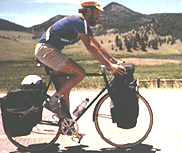 Day twenty-eight: The next day, I continued to climb up along Currant Creek. Since I had not cooked a meal the night before, I stopped along the way, along the edge of the now-running creek, to prepare a cooked meal. This climb seemed endless, although I did have a couple of steep downhills before I began climbing again. At one point I stopped at a hostel marked on the map where I got a drink and talked with the owner.

I crossed over a ridge, where I was in a national forest briefly and then descended into South Park, a huge, high, mostly dry, "level," treeless area in the middle of the Rockies, the source of the South Platte River. However, my climbing was far from over. I found I was traveling uphill and up wind all across South Park.

Finally, I reached Hartsel, a few stores on the South Fork of the South Platte River. Even though a beautiful stream of water flowed a short distance away, there was no water in this community, as the water rights for the stream had all been sold to Aurora, Colorado. It was even illegal to drill a well. The fact that all the water rights in South Park have been sold downstream explains the large fields, close to water, that have been left uncultivated, although the high altitude is most likely another major factor. To emphasize the water restriction, the only toilet in town, a pay toilet at that, was just a dry hole.
After leaving Hartsel, my upward course resumed. I enjoyed the day's travel immensely, and I loved this ride along a beautiful stream, but I also was suffering from a very long, hard day and high altitude. At one point, before I reached Fairplay, I pulled off to the side of the road, and Jim and Robert stopped their vehicle beside me. They explained that there was no place for me to camp in Fairplay, and they offered to give me a pickup ride to their cabin, where I could spend the night. While I appreciated the offer of a place to stay, I was by no means willing to accept a pickup ride over pedaling the distance myself. However, they pointed out that their cabin was too far for me to get to before dark. We finally agreed to meet in Fairplay and for them to return me to Fairplay in the morning. Since I was very close to complete exhaustion, it was not hard for me to agree. In fact, when I reached Fairplay, I started stuffing candy into my mouth as fast as I could, a sure sign that the gas tank was almost empty. Then I gave Jim and Robert a call.
This week would had been easier for me if I had had more water and more experience with semi-desert conditions to help me relax. The week contained the three roughest days I have ever spent on a bike.
Gribble Mt. - Fairplay, 58 miles, 8.1 mph, June 22.
---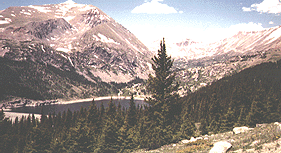 Day twenty-nine: In the morning, Jim took me back to where he had picked me up. I then climbed from Fairplay to Hoosier Pass (11,542 feet), taking pictures along the way. It was also not a fast trip because 1) I was still tired from the day before, 2) the road was getting steeper, and 3) I was not yet adapted to the thinner air at high elevations.

During the last few days, I had toyed with the idea of using a bandana to protect my ears, which were badly cracked and burned, but I didn't want to spent the money because I wasn't sure if I would actually wear one or not. Then, I saw a bandana on the ground, and it wasn't even dirty. The bandana was a great success. As the trip progressed, I found two more bandanas and lost a greater number.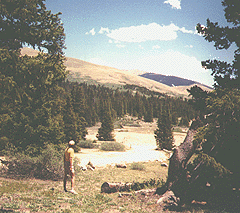 At Hoosier Pass, I took several more pictures, including ones of me playing in the snow. Then I dropped down into Breckenridge, noting a downhill rider (people pay "outfitters" to drive them to the top and then ride downhill). In Breckenridge, I got onto the bike path, practically an interstate highway for cyclists, with miles of pavement. I then turned off the path, at Swan Mountain Road, to circle Lake Dillion, and get back on a bike path on the other side, leaving the Bikecentennial trail to visit Denver. After I joined the highway climbing up Loveland Pass, I saw many camp sites on the side of the road in the national forest, so I stopped to camp, the only camp site where I had more tent stakes in the morning than the night before.
Fairplay - Keystone, 40 miles, 10.1 mph, June 23.
---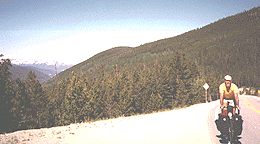 Day thirty: I slept in late and finally started at 10:00. Part of the reason was not having slept well at Jim and Robert's (they stayed up very late), part was being tired from the previous days, and part was a real desire to push less and enjoy my trip more. Gears were turning inside my head, and I was beginning to rethink my trip.

On my climb up to Loveland Pass (11,990), I really took my time, stopping to take photos at every opportunity, including ones using the tripod, thirteen photos in all, none of them snapshots. On her way up, a young woman cyclist stopped to check to see if I was OK, and then on her way back down, stopped again, really worried about me. She just really didn't seem to accept the fact that I could be enjoying climbing the mountain in a different way from her. She was wanting to climb the mountain at a fair average pace, and I was wanting to taste and to carefully digest every crumb of the morning.

However, she wasn't so preoccupied with speed that she couldn't slow to talk. I saw many other cyclists who crossed the top of Loveland Pass without bothering to look right or left, their eyes focused solely on their cyclometers.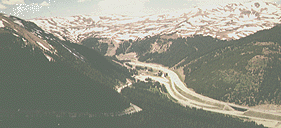 I then dropped to the interstate and mostly motored my way to Denver, with my speedometer reading in the 30's for miles at a time (to be exact, I averaged 23.5 mph for 17 miles, 17.6 for 13, 9.8 for 6, 11.7 for 8, and 18.9 for 15). Part of the way into Denver is on the interstate, part of bike trails, and part on roads that parallel the interstate. It's not all downhill, although I was dropping well over a mile in elevation. Riding a bike on the interstate is not only legal in Colorado but is also recommended by the state over other roads in places (I was using the map furnished by the state for cyclists). I saw one of the dangers of using the interstate, however, when motorists started coming over onto the shoulder with me to pass some slower vehicles.
On the way to Denver, I talked with my mother on the phone. I told her that I had decided not to try to reach the West Coast or even Missoula. I had been bucking headwinds too long and dreaming about camping out in the woods. Because my speed had not been high enough, I had no chance of making the coast and the trip back to Alabama. Rather than completing a rough trip with few pleasures, I would linger to enjoy my Rocky Mountain high.
In Denver, I spent two days with my uncle and aunt and visited with members of the family. During that time, I didn't ride at all.
Keystone - Wheatridge, 67 miles, 12.7 mph, June 24.
---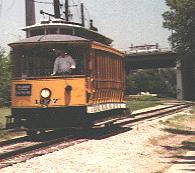 Day thirty-one: When I started again, I made my way to REI, where I looked at bicycle and camping gear and purchased a few items. On leaving my uncle's house, my idea was to head south to Colorado Springs, the Garden of the Gods, and Pike's Peak. However, as I traveled, I decided that I would rather head north to Boulder instead, so I made sort of a circle. I took the South Platte bike path north to its end, then I took city streets to Broomfield and then Louisville, and then I traveled on to Boulder.

Bicycling had made a big fuss about Denver and Boulder, placing them among the best cities in the US for cycling. But I discovered that in both cities, cycling was dangerous on the roads and impractical on the bike paths. In Denver, most cities streets are four-lanes marked 50 mph, and cycling is dangerous on them even when the traffic is light, and the traffic was usually heavy. On the bike paths, 10 mph is a high speed, and every intersection is a major problem except on the South Platte route, which goes under the river bridges. Most of the Denver "bike paths" were just plain sidewalks anyway, and the rest had heavy pedestrian use. In Boulder, bike lanes were provided in some of the streets, but I did not find the traffic very tolerant. The bike paths that I saw were amusing and suitable for small children.

I arrived in Boulder near dark, and a young woman cyclist proceeded to guide me into town, saying it was just a little ways out of her route. Women in Colorado were astonishing to a man from Alabama; they would come up to me and start conversations without any hesitancy. Of course, it helped too that I was certainly not an oddball in traveling by bike in Colorado. But the difference in behavior has certainly given me something to think about. I certainly enjoyed their forwardness in Colorado.

Since the Boulder police would not let me camp near town, I climbed up a canyon to camp beyond the town limits. There I met Kevin and Kim, two nomads (and members of the Rainbows) who live in a truck in the national forests and ride their bikes everywhere. I pitched my tent next to their truck, and we talked both in the evening and in the morning.

Wheatridge - Boulder, 62 miles, 11.1, June 27.
---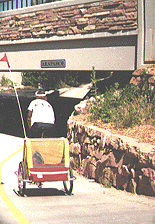 Day thirty-two: In the morning, I visited a Boulder bike shop, but found nothing to buy except a water bottle. While I was waiting for the bike shop to open, another young woman started a conversation with me, asking about my trip.

Leaving Boulder, I rode north to Lyons, a very hot ride. In Lyons, I met another bike traveler named Jon, who was also going to the Rocky Mountain National Park, and I tried to persuade him to accompany me. Jon did not seem to dislike the idea of traveling with me, but he was undecided about which route he wanted to take. Since I had met reluctant companions before, I said good-bye and continued on.

I traveled mostly up a valley towards Estes Park and camped in a small patch of national forest along the highway (I had picked up the national forest maps along the way). While I was traveling up a steep hill, a roller blader passed me going downhill at a terrific speed. He was pushing one of those three-wheeled carts, I supposed to provide a brake.

Boulder - Lion Gulch, 36 miles, 9.4 mph, June 28.
---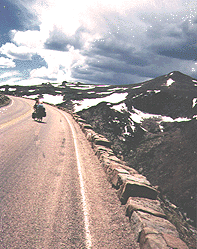 Day thirty-three: In the morning, I climbed for five more miles and met two Aussie bikers who were traveling south. I then dropped down into Estes Park, and met Matt. I talked to him about climbing together, but he wanted to travel on an incline first, so we separated. I started the long climb through Rocky Mountain National Park alone, but he passed me while I was well off of the road, eating some lunch. Then, after I started, I caught up with him, and we cycled together. Matt was from Connecticut and was traveling from coast to coast; he told me he had recently sent back home a pile of gear, including even his rain coat.

This ride is definitely one of the most memorable trips one can take on a bicycle. As the road winds up from Estes Park, there are many opportunities to look back and ahead. Gradually the world left behind shrinks to insignificance in the distance. In the meantime, new features become more important. The surrounding forests, flowers, birds, and animals occupy one's attention, many of the animals and birds quite tame. The rocks and snow remind one of how alien this environment really is. Finally, there is the road itself, always winding upward, always an effort.

At one point only, shortly before the high point at 12,180 feet, I found the road too steep and had to walk. A passing motorist yelled, "Get a truck!" I guess it made him feel pretty big and self-sufficient.

At the top, the highway is above 10,000 feet for ten miles. We put on warmer clothing and only made brief stops, realizing the dangers of hypothermia and high elevations.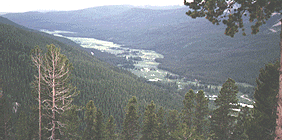 Then we descended at high speeds. At one point, Matt, who was ahead, disappeared, and he reported, after we rejoined, that a family had shared their meal with him. He wasn't gone long, but when did it ever take a cyclist more than a few minutes to eat a meal?
A major concern was whether we would be able to find a place to camp at Timber Creek, the national forest campground, and the only place we could reach before dark. When we got there, we discovered that the last site was long taken. However, the ranger encouraged us to find someone willing to share a site, and the owner of a VW camper told us that we could have his tent site for nothing, so we pitched our tents together.
Lion Gulch - Timber Creek, 47 miles, 8.5 mph, June 29.
---
Day thirty-four: Matt had heard that if we got up extra early we would see herds of elk, so we left at 6:30 and saw the animals that he predicted. Unfortunately, they were some distance from us, so I didn't even try to get a photo.

Matt and I had realized the night before that we would soon be parting company. He had made plans to go on a rafting trip for the day. When we got to Grand Lake, his primary goal was reaching his destination, and mine was making up for the lack of dinner the previous night. Matt went on to the Pacific before ending his trip.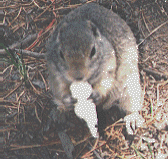 After parting from Matt, I spent the day resting on the edge of the lake, cooking myself a feast, and eating to my heart's content. In the afternoon, when it was time to hunt a camping site, I met Lane, traveling on a mountain bike. He liked the idea of a free camping site. Using my forest maps, we found a place where we could camp by traveling a short distance up a dirt road. We were on the slope of a hill, but the slope was not enough to make sleeping uncomfortable.
Timber Creek - Shadow Mt., 22 miles, 10.3 mph, June 30.
---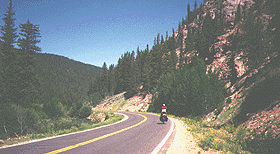 Day thirty-five: In the morning, when we reached the intersection near Granby, Lane wanted to go one way and I another. But it was no big deal, we said good-bye and waved to each other from a distance.

Then, I turned northward and climbed up 125, along Willow Creek. This was a great ride, with forests on either side and very little traffic. Along the way, I stopped, washed some clothes, and bathed. I tried to use the portable shower, but I discovered that it heated very slowly in the sun; plain old water bottles that have been riding in the sun are far superior. This was another example of something that seemed like a good idea until I tried it, along with the solar battery charger and the bike alarm.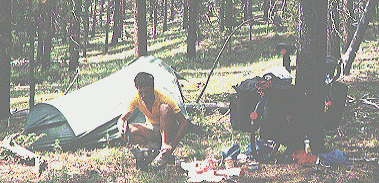 Just before reaching Willow Creek Pass (9621 feet), I stopped to camp for the night, pushing my bike up an embankment and way back into the woods, the loveliest spot of the trip. While I was setting up camp, I heard some cyclists going by, but I was unable to get out to the road in time to stop them. While there, I filled up my water bottles from a beaver pond across the road, enjoying the water's edge, and I also took a long walk in the surrounding woods.
Shadow Mt. - Willow Creek Pass, 34 miles, 10.7 mph, July 1.
---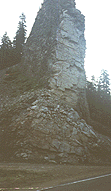 Day thirty-six: Right after starting, I crossed over the pass, two miles away. In traveling that short distance, I discovered a layer of rock, standing on end like a pillar or chimney. Down the other side, the road left the forest and entered the sagebrush terrain of North Park. At Rand, I was able to buy some donuts and a drink. Soon afterwards, I met Al, cycling southward, and not far behind him, his son Mark. They were traveling together as far as Denver, and Al was continuing to the east coast. I assume that Al finished his trip because I saw his name in a hostel register in Kentucky the next year.

I continued on to Walden, Colorado, and then had to travel to the north end of town to get to the grocery. I was only 20 miles from Wyoming, so it was a temptation to add another state. However, it also seemed silly to ride 40 miles just to say that I had been to the state, the wind was increasing, and the mountains ahead looked bare and uninteresting, so the decision was not that hard.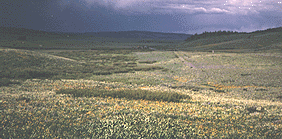 Then I started back south against the wind across North Park on highway 14, passing some cowboys on horses along the way. As I neared the end of the Park, the sky blackened, and I anticipated a storm that never occurred. In between Muddy (8772 feet) and Rabbit Ears (9426 feet) Passes, I pushed my bike a short distance into a partially cleared section of spruce and aspen forest. The ground was wet and muddy. Although mosquitoes were not a problem anywhere else, they were horrible here. As the weather was cool, I stayed in my rainsuit until I finally crawled into my tent.
Willow Creek Pass - Rabbit Ears Pass, 73 miles, 11.7 mph, July 2.
---
Day thirty-seven: The mosquitoes weren't so bad in the morning, although my tire gave me fits after I added air because the value wouldn't close. Rabbit Ears Pass had two unusual rocks that looked like Rabbit Ears.

Before going far, I met Peter and Will, who had all of their gear in small bags in the front, obviously staying at motels for the night. I hear from time to time that carrying the weight on the front is superior or that credit card touring is superior to loaded touring, yet these are the only two bike travelers I have ever met who were carrying such a small load, although I have met a number of cyclists who were being sagged (a car or truck was carrying their gear). Nonetheless, Peter and Will were having a great time.

My ride was mostly level for a while, and then I had a downhill trip most of the way to Steamboat Springs, hitting 45 mph (my highest speed in the Rockies) along the way. Steamboat Springs was trying to turn into a resort area, with new condos begging for buyers, but it held no attraction for me.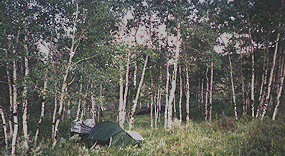 I turned south along highway 131 and traveled through dry picturesque country and three small towns to camp in a grove of aspens on the mountainside east of Toponas. Along the way, I stopped to watch a herd of sheep wandering across the railroad tracks below me, I was passed by three loaded cyclists who would not stop to talk, and I encountered another vertical wall, this one much bigger and called Finger Rock.
Rabbit Ears Pass - Toponas, 68 miles, 11.8 mph, July 3.
---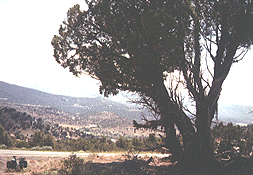 Day thirty-eight: Leaving my camping site, I rejoined highway 131 and traveled towards McCoy. This was a dry area, the trees mostly Juniper and Piñon Pine. In Bond, where I bought a snack, there was a faint drizzle, and I learned it was the first rain this year. For a ways, I had been descending gently, but after I crossed the Colorado, I had a hard eight mile climb. Once past that, it was a nice downhill to Wolcott, located next to the interstate.

I traveled east, paralleling the interstate, but then turned south towards Minturn, stopping to talk to some rafters just before I turned. On my map, there was national forest ahead where I thought I could camp, but before I arrived there, I saw that the mountainsides were extremely steep, so camping looked unlikely. To make the situation worse, I could see that the area (between Eagle and Vail, and thus called "Eagle-Vail) was rapidly being taken over by the wealthy. I even passed one subdivision that was protected by guards, fences, and gates.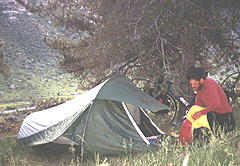 However, the map showed a ranger station, so I stopped to ask. The ranger I talked to was sympathetic, and he told me that I could camp off of the hiking trail if I got out of sight and gave me directions. Not only was the trail steep to push a heavy bike but also I had to climb a small cliff to get to the spot. But, I was in a relatively flat area, away from any other people, and high enough to have a panoramic view of the valley. Before I went to bed for the night, two fawns came within twenty feet of my tent.
Toponas - Minturn, 55 miles, 12.2 mph, July 4.
---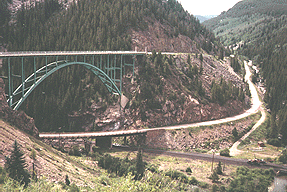 Day thirty-nine: In the morning, I went into Minturn, looking for some groceries, but I had no luck. Since leaving Steamboat Springs, I had traveled through a number of small towns with a high native Spanish-speaking population that were not exactly prospering economically. Minturn was now experiencing rapid growth, but the people were being displaced. The former grocery found that tourist items brought in more cash, and many businesses had been or were being sold outright.

This day involved a lot of climbing, but it was very enjoyable. First, I climbed for an hour and a half (nine miles) out of the valley, although I continued to follow a deep, narrow canyon of the kind that railroad modelers love. Train cars looked tiny below. The edge of the canyon reached the bed of the road, and there was no guardrail, so I always had a good view. However, when a passing motorist suddenly jammed on his brakes behind me, I had trouble breathing for a minute. At Redcliff there is a scenic bridge.

Then the road leveled out for a while. The night before, I had seen one of the prettiest railroad cars I had ever seen: it looked more like an interurban than a train car, and it was self-propelled. Along this ride, I kept encountering it with several road vehicles, one a crane, which had been converted to riding on the rails. They obviously were being used to adjust the track and/or make repairs.
Then I climbed over Tennessee Pass (10,424 feet), a somewhat slower five mile climb. When I reached Leadville, it began to rain again. I stopped at the supermarket and bought a ton of food, as I had been on short rations since Steamboat Springs. While munching food in front of the supermarket, I meet two cyclists who were riding from Denver to Aspen, 160 miles, in a single day. After looking around awhile, I headed north, but before getting very far, I noticed a nice woods on the right side of the road, so I pushed my bike back in and camped.
Minturn - Leadville, 36 miles, 8.4 mph, July 5.
---
Day forty: In the morning, I revisited the supermarket, and then traveled less than a quarter of a mile past my camping site when I met Betsy, who had camped at a roadside rest stop. We discovered that we were traveling the same direction and immediately agreed to spend the day together. Betsy had started from California early in the year, traveling to Colorado through the Southwest, and had faced snow in some of the passes. Her greatest adventure, however, had been a 15 month trip through Europe. Before we started, however, a bike traveler from Australia arrived, headed the other way, so we continued our conversation with him.

We headed up highway 91 together and crossed Fremont Pass (11318 feet), viewing the mayhem created by mining on the way up (and on the way down), and stopped at the top for photos. Betsy told me that she had to laugh at the motorists who stop to take their pictures at the top of passes, "They didn't climb the mountain; their motor vehicle did all the work; anybody can get to the top of a mountain in a car, yet, they still want to take the credit."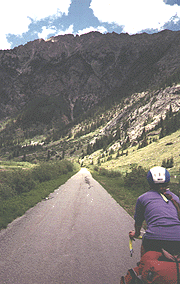 We then had a fast ride down to the interstate, where we got on the bike trail to Frisco and Dillon Lake, much steeper than you'd expect any bike trail to be (but we were still going down). We stopped at a supermarket in Frisco and ate on the sidewalk, talking a blue streak. Betsy was planning to stay with friends in Silverthorne, so she asked me to join them.
That night, we both took turns explaining to our non-cyclists the nature of bicycle travel, and they were excellent hosts. One funny moment arrived: in talking about my trips, I mentioned something about my trip in 1965. Everyone's eyes grew as big as saucers. "How old are you, anyway?" they cried. I had forgotten an old rule: Never mention a personal event that happened before the other person was born. However, I was tickled about their misunderstanding my age.
Leadville - Silverthorne, 40 miles, 11.1 mph, July 6.
---

Day forty-one: In the morning, I wanted to be the old-fashioned gentleman and escort Betsy as far as the bike trail around Lake Dillon. However, I couldn't find it and ended up looking stupid. After leaving Betsy, I traveled north to Kremmling on highway 9, traveling downhill through dry terrain and past a long lake. Along the way, I met a young couple traveling by bike. The girl told me, "There's four old geezers following us." When I met the "four old geezers," I was tickled to discover that they were my age. Nothing is better for the soul than having someone think you are many years younger than your actual age.

After I reached Kremmling, I turned east on 40, returning to Granby via a deep gorge on the Colorado River. While stopped in Granby to buy groceries, I met a couple from California who were touring locally. Then I turned south, trying to reach a camping site before dark. As I rode into Frasier, rain began to fall. I stopped for a bigger meal and to wait out the storm a little. As soon as the rain let up, I continued and finally pitched my tent in the rain and well after dark above Winter Park. I was especially pleased with the distance because it had all been traveled at high elevations.

Silverthorne - Winter Park, 95 miles, 11.4 mph, July 7.
---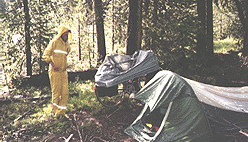 Day forty-two: It rained during the night and was still raining when I packed up my tent in the morning. After I started, the rain ceased for a while. I climbed Berthoud Pass (11,307), with the members of a bike club talking to me as they slowly caught up and passed, and I stopped for pictures along the way. I guess I should have been more hasty; at the top, it started pouring rain.

Then I descended at 40 mph in heavy rain and in heavy traffic. I was descending as fast as the automobiles (and could have gone faster), but I tried to keep one car length behind the car in front of me because my brakes were wet. This, the motorists would not allow, and they kept forcing their way past me, a scary experience.

Most of my day was spent in Idaho Springs, washing clothes, eating, and talking, while the rain continued to fall. Colorado is a very dry state, and I experienced a year's worth of rain in one day, not to mention the previous days. I could not leave until 8:00. When the rain stopped, I pedaled up to the foot of Mt. Evans, traveling past homes on the edge of the national forest, so "no trespassing" signs were everywhere. At one house, a llama (not a misprint) had strayed from its pen, but they had large "no trespassing" signs, so I did not stop to inform them (I did tell some neighbors, however). Finally, at the bend of the road, I discovered a hidden, abandoned campground and pitched my tent there for the night.

Winter Park - Excelsior PG, 42 miles, 10.4 mph, July 8.
---
Day forty-three: The next morning was bright and warm, so I stayed in camp until eleven, drying everything out and getting some sun. I even thought about nude sunbathing; later, after I started up the mountain, I found myself looking down on my campground from the first overlook, and I was glad that I hadn't. I took my time riding up to Echo Lake, stopping at one picnic stop where my parents and I had stopped back in 1956.

At Echo Lake, I stopped to cook, delaying the thought of climbing higher, perhaps from fear of the weather or just of the road, but Betsy found me loitering there. She had just been to the top of Mt. Evans, and her eyes were shining. I could hardly avoid the challenge, although she did advise me to wait until the next day. I decided not to do that, either; it was today or not at all. So I reluctantly started upward at 3:20, carrying all my gear in case I needed to camp.

The road wound gradually upward, giving me views of Echo Lake from time to time. My average speed was under 5 mph, and I constantly stopped to take pictures. At times, I felt frightened on the edge of precipices. On the way up, I found bristle cone pines at the edge of the tree line. Later, I encountered a herd of sheep, looking shaggy as they lost their winter wool. At Summit Lake, there was the only downhill for the whole distance. Beyond that point, I found the road surface badly deteriorated and even narrower; the sky threatened me with winds and black and gray clouds; the sun grew dimmer. I found myself crying hot tears as I thought of a dedication for the photo at the top: This is for all the SOBS who tried to keep me down. After passing mile mark 12, I began to walk because pedaling required too much resting time. I was gasping for breath in the thin air.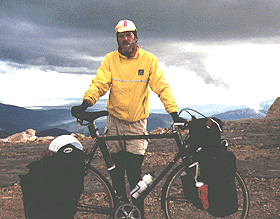 When I reached the top at 14,100 feet, I immediately put on extra clothes, took some pictures, and started down, feeling elated, but gravely worried about hypothermia. My face is red and raw in the photos due to the altitude. The trip down was terrifying with the wind, the black clouds, the narrow strip of pavement full of holes, and drop-offs. For years, I had had dreams of driving down a road so narrow I could not see either side and then plunging off. I realized, beyond a shadow of a doubt, that I had dreamed about this very road, which my dad had driven us up in 1956 (PS: the dream has never reoccurred since this ride). After a few miles, I had enough energy to start crying again.
In many states, motorists sometimes wave at cyclists, but not in Colorado; there are too many cyclists. But on the way down, every single vehicle was full of people waving crazily at me or giving me the thumbs-up. I descended to a bend in the road above Echo Lake, and then walked down into the woods to camp. In spite of, or most likely because of, the physical and emotional drain, it had been a wonderful day. I just had enough time to pitch the tent before darkness settled in.
For more photos see A Photo Trip up Mt. Evans.
Excelsior - Echo Lake, 35 miles, 6.7 mph, July 9.
---
My "adventures" when I returned to Denver and my return trip to Alabama through Nebraska, Iowa, Illinois, Kentucky, and Tennessee is told in part III.