Eastern North America Tour Y2K
Day Fourteen: I get up in the morning eager to go, as I anticipated. The sun is bright although the air is cold. A little delay is caused by a drawstring that has pulled up inside its tunnel, but I finally find a coathanger, probably the only one in the building, make a small hook in the end, and pull it out. A couple of trips and the bike is loaded, and in a couple of extra moments the water bottles are full. I say good-bye to those that are up and visible. Before leaving town, I stop for some juice and a cake.
I wear my raincoat and the new leg warmers due to the temperature. The warmers have been pulling down when I walked but cause me no trouble on the bike, to my relief. The raincoat gets a little sweaty at times but is a great advantage in the 50° air (according to the tiny thermometer on the bike).
I follow 58, and the route winds up along a creek, Nature's highway grader, that runs through the Mt. Roger's section of the national forest, so I occasionally pass hiking trails, picnic areas, and even a couple of campgrounds, and of course the whole route is wooded. In the beginning, the Virginia Creeper Trail is running alongside me on the right, but I gradually lose sight of it, although sometimes I pass parking areas for it. The Appalachian Trail also runs through this area, first on my left and then on my right, but I see only the crossings. The grade of the road is more gentle than what I have been used to, but I do sometimes have to get off the bike and push. Traffic is very light. All in all, it's a good morning.
I come to the junction of 603 and 58, and I take 603 which appeared to be a more suitable route; however, I stop at a grocery in Konnarock to get a second opinion. Around Konnarock and beyond, there are houses along the road; however, the feel of the national forest is very strong and the clearings for the houses are small. I stop briefly at a second store to check for bananas and talk briefly with a biker who insists that Florida has passed a law making one's presence on any private land a felony. If true, this is the craziest law I've heard of; you could go to prison for fetching a newspaper out of a neighbor's yard.
As I ride on up the creek (named Laurel Creek, as are 90% of the small creeks in the Appalachians), the road gets steeper, and I find myself shifting up and down. At one point, a missed shift gets my chain jammed (this is a problem caused by the spacing on the front chainrings being wider than the chain and not a problem caused by my non-indexed shifters), so I have to stop by the side of the road. Right afterwards, I pass a campground, and start descending on a gentle grade. I stop at an Appalachian Trail crossing, the last one I'll see for many, many miles, but none of my new friends who are hiking it suddenly appear. Then I ride on down the hill to the intersection and store/restaurant.
There I see two fully-loaded bikes outside. Harlan and Chris, former roommates, have both just finished college with degrees in finance and are taking this trip before beginning their new careers. They are following the National Bike Trail from Yorktown to Oregon. We eat together and exchange a little small talk, with my telling them about The Place and about the cyclists ahead of them. Chris isn't sure they'll stop as he'd like to do more miles for the day; however, there isn't another good stopping place. Chris is the second person, and the first on two wheels, who has visited my site, and he suggests he'll write after we complete our trips. I'm very pleased to be able to buy some bananas before leaving. (

269X400 Photo of Chris NOTE: Harlan was in the photo too, but had to be edited out due to lens flair.)
They depart, heading south, and I depart heading east, leaving the National Bike Trail route. The day finally warns up, so I stop to remove my raincoat and leg warmers. Highway 16 (and then 58) is not as difficult as the roads I had been following earlier; however, I do have to walk some sections, and the road is narrow, with a fair amount of traffic, including logging trucks, tractor-trailers, and motorists unwilling to pass. Just before the Mouth of Wilson, there is some road work, so I get a little help there from the construction slowing everyone down. I wanted to find out the reason for the name of the place, but due to traffic congestion and an opportunity to cut through the mess, I keep going. For a short distance, I ride along the New River, then it's back to the usual up and down. I have a terrible need to pee, but in this area and until I reach the parkway, there are no convenient unused bits of land. At Independence, I buy eggs which has the storekeeper surprised, and try to get some route information. I finally have to dig out the computer before they confirm that the road I wish to take is there. The storekeeper tells me that her teenage daughter, who is still in high school, is already working two jobs on the side. Before leaving town, I find a Subway, so I use the restroom and eat a sandwich.
Then I have about three miles of four-lane which is either new or under construction, with a wide shoulder but also lots of glass and gravel. After crossing the New River, I turn south on 624, a hard to follow and sometimes very steep road that takes me back into North Carolina, but that also shortens my trip to the parkway considerably. Then I ride about five miles on 18, which has much less traffic than 16. When I get on the parkway, I start looking for the AYH hostel located at mile 214.5. It's difficult to find as it's not allowed to advertise its presence along the parkway. Finally, I try the right tiny road which winds back through the trees and rhodendron to the hostel.
On my arriving there, two dogs come out barking. The hostel keeper tells me, when he comes out, that the dogs' job is to notify him of newcomers, and that they won't bark at me any more, and he is right. I have to carry everything I want inside and to leave the bike in the garage, so I leave my rice on the bike, which means I don't get enough to eat. I do hardboil the eggs and eat some that night and the rest the next day.
The hostel is segregated into men and women's quarters, with bunks, showers, toilets, and an entertainment area in each. Another traveler is already there, but he keeps to himself and soon falls asleep. I don't stay up any longer than necessary myself.
Damascus - AYH hostel, 69.8 miles, 11.1 mph, June 7, 2000.
---
Day Fifteen: When I wake up in the morning, I'm alone. I wake up slowly, and then, as it's only 6:30, I spend some time typing yesterday's account. Then I get up, get my stuff together, and take the sheets off of the bed. After not finding any place to put them, I leave the sheets and my towel on the bed. I carry everything out, open the garage, get out the bike, and load up. Someone looks out the window at me. Then I go back inside to fill my water bottles and come out ready to go. Then the other traveler shows up and begins to talk about some plans of his. Before he gets too far, the hostel keeper, Alex, comes out, and I get his picture (

557X600 photo of the hostel). Alex begins a conversation about how the world's going downhill, and when I get warmed up and offer several rebuttals, he reminds me that I need to be on my way.
The parkway is a great bicycle road with just a few problems. One is that the grades are a little steep, with 7% common and 9% occasional. The second is that the distance between camping sites is irregular and often quite large. The third is that the parkway evidently sees cyclists who camp back in the woods as criminals, even though I don't think the cyclists cause any problems whatsoever. Most of the parkway is wooded on both sides, and while the parkway property is not wide, there are lots of places where cyclists could camp invisible from the road. Since in most places these woods are not used for hiking or any other purpose and since bicycle campers would not be driving motor vehicles into the woods, cutting down trees, leaving trash, or burning fires, I can not see any harm. The great virtues of the parkway are light traffic with a speed limit (often not observed) of 45 miles per hour and great views and scenery.
In the Skinner book, this section is described as rather flat, but I find I have a rough trip making it to Fancy Gap, just 15 miles up the road. Part of the problem is not having eating enough the night before. My remaining eggs and the bananas are long gone before I reach the gap, and then I have a limited selection of foods at the store. I end up getting a sandwich, some potatoes, some donuts, and a drink.
After leaving the gap, I am mostly climbing for several miles, but after the first steep hill, the strain is less. However, I need to stop to rest before I reach the picnic area just ten miles up the road. I find a nice shaded patch of grass and a tree to lean the bike against. The rest stop very quickly becomes a nap, even though I had plenty of sleep the previous night. I'm not sure how long I slept, probably not long.
I continue on up to the picnic area, where I use the toilet. My break there is longer than intended, as a local comes to talk about this and that. Once past the picnic area, the travel becomes easier and is more downhill that uphill. I stop briefly at Mabry Mill for a drink and water and talk to some motorcycle riders. It's getting late in the day. I pass Rocky Knob without stopping and continue on to Tuggle Gap. I stopped here first in 1993, out of necessity and found the food good and the prices low. I was very pleased in spite of the small, antiquated room. When I stopped in 1996, the prices were higher, and I did not get to eat dinner because I arrived too late. This time the meal and my room cost me $50. The people are still as nice, and some of the food is good, but the place is now overpriced, and the main dish (fried flounder -- which the waitress recommended) is a small, poorly cooked fish cake.
I am too tired to work on the laptop and go to bed early. During the night, I awake with an acid stomach, which I blame on the fish.
AYH hostel - Tuggle Gap, 51 miles, 10.2 mph, June 8, 2000.
---
Day Sixteen: I wake up later than usual in the morning, having been awake for three hours during the night. Nonetheless, I type up most of the previous day's activity before I leave. The maid opens the door while I am still packing the bike.
Outside, it's bright and very windy. I am worried about the wind, but it disappears as soon as I leave the gap. Today, I want to head east towards the Chesapeake Bay, but I think highway 8, which descends at Tuggle Gap, has too much traffic. Besides, it looks shorter to proceed a little ways up the parkway before turning east. I get back on the parkway and proceed northward. This section is flatter than the day before, so I make good time. When I am near the place where I wish to descend, I stop to ask for information and to get a drink at a tiny curio shop there.
The shop is so crowded with craft goods that I barely have room to move through it. Nothing looks like the standard tourist junk though. The woman is most helpful and is glad to have someone to talk with. Even when some customers come, she continues to talk to me. She told me that it took her years to be able to buy a place along the parkway, and the parkway administration had not allowed her to set up a business on some other parkway land, which she had bought. Like me, she felt that the amount of traffic along the parkway had been declining since she had opened her shop, some five years earlier.
She tells me that the road opposite, 860, is a good route. I follow it, but it starts to retrace the parkway, so I think of going back. Suddenly, it is in a flat valley running away from the parkway, with lots of houses. Soon after, it plunges off of the mountain. I ride my brakes so hard on the steep slopes that I am afraid of burning the pads, so I have to stop for a pad cooling break several times. I would hate to try to climb these grades. It's one steep grade after another on a tight, narrow road, with woods on either side and a stream running along. The road leaves the stream and climbs a little, and then I have more downgrades. Finally, I reach an intersection with a large road, also going down. So I take a right turn and plunge on down. But at the bottom is another climb. Thinking of her directions to turn left and the fact that my map showed no intersecting larger road going down, I wonder if I couldn't be on 40, traveling in the wrong direction. Stopping and checking the computer confirms my mistake, and I reverse my direction on 40.
For a ways, it's steep up and downhill grades, but gradually the road becomes more level. I am also helped by the fact that the downhills are usually greater than the uphills. There is almost no traffic. I find a store and get some bananas at a good price plus some apples and other food. I ride into Rocky Mount and stop at the first supermarket I see. I get some more food to eat and eat and rest under the roof at the front of the store. The weather has grown to be very hot.
At 2:30, I decide to start again. Riding through downtown requires endless left and right turns, often at steep grades. Then, on the other side of town, I encounter a two-mile long traffic jam, caused to some extent by construction work but caused even more by lights which tie up traffic. Because of jammed-up traffic on steep lanes, I find myself walking the two miles, often having to make wide detours. After I get back on the road, the motorists are far from patient, having lost a great deal of time in town, and they take unnecessary chances in passing me. One woman screams at me from her porch to get off of the road, but I am too busy with the traffic to even give her a hairy eyeball.
As I get farther from town, the clumps of cars gradually grow shorter and more infrequent. The hills unfortunately are still often quite steep, with no way for the traffic or me to see over them, and I often have to walk a ways. In addition, there is no shoulder, so walking is a real pain. I can tell that much population has moved out in this direction, as there is a food store every mile. A man at one food and drink stop tells me that the nearby lake has attracted many expensive homes and weekend dwellings.
At one store, I am tempted to ask if I can tent on a recently mowed area behind the store, but the only ones there are two young women, so I get water and go on. There are occasional small woods between the houses, but they are usually marked "no trespassing." Finally, I see a small woods with no such sign and without a house in sight. I push my bike up the embankment into the woods. It is made up of small pines with a pinestraw floor and no bugs. Because it is late, and I am exhausted, I make no attempt at writing or even pitching a tent. I know the mosquitoes won't be bad, and the pinestraw is like a carpet. I put down my pad and sleeping bag. The temperature has already dropped, so I crawl in and quickly fall asleep.
Tuggle Gap - Gretna, 63.7 miles, 12.6 mph, June 9, 2000.
---
Day Seventeen: In the morning, I wake up and get ready. Before falling asleep, I could hear voices from the nearest house, and now I can hear them again. The people must be calling to each other as they are a good distance away.

I start out without incident. At my first stop in Gretna, there are some state troopers, but they leave without my noticing. Unfortunately, there's nothing to eat in the food stop, the usual case on this trip. How places can stay open on just soft drinks, gas, cigarettes, and junk food is beyond me, but finding real food at a small store is an exception rather than the rule.

The road is flattening out today. I find few grades that I can't climb, and often I am booming along. I get stopped along the road by an older local with lots of questions about my trip. It doesn't hurt for me to talk a little with him, and it's nice to see someone taking an interest. I have another good talk at a small store. The owner tells me that another cyclist had stopped there a week previous, heading west. I stop at another store just before reaching Brookneaf, not recognizing that it is a large town. On my way down the hill to the river, I see a good place to stop to rest but continue anyway. In town, I get a sub and groceries and try to use the library. The librarian, however, is pleased to announce that they have a rule against using the computer within ten minutes of closing time, ignoring the fact that one patron is busy working away at his terminal.

Starting to leave town, I find myself challenged to a race by a young Black boy, who has a bike with the feet posts for tricks stuck on the axles. His bike is very likely to Ben Hur my bike, and I have to cope with passing traffic at the same time. Others at the car wash try to call him back, but he is very determined to prove his superiority to me. Finally, I reach the top of the grade, and I accelerate going down, so he can't catch me. He tries hard, but he has a single-speed bike, and my cruising speed quickly exhausts him. I usually enjoy meeting kids on bikes, but this one has been obnoxious.

Near the bottom of the hill and before a bridge across the Falling River, I notice a second dead-end turn-off, so I pull into there to rest. There are people swimming in the river, out of sight, so I walk over to see. I notice that Blacks and Whites are not swimming together. In this area as in Alabama, I see both some indications that the races are comfortable together and indications that they are not.

I have a good break, although I have to move around quite a bit due to the shifting sunlight down through the trees. Whenever the sun falls on me, I begin to grow hot. At 2:30, I start to leave, and at 2:45, I am at the top of the steep hill above the river. My route is north, the roads are pretty flat, and I seem to be getting a tail breeze, so I make excellent time for most of the afternoon. I even hope I'll reach Appomattox before closing hour. However, it is still quite hot, as I recognize when I stop for a chat with a newly deaf shop owner at Red House. I am thinking I am ten miles away, but actually the map has distances to two minor intersections in-between, so the real distance is 16. Long before reaching Appomattox, the terrain gets hilly, so I have many steep hills and hills I can't climb, and I find myself getting exhausted due to heat, thirst, and hunger. Then, when I finally reach the town, I am temporarily lost, nothing is in sight, and the heat is overwhelming. The computer confirms what the map was telling me, if I had read the map more carefully, and I can now plot my way through town. There are places to buy food, but I get only yogurt, which solves my thirst and appetite without causing additional problems, and then I head out of town.

Well, the buildings are closed at Appomattox, and I am way too late, but I do get some water from a fountain. I leave, and just as I go over the hill, I decided to read the Dept. of Interior version of a "no trespassing" sign. However, although the same color, the sign belongs to a local hunting club and just says "No Hunting" and that hunters will be prosecuted, so I quickly whip my bike into the woods. It's not the flattest site, but it's not bad, and it's here, and I'm exhausted.

After cooling off, I put the tent up, but I dismiss the idea of cooking or of working on the laptop. I eat some cold food, including some bologna that I bought, but the bologna ends up being a mistake, as I find myself waking up terribly thirsty several times during the night.

Gretna - Appomattox, 63.6 miles, 12.5 mph, June 10, 2000.
---
Day Eighteen: During the early morning hours, I hear a small animal or large insect all around and sometimes under the tent. In the morning, I find my bologna has been invaded by beetles, some of which are trapped inside. Perhaps then, it was beetles that I heard.
Although slow waking up, I still get an early start. I soon discover that it was good that I camped where I did as everything else down the road is posted "no trespassing" until I turn into the state forest. The forest would be a great place to camp, but I am unaware of the rules for camping. Often cyclists fall into a no-man's land, as it is OK for backpackers to camp but not for anyone else. I'm not in the forest long before I turn north to Andersonville, and once I leave the forest, "no trespassing" signs are everywhere, whether fields or forests.
I find a good grocery at Dillwyn and stop to eat and ride then on highway 15 a little before I take 610, a country road that will give me more shade and less traffic. While traveling on this road, the noon hour approaches, and I haven't found any place to stop and rest not marked posted. At one point, I see a man on his porch reading a newspaper, so I stop and ask him if I can rest on the shady spot opposite. He politely points out that that is not his land. However, he does not mention the fact that it is public right-of-way, that his mailbox is there, or that he has been cutting the grass there. It's very clear that like the librarian, this is a polite evasion evoked from the stinginess of his heart. I leave him without comment.
Four miles on, I finally find some unmarked woods and stop for a good two-hour rest.
Further on, I stay on 610 and eventually cross the river at Cartersville. Before crossing, I stop at a store and talk with the clerk about accents and dialects (she has a very strong tidewater dialect, the second I've heard). As I leave, a pretty young woman comes in and waves at me. After she has gone in the store, I notice her license plate says, "I'm trouble." After crossing the bridge, I cross the worst railroad crossing I've ever encountered. At first, I think I've flattened both tires at once. Besides one set of rails being high, the next has rotten ties, so the rims hit the metal. Then it's a steep hill up to the highway, which has too much fast and careless traffic, so I am pleased to get back onto a country road heading towards Gum Springs. Before leaving the highway, I begin to stop at one store, but it has many warning signs against its customers (such as 15 minute parking for those making purchases only), so I go on. A few miles along the back roads (which are lined with "no trespassing" signs" -- even in front of people's houses), I am running out of water, when I pass a young Black woman washing her car. Thinking she must have a hose handy, I ask for some water. Her father comes out, rather suspiciously, it seems to me, but disappears with my bottle, and comes back out with it full of ice-cold water, and he asks me about my trip.
Adding my experience earlier to my experience here, I would say I have a milder modern example of the good Samaritan tale, not that the second man felt he was doing anything special.
On down the road further, I come to the highway. I stop at a store where they fill my other two bottles. A few miles more, at the bottom of the hill, I see a rare woods not posted and pull off of the road. This woods is mostly small pines set far apart, so there's lots of low blueberry and holly bushes between them. It's rough finding a clear spot big enough for a tent.
Before going to bed, I hear chickens and also someone starts running a machine that seems ready to tear down the woods, a bulldozer? It's very hot, but I manage to fall asleep anyway.
Appomattax - Gum Springs, 69.6 miles, 12.4 mph, June 11, 2000.
---
Day Nineteen: I ride into Gum Spring after getting onto the road. Evidently, the machine I heard the night before had been someone cutting grass to later make hay. It sure sounded much louder to me! At the little store, I scratch a cat with a fresh wound behind the ear while eating breakfast. This is the first place I've stopped which has had something fairly cheap to eat for breakfast -- a box of chocolate donuts.
Junction NBR 1 & 76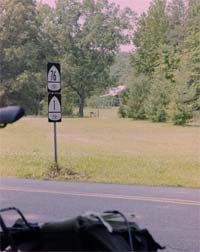 After leaving Gum Springs, I have to travel busy road for a couple of miles, but not as busy as I feared. I then turn onto country road 600, which had very little traffic. Stopping at a store, I hold the cooler door open so the shopkeeper can fill it with SoBe, which he explains to me. By the time I stop at a store at the 54 turn-off near Montpelier, the weather has become brutally hot. I am so hot that when I buy a map of Delaware and Maryland and a drink, the clerk has to ask me if I am buying the map, and I have to stop and think before I can answer. The drink is a big fountain drink, which helps me along the way, because I fill a water bottle with it and suck it as I go (when I get a fountain drink in the summer, I fill it with mostly ice). After traveling 54 a ways with no problems, I look for my turn onto 685. There is no such road, so I have to get the laptop out in the broiling heat, with sweat dripping all over it, to see the correct route. The answer is that 685 does not connect to 54 but misses it by one half mile, so I have to retrace. I soon pass Patrick Henry's home, but I do not stop, fearing that he might not be home. Another surprise, I intersect the National Bike Trail which immediately climbs the steepest hill in half a week, no surprise. I also come to an odd junction of Bike Route One and Bike Route 76. Route one, a north-south route, is going east-west and 76, is an east-west route, is turning south; don't ask me why. (I don't remember where I saw this church, but it was somewhere among these confused roads (

800X553 Old Church).

I arrive on US highway one, where I find I have to pedal north two miles, but I don't find bad traffic, just terrific heat. Then I turn onto state 30, which is very busy, both near the interstate and the new amusement park (which seemed to lack for tourists) and further along the road, which is hilly, making my ride dangerous. I stop on one hill to rest in some unposted woods, but a man stops his car opposite me for five minutes or so, leaves, and then comes back to stop opposite me for another period of time before leaving again. This behavior makes me nervous, so I get going as soon as he leaves, although it is a good spot.

Then several miles of busy roads follow, and even several important intersections fail to rid me of the traffic. I pass the place where I camped with a group in 1993. Then, in Dawn, I try to use the library, but it is not open on Monday. I finally stop in a church yard, and someone else stops (the minister?), so I tell him I'm resting out of the sun. He agrees, and later, I help him pick up some trash. Before he leaves, his wife tells me to use the faucet, but I discover that the water has been cut off. Still, I have enough water to get to the next stop.

At the end of my good break, I continue on 30, a road with more traffic and less space than I like down to 360, a four-lane road. Pulling in at a store here, I motion to a van to pull ahead of me, and the woman and I talk after she stops. Her daughter has been riding her horse a little, but the weather was too hot to work it much. She asks me how far I will ride and where I will stop, and I express ignorance of both questions. I want to ride much further than I know I can, as I would like to reach the boat the next morning. On the other hand, I am tired, it is late, and I am unsure of road conditions ahead. This road lacked shoulders seven years ago, so even light traffic gave me grief then, and traffic is heavy now.

However, once I get going, things are not so bad. I have a foot to two feet of shoulder, and my speed is good. I start to dream of making it far enough to reach the boat in the morning. However, my energy is leaving. I have only been able to drink soft drinks this afternoon, instead of eating food, due to the heat. I pass several plausible camping spots in my stubborn desire to get there, passing 60, then 64, then 68 miles. However, Nature intervenes, as it now begins to threaten rain. I continue on, no camping place in sight. I start to descend down to a creek, and the rain begins hard, making me stop to cover things up (but not me, as I am still hot). There are no posted signs, but the woods is first way above and then way below me. A road is fenced, but not posted. I continue walking even though it is not necessary. On the other side of the bridge, I see another road. It's overgrown with some logs blocking my path, but I am not interested in going down it. Instead, I get off the road there and push my bike to the top of the hill, where I find a beautiful campsite and woods, the nicest so far.

That night, it rains.

Gum Springs - Miller's Tavern, 72.8 miles, 12.5 mph, June 12, 2000.
---
Day Twenty: I awake at 5:32 with the intention of immediately starting out, but discover myself waking up again at 6:00. Although I don't have a great deal to do, I find it is slightly after seven before I am on the road. I put out a good bit of effort going into town and over the narrow concrete bridge (there are some workmen with safety vests on the bridge, and they barely have enough room to turn around -- one urges me to hurry across). Then beyond that, I pass a sign saying 39 miles to the boat, and the fog starts to get bad. I pull off at a picnic table to collect my energy and think. It is now eight by my time, nine their time; I have been averaging 13 mph so far, so if I keep this up, I will arrive at twelve their time, certainly long after the boat has left. So I decide instead to look for opportunities to improve the day.
When I arrive in Warsaw, I see a large laundromat, and so I get all of my clothes washed, even the ones I am wearing (I dress in my rainpaints and long underwear tops for the occasion). Before leaving, I ask everyone where the library is, but no one knows. However, the sign is just a short distance away -- the public library and the college library are the same place. Amusingly, the signs direct me to a parking lot which I don't use, of course, but there is no clear indication of which building is the library, and none of them looks like a library. In fact, some men are unloading materials into the multiple garage doors of the closest building, but that is where the library is too. Lord love a duck! -- they have computers with internet access. The rules say, "For research only!" and warn against viewing pornography. I figure that, considering the level of the typical research in a two-year/community library, my bike work must be way above the average, so I don't hesitate to find out all my usual stuff, and I even delete garbage email messages and read good ones; however, I don't try to write any messages. Two hours passes quickly and happily.
Leaving the library, I discover that I've passed all the supermarkets, so I just go on to the next town. On the way there, I find a small grocery where I buy my lunch. Then I stop and buy more food at the next grocery, where a woman comments about how quickly I am traveling. Gee, in my opinion, I am poking along and stopping everywhere. I might add that the road's pleasant little shoulder has been long gone, and that I've found the traffic has been prone to ignore me. One fellow who was hauling two boats missed me by inches at full speed. At another town, I stop again at the library sign and receive an identical complement from a woman (same woman? I don't think so.) Here the computers are out of order, so I read a few magazines and stay a shorter amount of time.
I go back to a Subway for a sandwich, and I note that there are no tables and chairs -- or bathroom. My guess is that a local ordinance requires a restroom if tables and chairs are present, but I can't understand why no place has a restroom (they all have a "no restroom" sign).
Having fooled around enough that most of the day is gone, I continue straight out to the harbor for the boat to Tangier Island, where the woman keeping the records is almost ready to leave for the day. She says it's OK for me to camp here. Of course, I had been spying out local woods and already knew where I would go if I couldn't. I find I have picnic tables, a restroom with showers, and a large grassy area with no shade. I have paid $15 for far less, but these people are operating boats not camping grounds.
With the first free time on my hands since The Place, I sew up a couple of places on my panniers where the stitching has pulled loose around the zippers, put my tent up to dry, and type up my mileage log before getting in the tent and finishing my account of the trip up to date.
Miller's Tavern - Reedsville, 44.5 miles, 11.6 mph, June 13, 2000.
---
Day Twenty-one: In the morning, it seems like a long wait until leaving time, and I eat up most of the remaining food, so, after the crew arrives and starts cleaning up, I decided to go back to a grocery and buy some more food. Three miles up the road I spot a jogger, and he says I have another mile or two (although there is another one down another road), so I continue, but I buy only a loaf of bread and some cookies. Back at the boat (

800X310 The Chesapeake Breeze), having traveled 8.4 miles, I pay $10 for me and $5 for the bike to go half-way across (out to Tangier Island). Then we load the bike aboard the boat, putting it in the back, having some difficulty because the panniers are slightly wider than the space between the railing and the seats.

When crossing in this boat in 1993, there was a tornado which created an exciting ride, but this time the trip was enjoyable but uneventful. Also in 1993, I traveled from east to west, giving me just time to transfer my bike from one boat to another and no time to go ashore (unless I wished to stay another day). This time, I have two hours to eat and explore the island. However, the three mile trip around all the roads on Tangier Island takes much less than that.

Tangier Island is an interesting place for those who wonder what the world would be like without automobiles. While there are about a dozen motor vehicles on the island, mainly pickups, they are greatly outnumbered by bicycles and golf carts, and none is driven with a careless, "I've got the right of way" attitude. The roads are clearly not made with automobiles in mind, as they are very narrow with sharp turns. Every yard on the island is fenced to prevent vehicles driving on the grass. All but one of the vehicles is a compact, and all but that same one are covered with scratches on the side, and all but two are pickups. The center of the island is a marsh, so the trip around the island is a circle by road and bridge around it (

574X480 Island Center). Because of the extreme lack of room on the island, the cemetary lacks walking space (

800X596 Cemetary).

The absence of motor vehicles leads to very safe walking and cycling, to a less hectic environment, and to peace and quiet. One might suppose it would also lead to a healthier lifestyle, but I saw no clear evidence of that. With a total distance around the settlement of only three miles, riding a bicycle to work and back would not give one adequate exercise. And the large number of golf carts everywhere indicate that the sedentary don't even exercise that much.

After my boat arrives, and I am talking to the crews, one of the young women whose job it is to help people on and off the other boat tells me that there was a beach, so I leave to find it. Rather than having missed a significant part of the island, however, I had found it, but I had stopped because the path was in such poor condition that I didn't think it went anywhere.

This time, I take off to the other end of the island and follow it out to a nice but waveless beach that is empty of people, probably due to the overcast weather.

Then I go back to the boat and have my bike loaded aboard. The trip back is less novel and shorter. This boat is crowded with people due to a tour group offering. The people on the tour received a bus trip, a boat trip, a tour of the island, and a family-style meal that was quite a feast, all for $56. For those who want more information about crossing via Tangier Island or other cruises, the cruise operators have websites, one of which is Reedville.

In Chrisfield, I pass up the crab meals to get a vegetarian Subway. There are two reasons for this: my last crab cake meal there was a major disappointment (overpriced, undersized, and hard on the stomach), and I want a cheaper meal. Rather than hunting for the campground I used last time, I just ride out of town, hoping to make a few miles before it is dark.

I see a bike path alongside the road in the worst stages of repair. In some places, it is completely blocked off. One business has placed large signs squarely in the middle, blocking it. It is an excellent example of a useless trail that goes nowhere. The main road has a well-paved, wide shoulder, why bother with a trail?

As I ride out into the countryside, I occasionally pass suitable woods for camping. I finally start criticizing myself about wanting to go farther after having had opportunities to camp, sort of like the man caught in a flood. A jeep came to rescue him while the waters were rising, but he just said, "The Lord will rescue me!" A boat came to rescue him after the house was partially flooded, but he just said, "The Lord will rescue me!" A helicopter came to rescue him after the water was up to the roof, but he just said, "The Lord will rescue me!" Then he woke up in heaven before the throne of God. He said to the Lord, I thought you were going to rescue me, and God said, "I sent a jeep, a boat, and a helicopter; what else did you want?"

Finally, I find a long section of nice woods, with no "No Trespassing" signs. A road leads into it that shows some use, so I take a road off of that road which shows no use whatsoever, and then I camp out of sight of that road. It is another lovely spot, and I can hear nothing except occasional cars as I go to sleep.

Reedville - Pocomore City, Maryland, 30.9 miles, 11.1 mph, June 14, 2000.
---
Day Twenty-two: I wake early and start on the road. I turn onto the main highway, and then take a left onto 364. A short distance after turning, I discover my rear tire is flat. Inspection reveals a piece of glass that has made a wide gash in the tire and a tiny hole in the tube. Normally, I could repair the tube without removing the wheel from the bike, but the Continental tires, which are ultra-tight, make this impossible, so I have to remove all my bags, making the changing job a long one. In addition, the patches don't seem to work very well, and I wonder if I will have to stop and change tires again.

My route leads through a state forest about ten miles from where I camped. Could I have come this far last night? Also, would camping on my own be legal in this forest? I next turn north on 354. After traveling 27 miles, I finally come to my first grocery store of the day, but all they really have are sandwiches. I get a $3.00 sandwich that include the smallest bag of chips I have ever seen. It is not a bad sandwich, but it is not a three dollar sandwich. Five miles up the road, I find a Taco Bell and buy three bean burritos, weighing about three times as much as the sandwich for less price. However, I can eat only two.

A ride into the town indicates that I should have followed the unmarked road running parallel to the main highway. However, I take an angled route to return to it. Once I get back onto the road, I find that the shoulder is in poor condition, a first for this part of Maryland.

At one point, just before I reach a bridge, a following truck blows on his air horn. I cooperate by getting onto the shoulder, but the operator continues to blow. After he passes me, I see that he has some pallets on board that stick out over the edge slightly. He evidently considers it his responsibility to warn me and my responsibility to get out of his way. It doesn't occur to him that, since he constitutes the hazard, the responsibility is his. But this has been my worst traffic problem in Maryland on this trip.

I reach Selbyville, where I am able to get food but not water. I get some directions in the auto dealership (I wanted to take 17 but saw no intersection for it) and some water from a laundromat.

Following 17 is OK, but the road it runs into is being widened, so I take the detour after some frustration. Then, after I reach highway 1, I find the road being repaved. However, I get over on the shoulder on the other side of the construction work, and thus have the road to myself.

I have had a good breeze all morning long, which has allowed me to maintain a 12.5 mph average speed, but now the wind is squarely behind me and I ride mile after mile at 17.5 mph and sometimes a little faster. Although riding with ocean on both sides, I can see only the nearby pines and short bushes (inhabited with rabbits and blackbirds), some sand dunes, and an occasional marsh area. So at one point, I stop at a check point to ask about going out to the beach. Although there is a charge for motor vehicles, a bike is free, so I force my bike through the sand to where I can get a good photo. Swimming is impossible unless I am willing to lay my bike down on the sand.

At one point, a woman cyclist starts out on the road behind me, so I slow down with the hope of exchanging a few words. She gives me a friendly "hi," but makes no attempt to slow to talk. Except in Colorado, I have found women cyclists to be difficult to talk to. In the next town, I encounter bike lane markings on the wide shoulders, and I see a number of bicycle riders using the bike lanes within the mile or two of lane markings. I can't see that the bike lane markings and signs make any difference, but the shoulders are wonderful.

Finally, I get to the turn for the Lewes ferry. When I reach the passenger entrance to the ferry, I discover that it's ready to go, but I am doubtful. If I cross over now, I will be arriving near nightfall and will probably have to get a motel room. However, if I stay in the campground near the ferry, I can start early in the morning and get to my sister's house within a single day, so I ride down to the campground instead.

The campground is near the beach and has small, twisted pine trees and lots of sand. The site is great in that I don't have to sleep on a gravel pad but can place my tent on pinestraw on sand instead, but the cost is high at $22 for one night. I can get a motel room for that price in many towns. Lots of kids are bicycling around, and a group of parents and kids on bikes and foot stop to ask me about my trip. Campgrounds are really odd because they crowd so many so close together. Staying there can't have anything to do with love of Nature, because the campgrounds are never attractive and always overflowing with people. In addition, the income must be very high in proportion to the expense, the only problem being the very limited season.

I notice that the sun has burned my arms and the backs of my hands before going to bed, so I promise myself that I will use sunscreen generously the next day.

Pocomore City - Lewes, 77.9 miles, 13.2 mph, June 15, 2000.
---
Day Twenty-three: In the morning, I make it to the ferry bright and early, but the ferry doesn't run until after eight o'clock (

800X889 The Lewes Ferry NOTE: This photo is a bit odd due to being restored from a very bad image). The ferry trip is pleasant although boring, and the cost is only $7.00 for a cyclist and bicycle. I could buy expensive food on the ferry, but I wait to get better and cheaper food in a supermarket on the other side, so my day's trip essentially starts at eleven o'clock, eastern time (

800X509 Arriving in New Jersey).
Looking at the map, I decide that the best route is down highway 9 to highway 50. Other roads either are not marked on the map or travel through communities I wish to avoid. Besides, highway 9 has a good shoulder, so I have little trouble with traffic in spite of a good bit of it on the road. At one place where I pull in, the driver of a small truck appologizes for his driving behavior; I wonder if he is being sarcastic, but I reply that I think he was being extremely careful. Not everyone is so careful, and I feel the wider lanes rather than the driving behavior is the big improvement, although the maximum speed limit of 50 (not always observed) helps. Another driver, a middle-aged male who's driving a safety orange colored SUV with some kind of safety message on it, begins a right-hand turn while riding parallel to me but is stopped from cutting me off by a truck coming the other way that cuts us both off. He then motions for me to proceed before he makes his turn.
The convenience stores in New Jersey are wonderful, having fresh bread and a good selection of everything. However, in order to make it to my sister's house in one day, I mostly depend on fountain drinks, keeping a bottle full of ice with a little soft drink in it on the bike and drinking every few minutes. Continually pedaling all day with very short breaks is very tiring, and I sit up and readjust my shorts from time to time to prevent blisters. I also reapply sunscreen during the day, as I want to avoid further burning. Fortunately, like yesterday, I am getting a tailwind, but the tailwind is not as strong as yesterday and sometimes is a crosswind.
After turning on 50, I find much the same conditions as before, but after getting onto 557, I find very narrow or missing shoulders, and the drivers make no attempt to slow before passing, even when squeezing between my bike and other vehicles. Evidently, a busy road with good shoulders is preferable to a lightly-used road without shoulders in New Jersey.
Based on these observations, I decide to take 168 (Black Horse Pike) rather than back roads to get to my sister's. I find myself racing alongside heavy traffic, but we have no problems, except I crowd over to the regular lane whenever there is a right turn. At one point, I find myself forced up onto the expressway for a block before getting back off. I feel great in maintaining a minimum speed of 25 mph while on the expressway, because I keep feeling that I've reached my limit.
Finally, I reach the right turn, which I recognize, and then after a few blocks, I get out my computer to find a turn which I don't recognize. I ride up to my sister's house, having taken only about a hour's worth of breaks during the day. I guess I'm almost in shape again. A drugstore blood-pressure machine the next day gives me the following readings: systolic 106, diastolic 61, and pulse 45. My weight has dropped to 176, which is still rather high, in my opinion.
I am going to spend a week visiting my sister and her family and getting caught up on some web work. Then I will continue my trip, moving northward.
Lewes - Somerdale, 78 miles, 13.6 mph, June 16, 2000.
---